Business Styling studio recently completed interior design project for office space in Tel Aviv, Israel named WebPals. Business' goal was to maximize the rented space as much as possible, while also creating a friendly workspace that reflected the firm core values. For more images and architects description continue after the jump:
From the Architects:
Tali & Rakefet (home-styling studio) recently redesigned the offices of promotion agency in TLV.
The new office houses 130 employees in approximately 7000sqf. When we met them, they had less than 100 employees, their office was too small. They have asked us to consult them finding the new space to rent.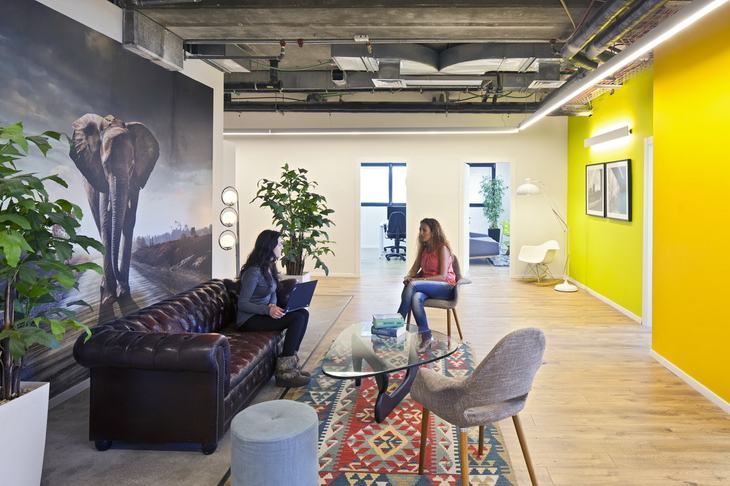 Sharing us – locating the new office space helped us during the proses. we choose together the most suitable and appropriate space , in terms of size, basic structure and location. The space was so much potential, that we couldn't wait to get started.
Our goal was to maximize the rented space as much as possible, while also creating a friendly workspace that reflected the firm core values. We wanted people to walk through the door and say, "this feels exactly like a fun place to work in.
It's important for us to create an environment that encourages flexibility, socialization and collaboration—regardless of company size. To get started, we divvied up the office into various work areas that could double as breakout sections.
Most of the employees are under the age of 35. They are looking for a challenge, interest and excitement. For many, work is not just a way to make a living, but a way to express themselves and their talents. They come to work to meet, enjoy fertilize each other creative ideas. They don't want to be locked in the closed (privet) office for eight hours and go home at the end of the day. The management understood this and contacted us in order to challenge our abilities to face their employees to diversify their environment and give them a sense of renewal and development. They also are interested to contact and appeal to new personnel, quality workers that are looking to work in a young atmosphere fruitful creative and fun work environment with an open mind cooperation.
Lucky for us, the management of this firm, who knows us because we already have design work for them in the past, gave us the best gift we could ask for: complete trust in the design process. This gave us the creative freedom to take an entirely holistic approach—from the Wallpapers and humorous Photos on the walls, the unique lounging and break-out areas or the bright colored and furnishing with homemade items from the flea market next to office furnishing advanced. We ended up bringing in so many amazing details, proving that the little things often make the biggest impact. And that's something that any smart firm can appreciate.
Bottom line cloud has changed the workplace. More people are now able to work outside the office, and there is much more collaboration in the workplace. Design an open space program saves money, but also noisier and less private. There for the space should be planned carefully, and if opting for open space program, there is adherence include separate spaces and intimate private conversations and small personal meetings.
Project: New Webpals Offices
Designed by Business Styling
Project Designers: Rakefet Goldfarb, Tali Rosenstein
Photography: Amit Giron
Location: Tel Aviv, Israel
Website: www.home-styling.co.il