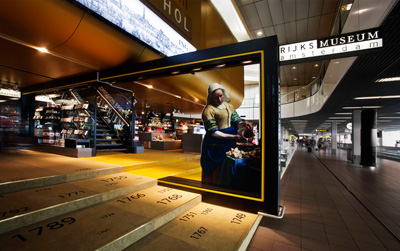 Project: Dutch Masters, Schiphol Museum Shop
Designed by UXUS
Client: Schiphol
Location: Schiphol Airport TERMINAL, Amsterdam, Netherlands
Website: www.uxusdesign.com
UXUS designs a unique retail space at Amstedam's Schiphol Airport bringing you closer to renowned art museum, the Rijksmuseum. View more image's and UXUS's description of the project after the jump: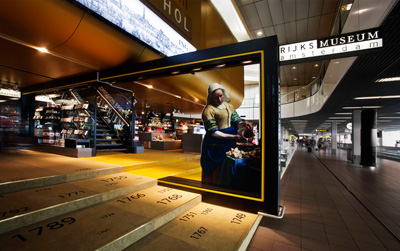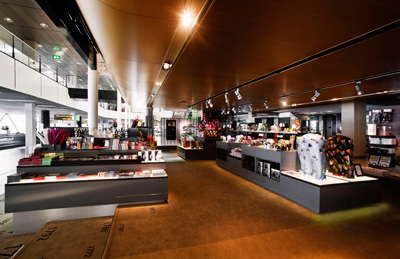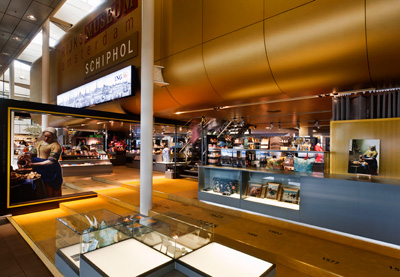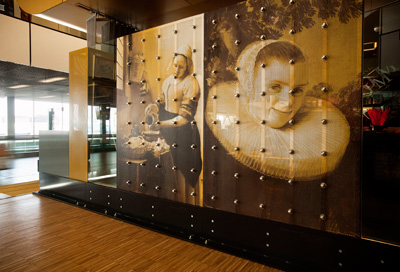 UXUS is thrilled to announce the opening of a new and innovative retail experience for Holland's premiere fine art museum, the Rijksmuseum, at Schiphol airport The shop and museum are unique to the world of airports offering visitors the opportunity to view masterpieces from a Dutch golden period as well as the chance to purchase masterpieces of contemporary Dutch design to take home with them. The retail concept is a physical timeline of Dutch creativity, from the "Golden Age" of Dutch masterpieces to the "Concept Age" of contemporary Dutch design. This timeline is physically represented in the shop's design to help navigate the diverse product range. The colour of the space gradates from the gold hues representing the Golden Age, to the grey tones representing the concept age of contemporary Dutch design. In addition to the timeline, a three dimensional representation of Vermeer's masterpiece the milk maid as well as a self portrait of Rembrandt attract attention to the museum and the store and offer visitors to the airport an exciting one of a kind photo opportunity.
Photographs: Dim Balsem
Involved Parties Schiphol (client) Rijksmuseum (museum) Benthem & Crouwel (Architect of Schiphol Rijksmuseum) World of Delights (Retailer) Valk (construction) UXUS (design)
*Images courtesy of UXUS