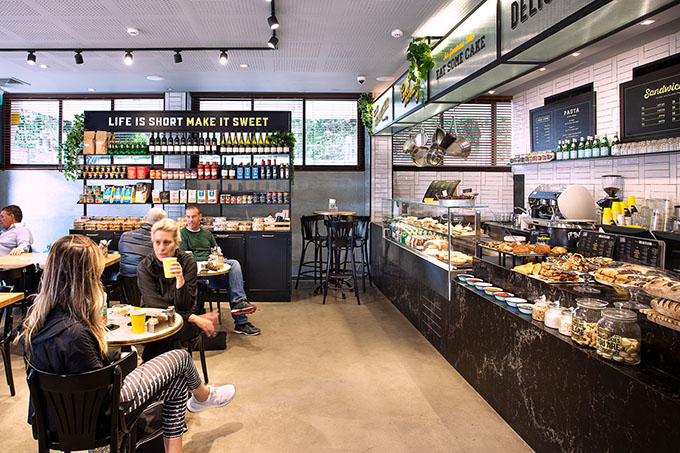 Dana Shaked designed this stunning new coffee shop in Tel Aviv, Israel. Take a look at the complete story after the jump.
From the designer: The successful bakery brand Bread Station, opened a branch that serves more as a coffee shop and a bistro. Unlike other branches in the brand, this branch offers a wider variety of dishes such as fresh salads, sandwiches and breads.
The space features a spacious seating area with a fixed bench and black wooden chairs next to oak tables. Near the seating area, an iron shelving unit was designed, displaying a range of boutique products such as cookies, wines and pastas.
The main counter features a cashier and a large glass fronted cabinet displaying the sandwiches, salads and quiches. The counter is covered with black marble with fine tendons and above it is an iron frame element combined with striped glass, hidden lights and changing graphics.
The rear wall is covered with white bricks in a unique layout and on top of it slanted menus are hung. Also a large iron bread cart was designed and next to it are shelves for spices and spreads.
The outdoor seating area is fenced in with rich vegetation and behind it, adjacent to the front, is a yellow neon sign. Above the seating area, a black shade has been designed, giving shade and allowing a long and pleasant stay.
The industrial style that can be seen in the other branches of the bread Station brand has been refined in this location to give it more of a café/bistro atmosphere.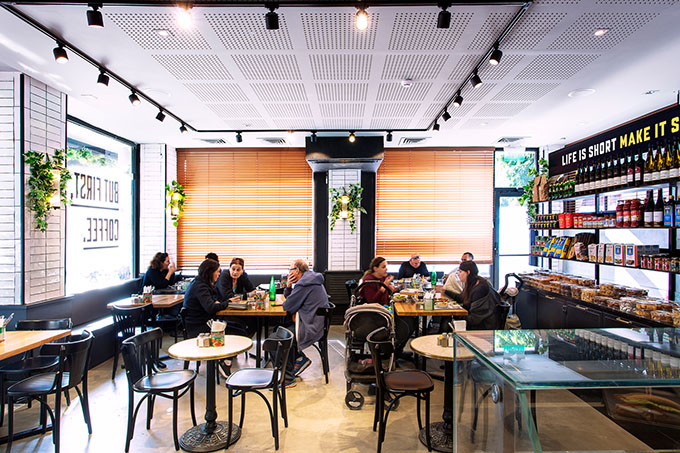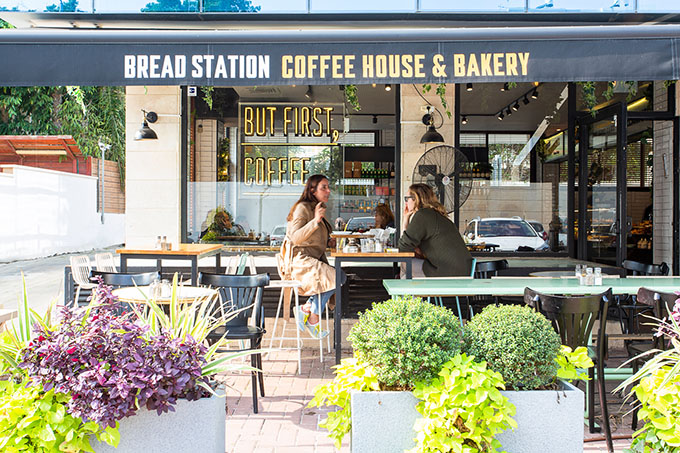 Location – Dissentshikst., Tel Aviv, Israel
Interior designer – Dana Shaked
Photography – Tomer Rubens
Designed by Dana Shaked – dnshaked.co.il