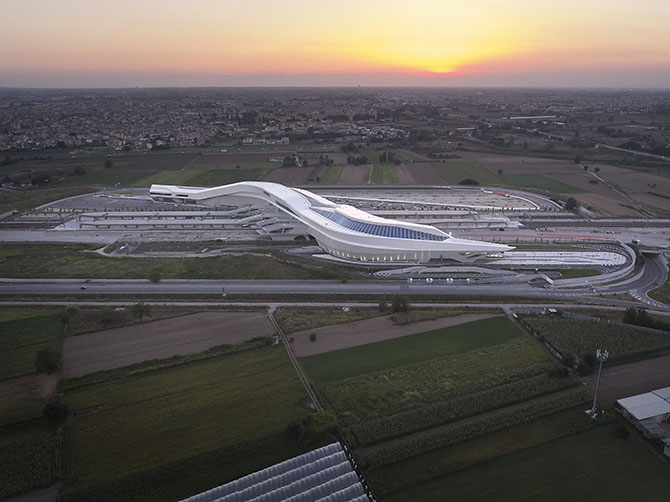 New photographs by Hufton+Crow marked the first year of train services at phase one of Napoli Afragola high-speed railway station designed by Zaha Hadid Architects. Take a look at the complete story after the jump.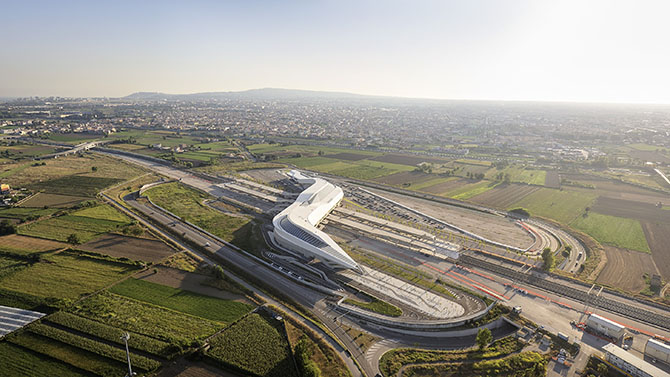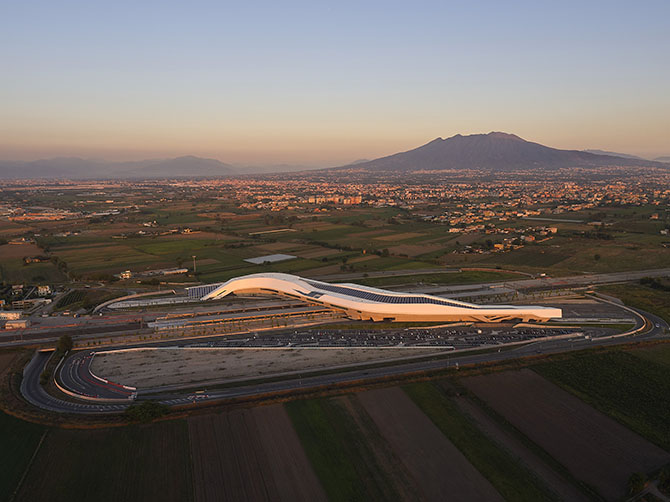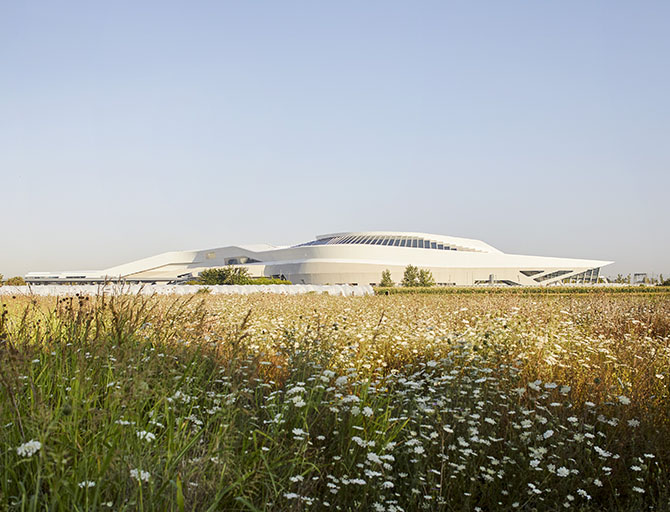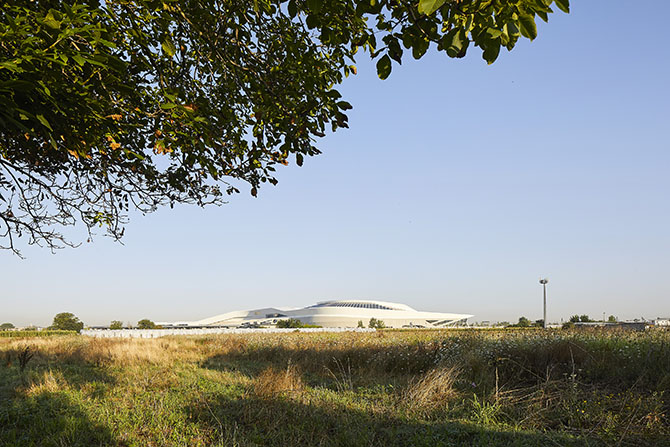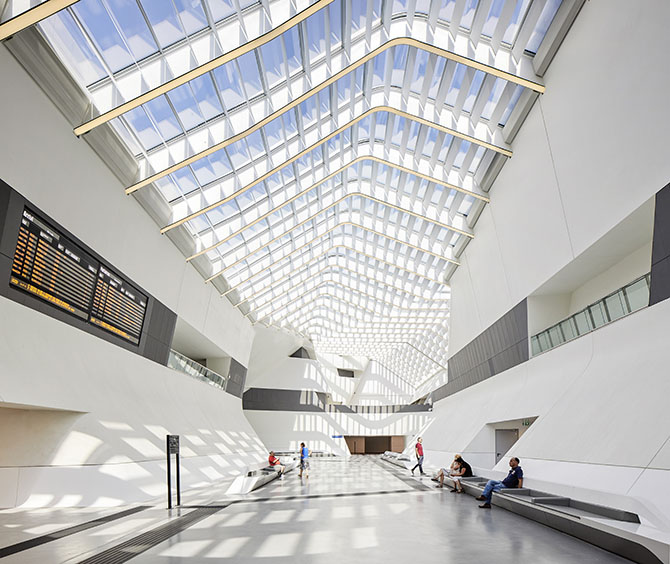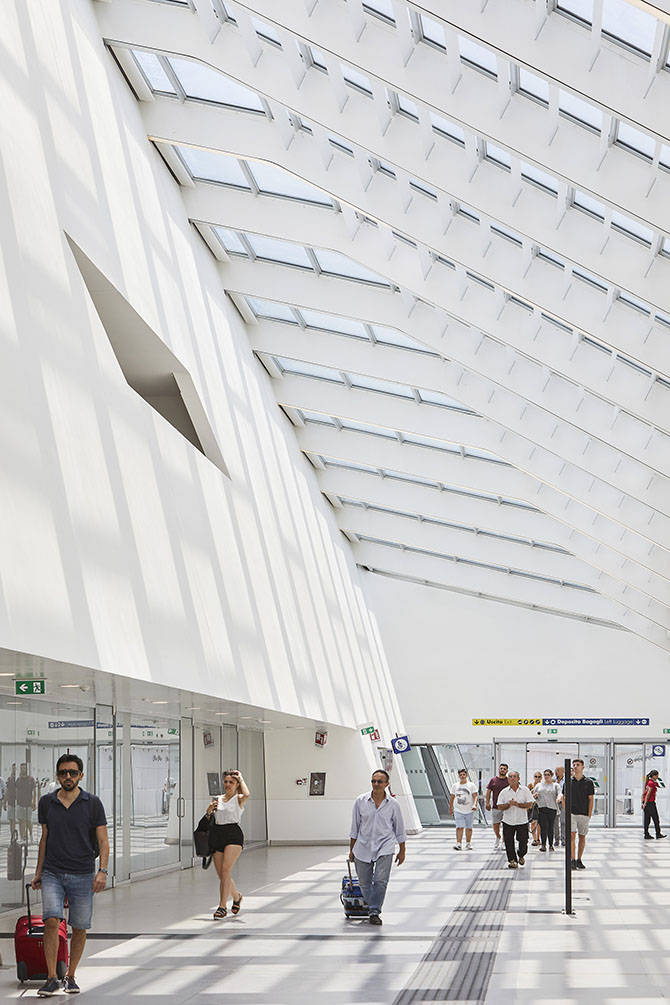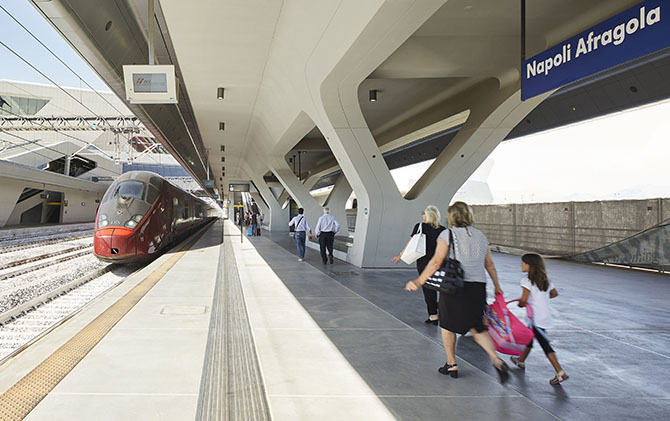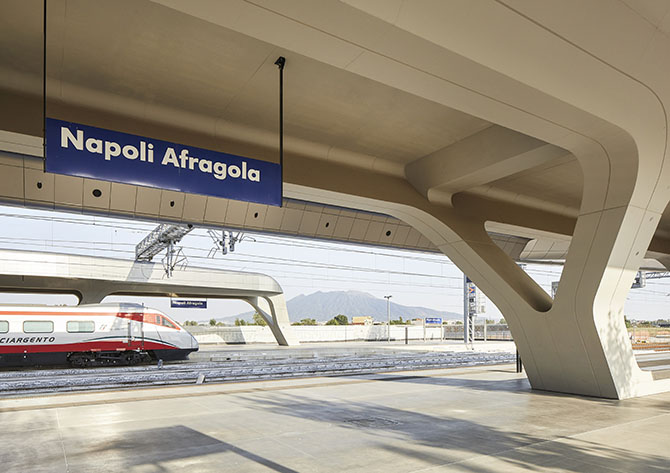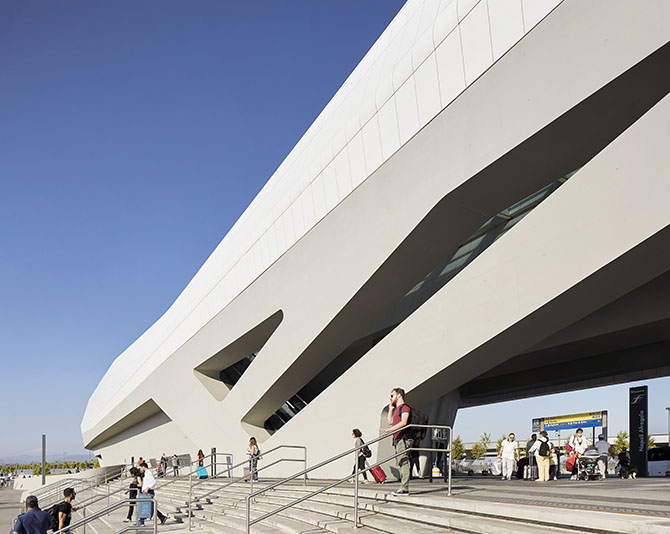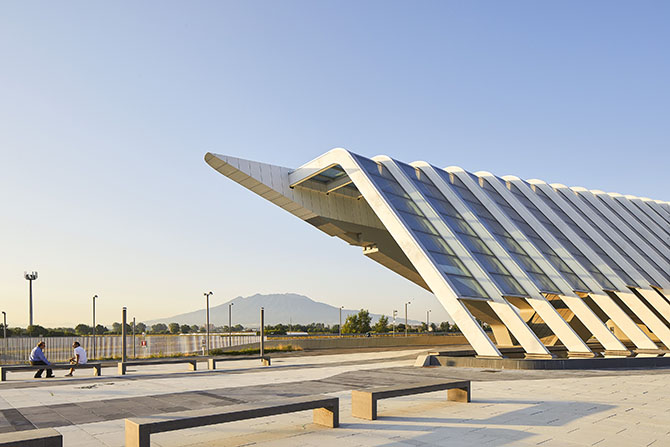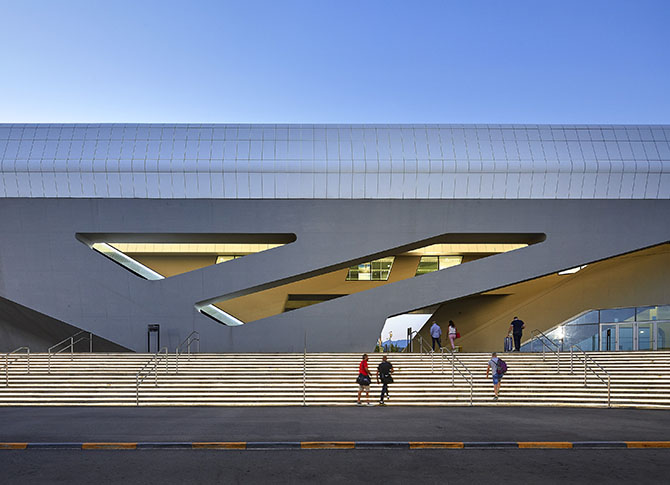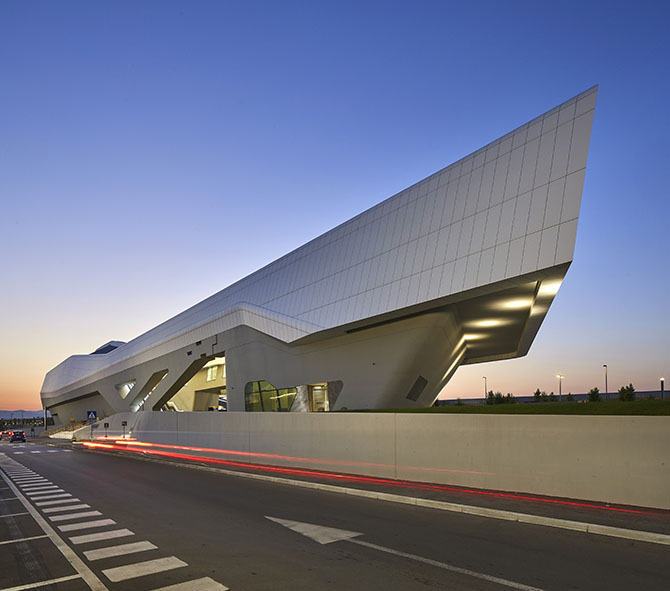 Listed as one of the world's best buildings to open in 2017, the BBC detailed Napoli Afragola's design: "This striking new station for Italy's expanding high-speed rail network writhes up and over eight railway tracks… It is both a spectacular, snake-like bridge expressing the dynamism of Italy's 300kph railways and their equally serpentine trains and a main-line station with haunting views of Mount Vesuvius."
Napoli Afragola also received the 2018 Surface Travel Award for Transportation. The Surface Travel Awards recognize the most thoughtfully conceived new projects at the intersection of travel and design, raising awareness of the crucial benefit of design as a means to improve our lives as we explore the world around us.
Designed to meet the region's future demand for rail travel which has increased by more than 50% in the past decade, once all phases of the station complete in 2022 Napoli Afragola will become a gateway to southern Italy and key interchange station serving four inter-city lines, three regional lines and a local commuter line.
In addition to the high-speed services connecting Bari and Reggio Calabria with the north of Italy and beyond to cities throughout Europe, new rail infrastructure currently in development will create an important hub at Napoli Afragola serving the entire Campania region by integrating the southern expansion of Italy's high-speed network with the Napoli Cancello line and the extension of the Circumvesuviana commuter railway.
Developed to become a vital interchange between local, regional and national rail services, Napoli Afragola is within Italy's new north/south high-speed rail corridor that will connect the 15 million residents of Campania, Puglia, Molise, Calabria and Sicily in southern Italy with the national high-speed rail network, as well as enable goods and passengers from Europe and northern Italy to easily access the southern ports of Gioia Tauro, Taranto, Bari, Brindisi, Palermo and Augusta.
Located 12km north of Naples, Napoli Afragola station is also planned to serve its local communities of Acerra, Afragola, Caivano, Casalnuovo di Napoli, and Casoria that vary in population from 10,000 to 50,000 residents.
An intermodal city-perimeter hub with park-and-ride services as well as connections with local bus networks, Napoli Afragola will relieve congestion in Naples city centre and does not replace the existing terminus at Napoli Centrale.
When all rail lines become operational, 32,700 passengers are expected to use the Napoli Afragola station every day (approximately 12 million passengers each year) with up to 4,800 local commuters using the station each morning and evening rush-hour.
Inaugurated last year with 18 high-speed trains in each direction, services will increase to 28 trains in each direction as new infrastructure and further phases of the station come on line enabling a further 200 regional and local train services to call at Napoli Afragola daily, creating the important interchange between the national, regional and local rail networks.
Napoli Afragola is defined by the circulation routes of its passengers to minimise distances for those embarking and alighting at the station as well as passengers with connecting services.
The design enlarges the elevated walkway above the eight platforms to such a degree that it is transformed into the station's main passenger concourse; creating an inhabited public bridge housing all the services and facilities for departing, arriving and connecting passengers, with direct access to all platforms below.
The circulation routes of passengers using the station have determined the geometries of its spaces. Large entrances at both ends of the station welcome and guide visitors to the elevated central concourse where rail passengers descend to the platforms.
Designed as an extruded trapezoid along its 450m curved path, the station's elevated concourse is orientated at an angle from the railway tracks to improve its environmental performance. An integrated solar PV array, natural light and ventilation as well as ground source cooling/heating systems will enable the station to minimise energy consumption.
"This extraordinary station is the work of a great architect and of enormous strategic value," said Gioia Ghezzi president of Ferrovie dello Stato, Italian state railways at Napoli Afragola's inauguration last year. "We wanted to build a station that is not only for transit but which, over time, will be a source of renewal for the south, creating jobs and growth."
"Every great country needs great projects that are a leap forward," explained Italian prime minister Paolo Gentiloni at the 2017 inauguration. "This new station is the foundation of the infrastructure programme that promotes economic development in the south. Here is a wonderful combination of artistic and engineering expertise."
Photography by Hufton+Crow