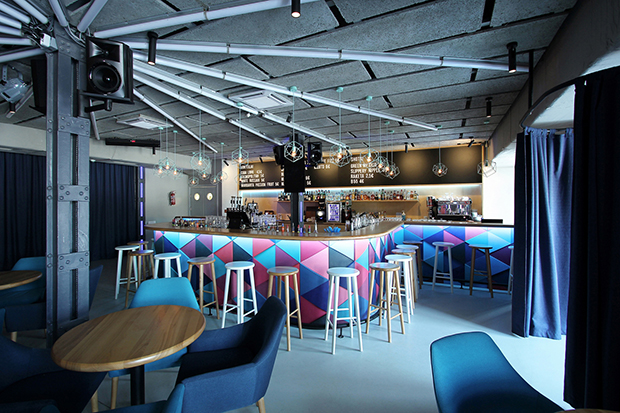 Lithuanian designer Ramūnas Manikas specializes himself not only in interior design, but also in graphic and installation design. His works vary from simple minimalistic spaces modern, full of colour with a lot of character. His newest project which is called "Raketa social club" stands out by its colour decisions, forms, shapes. At the moment You get inside, you feel the modern movement just taken You into a world full of rhythm, solidness and aesthetics.
The story of the location is more unique than You think. "Raketa social club" is founded at "Klaipėda Culture Factory". The place takes a multifunctional purpose since during the day time there is a restaurant open in the building's area, which brings a warmer ambience, and in the evening different events and concerts take place here, which transforms the purpose of the club. To achieve this, the designer had to make some certain special conditions, which are necessary for this kind of work. And that is why a ceiling of acoustical panels was installed in the premises. Along with that a big amount of sound absorption curtains also occurred in the area.
Read more after the jump: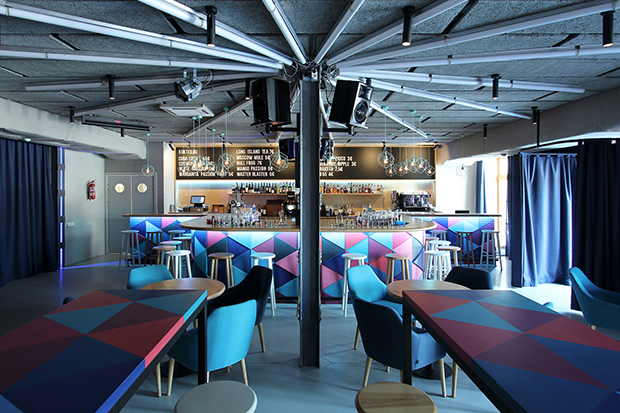 You can suddenly feel a certain industrial feeling in the interior. The floor of "Raketa social club" is covered with grey epoxy paint; the panel ceiling is of a similar colour. This gives some extra character for the space and brings the solid look. And off course the main element of the space becomes the colourful triangles. To counterbalance these wide grey spaces bright colour solutions composed of different colour triangles are used in the interior. They are made of plywood and mounted on a few walls. All of them create a movement and make the space look alive and suitable to come and spend time.
We notice a deep blue colour appearing in the whole interior, which gives a sort of mystery and confidence for the interior. The colours of the curtains were chosen according to similar principles. This gives the opportunity to create integrity in the interior. As we can see the above mentioned solutions help to create bright, modern and multipurpose interior. The design of the logo and interior signage was also created for the site by the designer Ramūnas Manikas.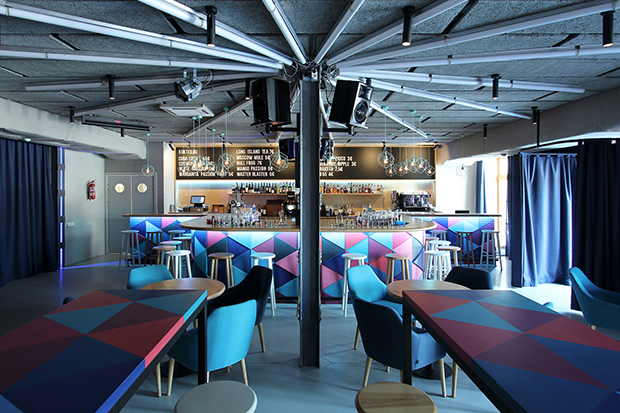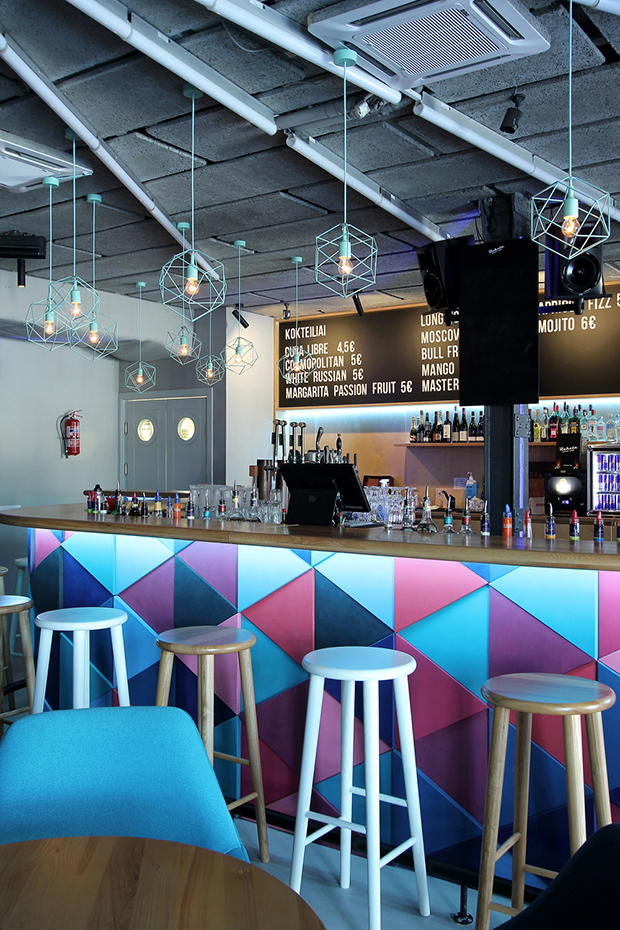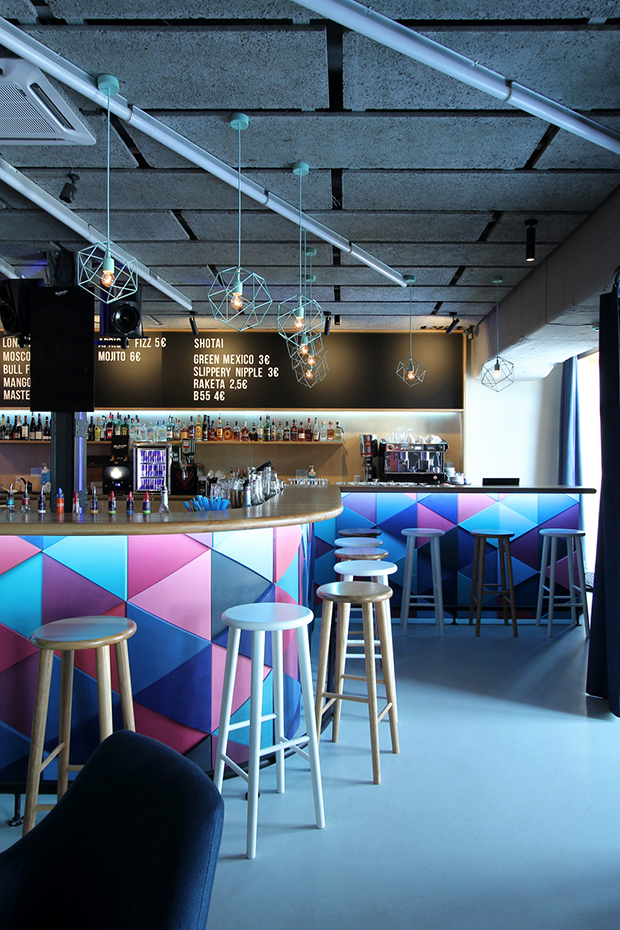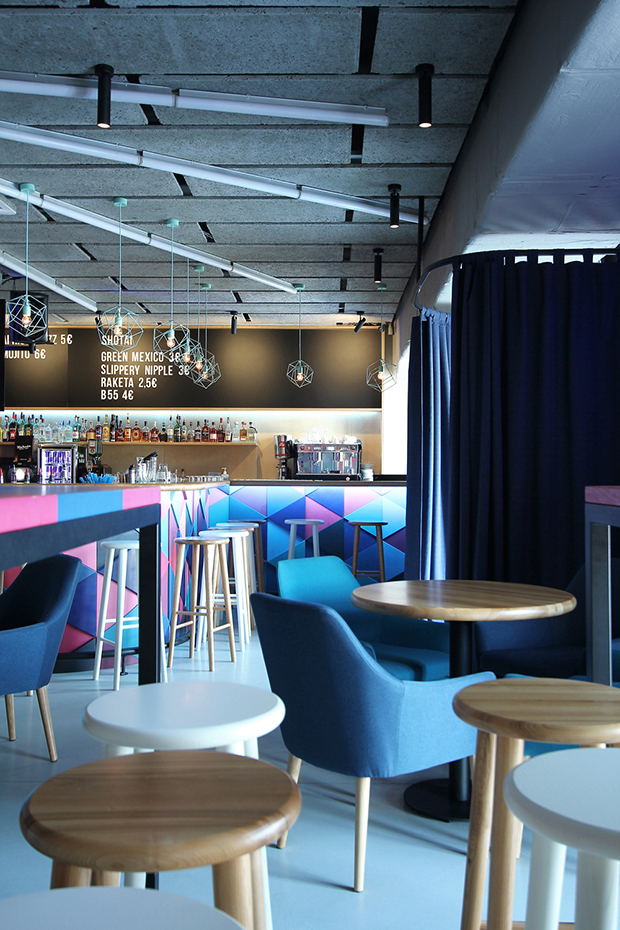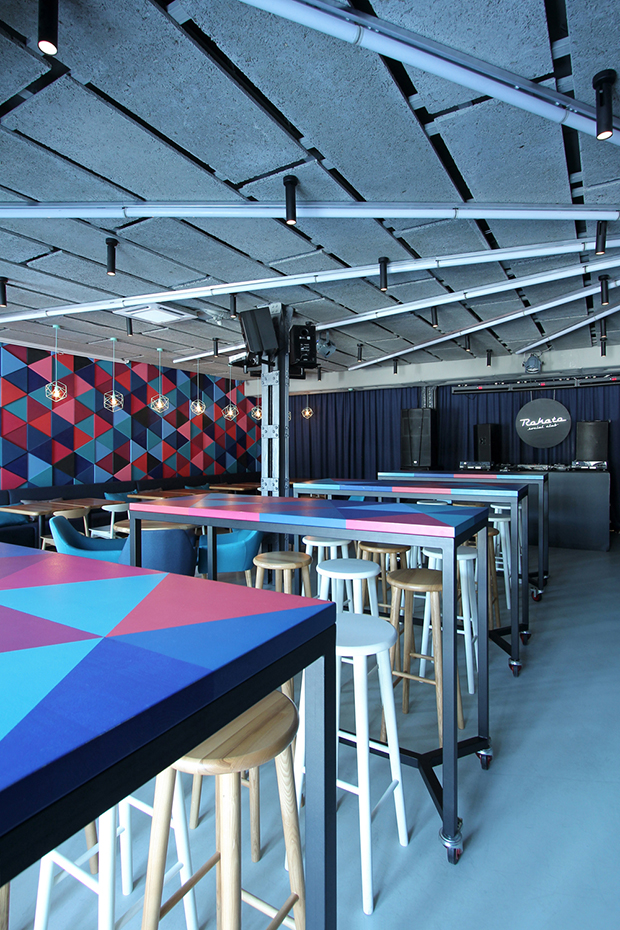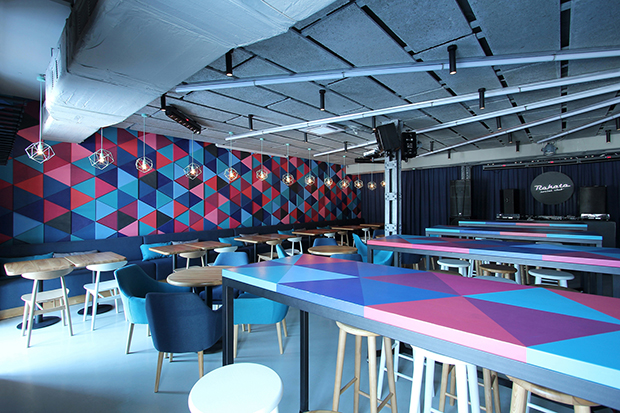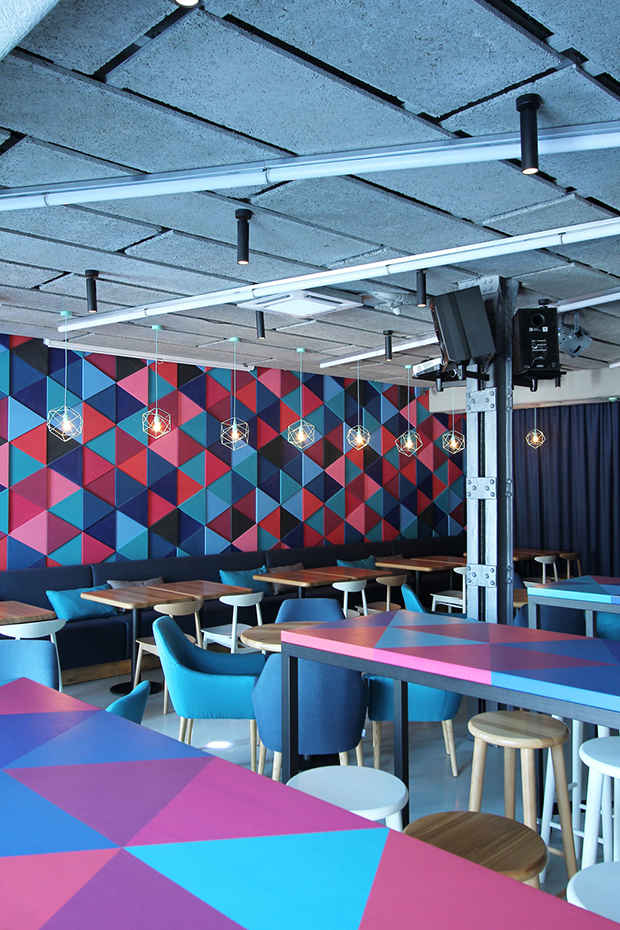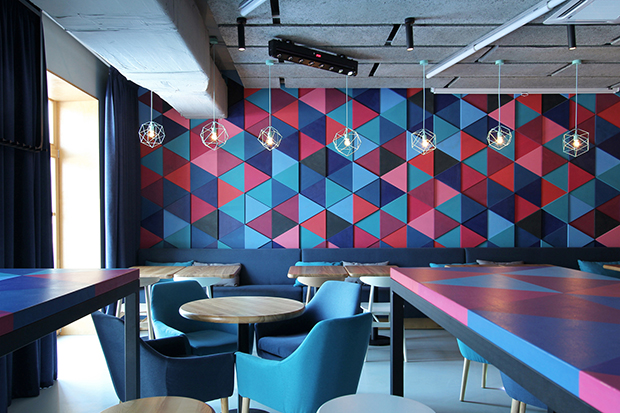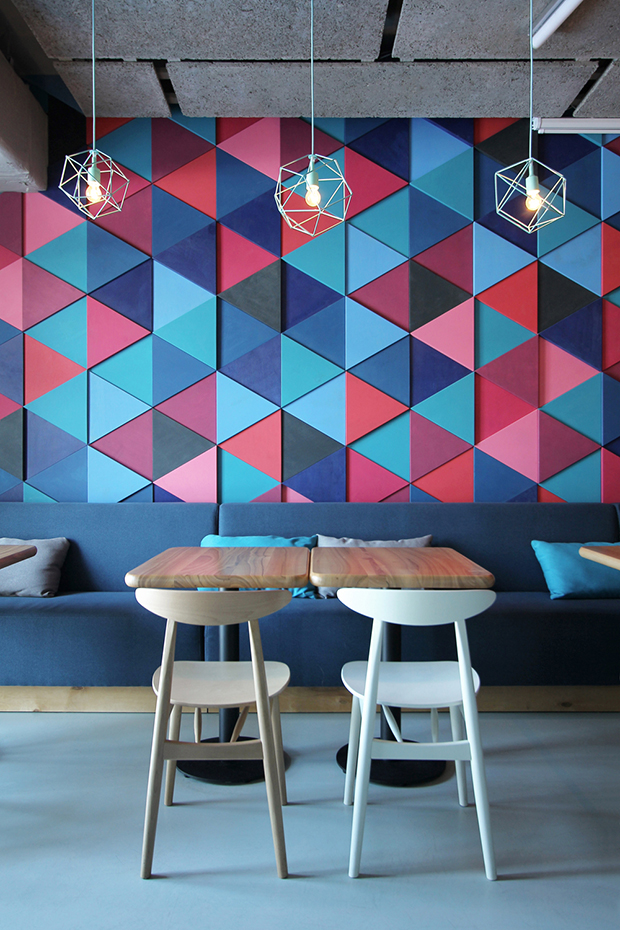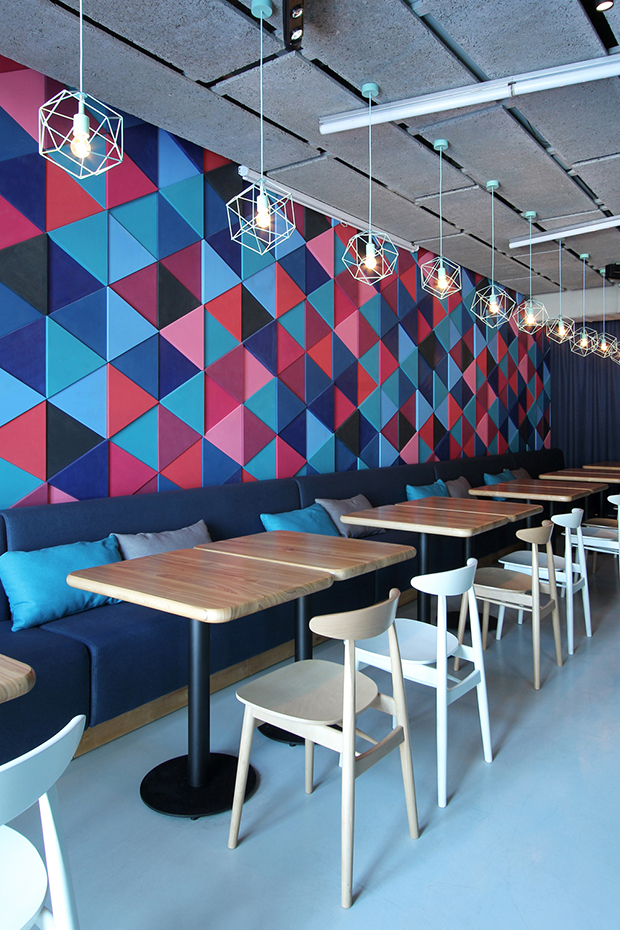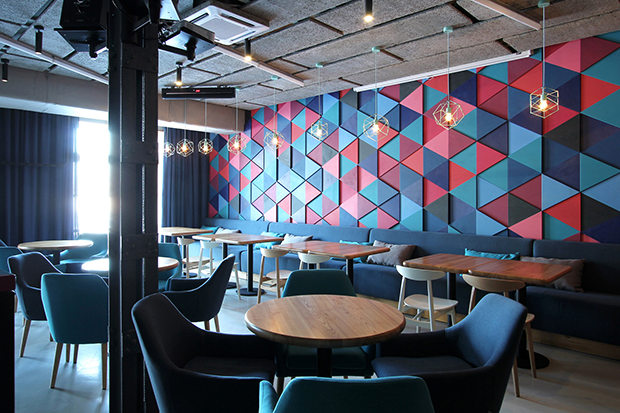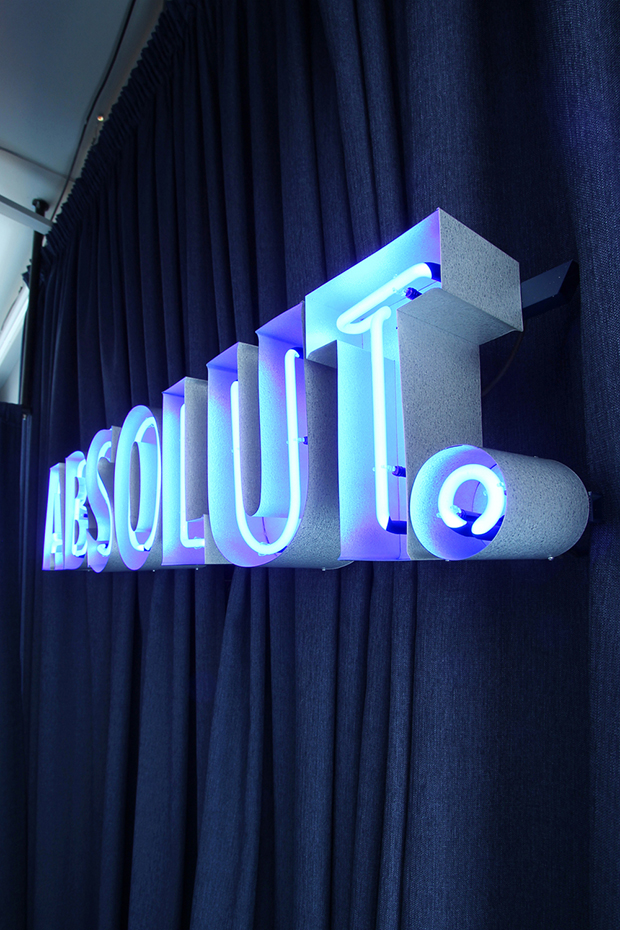 Review by Laura Vanagaite
Instagram: @laura.vanagaite
Behance: www.behance.net/lauravanagaite