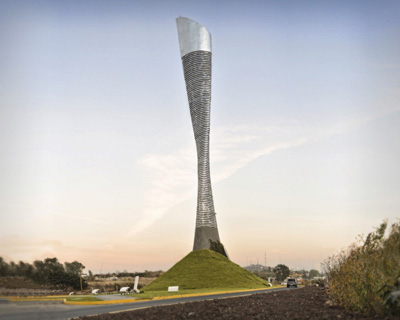 Project: The Bicentennial Torch
Designed by José Pareja & Jesús Hernández
Project Team: Abdiel Miranda, Isaí Padilla, Eduardo Muñoz, Claudia Pérez
Landscape Design: José Pareja Gómez, Jesús Hernández Martínez
Location: Guanajuato, México
Giving a tribute to heroes who gave Mexico a homeland The Bicentennial Torch emerging from the soil is work of José Pareja & Jesús Hernández. For more continue after the jump: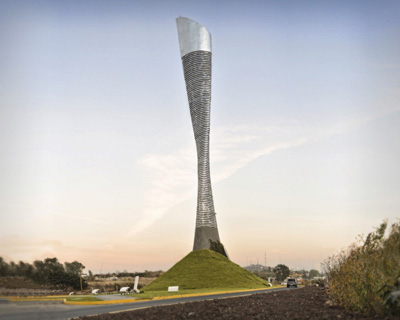 The sculptural and architectural proposal consists in a 45-meter tall element that emphasizes the hierarchy of the main entrance to the city of León, Guanajuato, México.
The monument consists of a 10-meter tall concrete volume, followed by a 35-meter steel structure made of one hundred rings, interspersed with a hundred voids, which act as optical negatives as a result of the shadow projected onto them. By nightfall, the sculpture becomes a great urban lamp, which aims to enlighten the surrounding environment through its body and scars.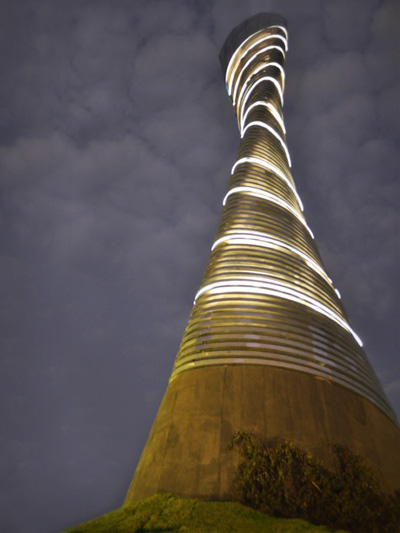 Its body, marked by 200 scars, reveals on its skin its longevity, giving life at night to a hundred rings of light, representing also the centennial of the revolutionary movement and its importance in the independent living of Mexico today. The rings are crowned at 45 meters high with a cauldron from which a powerful beam of light is projected to the infinity, a perpetual flame symbolizing the independence and the nation's future.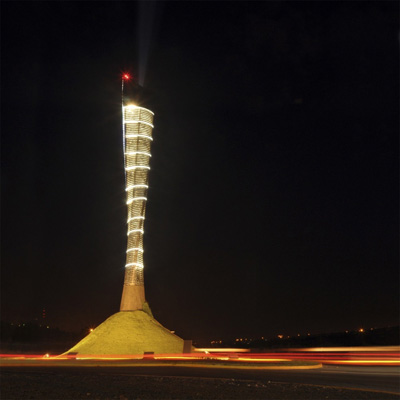 A light path drawn from the bottom to the top of the monument links land and object, leading to the sky the perpetual flame of the Mexican independence, projecting it to the infinite.
Source ArchDaily. *