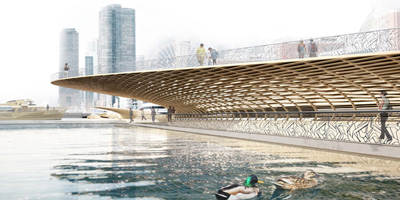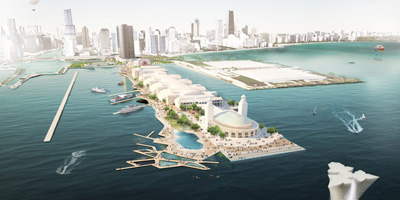 Project: Navy Pier
Designed by !melk, HOK, UrbanLab
!melk: Design Lead Landscape Architecture: Jerry van Eyck, Principal Designer: Manda Yakiwchuk, Team Coordinator & Project Manager: Yadiel Rivera-Diaz, Landscape Designer
HOK: Urban Design & Planning: Tyler Meyr, Lead Urban Designer: Chip Crawford, Masterplanner/ Design Facilitator: Daniel Mitchell, Urban Design Coordinator
UrbanLab: Urban Design & Architecture Strategy: Martin Felsen, Urban Design Strategist/ Architect: Sarah Dunn, Urban Design Strategist/ Architect
Project Team: Jerry van Eyck, Manda Yakiwchuk, Yadiel Rivera-Diaz, Rana Boland, Conor Galagher
Consultants: Terry Guen Design Associates, Thirst, Zoe Ryan, Conservation Design Forum, HR&A Advisors, Magnusson Klemencic Associates, Sam Schwartz Engineering, Leni Schwendinger LIGHT projects, CMS Fountain Consultants, and Karin Bacon Enterprises
Client: Navy Pier, Inc.
Location: Chicago, USAWebsite: www.melk-nyc.com
Navy Pier competition in Chicago also has a noted design entry from !melk, see more of their proposal after the jump:
CHICAGO KNOWLEDGE:
THIRST: Graphic Design
Rick Valicenti, Communications Design Director
John Pobojewski, Communications Senior Designer
Terry Guen Design Associates
Terry Guen, Principal, Local Landscape Architect
Zoe Ryan, Art Curator
CDF: Ecological Design Services
David Yocca, Principal Landscape Architect
Thomas Price, Watershed and Stormwater Management
INTERNATIONAL EXPERTS
HR&A Advisors, Economic Development & Public Policy
John Alschuler, Economics Advisor
Jamie Torres Springer, Economics Advisor
Magnussen Klemencic Associates, Structural & Civil Engineering
Drew Ganges, Civil Managing Principal
David Eckmann, Structural Managing Principal
Leni Schwendinger Light Projects, Lighting Design
Leni Schwendinger, Principal Lighting Designer
Sam Schwartz, Traffic Engineering
Sam Schwartz, Transportation Engineering Principal
Mark De La Vergne, transportation Engineering Project Manager
KBE, Public Space Activation
Karin Bacon, Creative Director
CMS, Water Feature Designer
Nadine Nemec, Water Feature Design Principal
From the Architects:
Chicago is known for its penchant to "make no little plans" as Daniel Burnham memorably pronounced over a century ago. And so today, Chicago's most popular attraction, Navy Pier is revisiting Burnham's legacy as it reimagines its potential as a world class cultural destination. To help realize Navy Pier's ambitious design goals, our !melk-led team (with HOK and UrbanLab) proposed a series of dramatic ideas to reconceptualize Chicago's preeminent exclamation point extending from the Great Lakes to the world.
The design proposal stems from the geological history that formed the unique Chicago and Great Lakes landscape. The melting mile-thick glaciers of the last Ice Age left not only the five Great Lakes, but also left behind smaller marks on the landscape, or landmarks throughout the region. The swell and swale landmarks imprinted on the landscape such as drumlins, kames, moraines, eskers and kettles are spectacular forms. These unique natural phenomena inspire a series of topographic waves and curls that smoothly unify the once highly fragmented Pierscape. The new topography also creates and opens surprising movements, social spaces, vistas, observation points, places for activities, contact with nature, and art.
To appreciate the magnitude of the Great Lakes, people must get close to them…and then get even closer. The boldest water-based design proposal is the "Glacier". The icon embraces water in all its states, especially in the winter when onboard waterfalls create flows of ice freezing the tower into a glacier. It will surely become the next must-see global attraction. A less monumental but equally compelling water-based design feature includes a "Fish Resort", a constructed fish habitat, also intended for people to watch and learn!
The proposal also includes plans to strengthen Navy Pier's connection back to the urban fabric of Chicago. Currently, many people living in Chicago have the impression that Navy Pier is a far-off destination rather than a place to visit routinely. The Gateway Park will become the primary physical connection back to the city, with a new public plaza housing several new potential programmatic and cultural venues.
Providing economic sustainability to Navy Pier is the long term goal, and these ideas will likely happen over multiple phases. The short term goal is to attract Chicagoans by making them feel as though Navy Pier is a vital slice of a unique city.