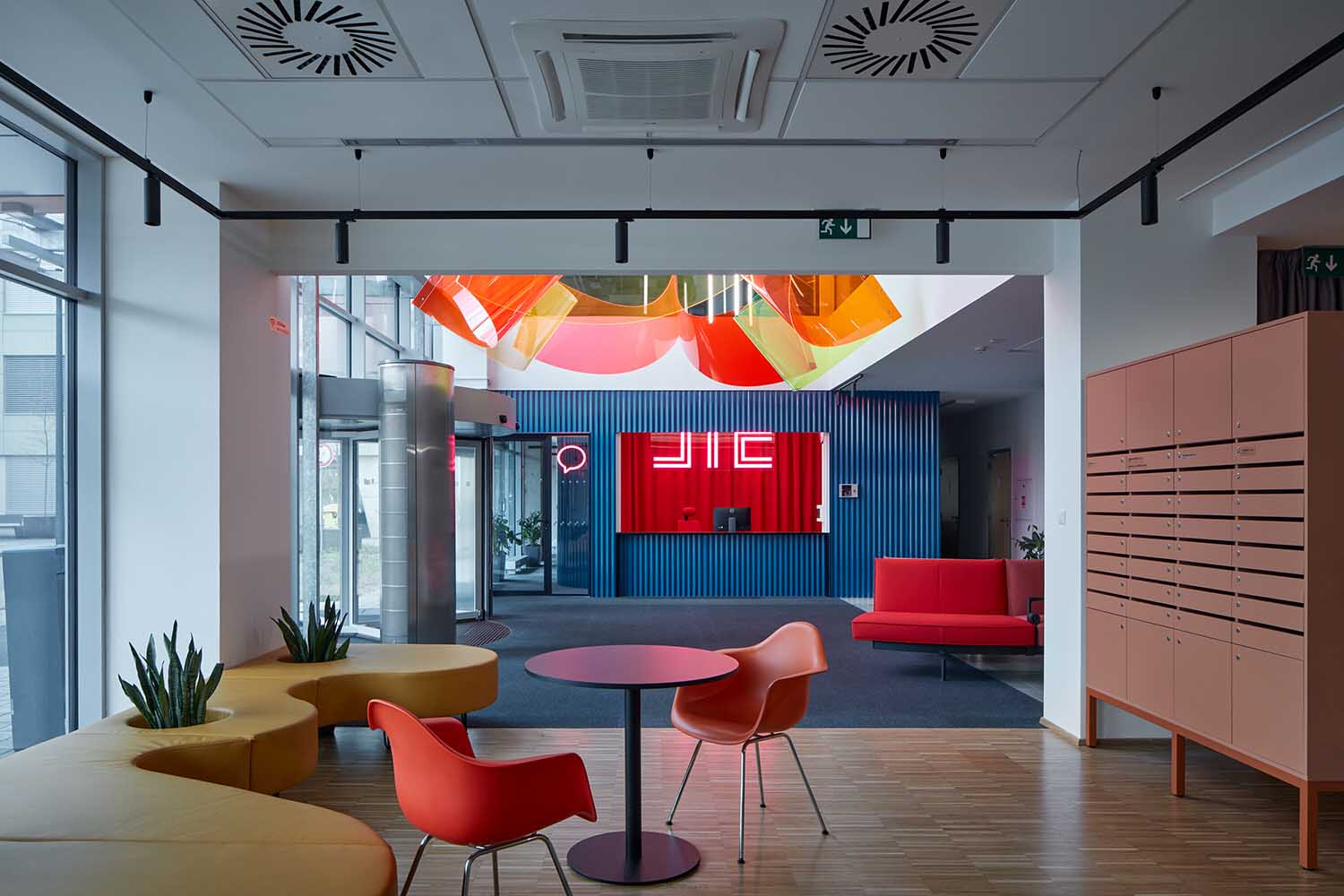 Czech architectural firm KOGAA, in collaboration with the South Moravian Innovation Center (JIC), has recently completed a transformative retrofit project in Brno. This endeavor represents a shared commitment to repurpose and rejuvenate existing urban properties, aligning with the evolving needs of the modern workplace and sustainability considerations.
The JIC (South Moravian Innovation Centre) serves as a pivotal hub for students, startups, scale-ups, and established enterprises with scalable products poised for global market impact. Through consultancy programs and financial support, JIC has emerged as a vital open innovation ecosystem fostering successful entrepreneurs in the region.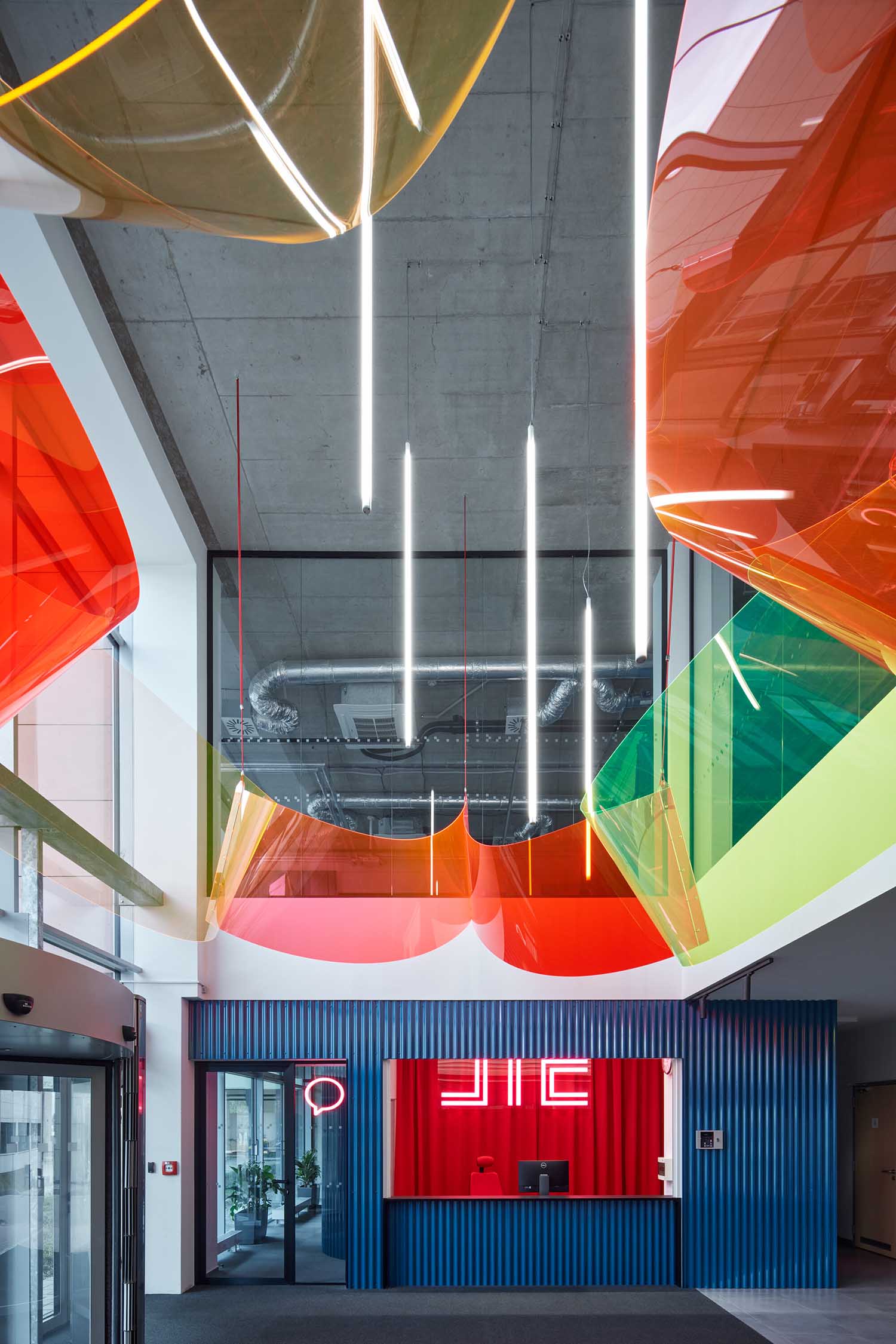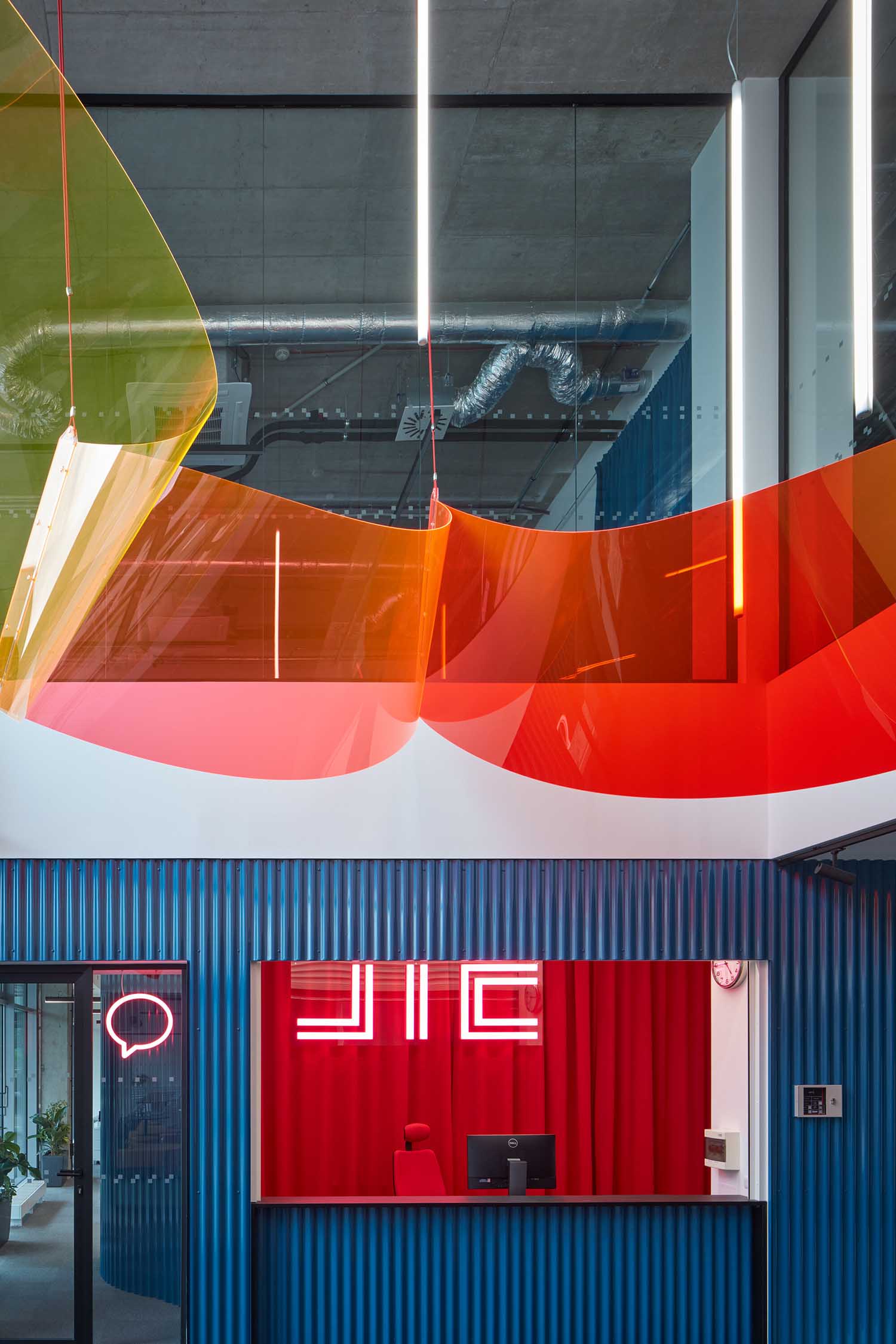 In response to changing work dynamics induced by the pandemic, JIC embarked on an internal renewal process, prompting a shift towards a more open and collaborative work environment. The original rigid layout of their research laboratory facility became outdated. Recognized for their expertise in retrofitting workspaces, KOGAA was entrusted with envisioning an office that promotes collaboration, creativity, and sustainability within the evolving corporate structure.
The key transformation entailed the replacement of solid walls with transparent, organic shapes that house meeting areas and semi-private workspaces. This innovative design eliminated the traditional corridor-based layout, replacing it with fluid, intermediary spaces that encourage interpersonal relationships. A vibrant zoning system was introduced, with blue zones designated for quiet, solo work and red and orange areas dedicated to interactive experiences.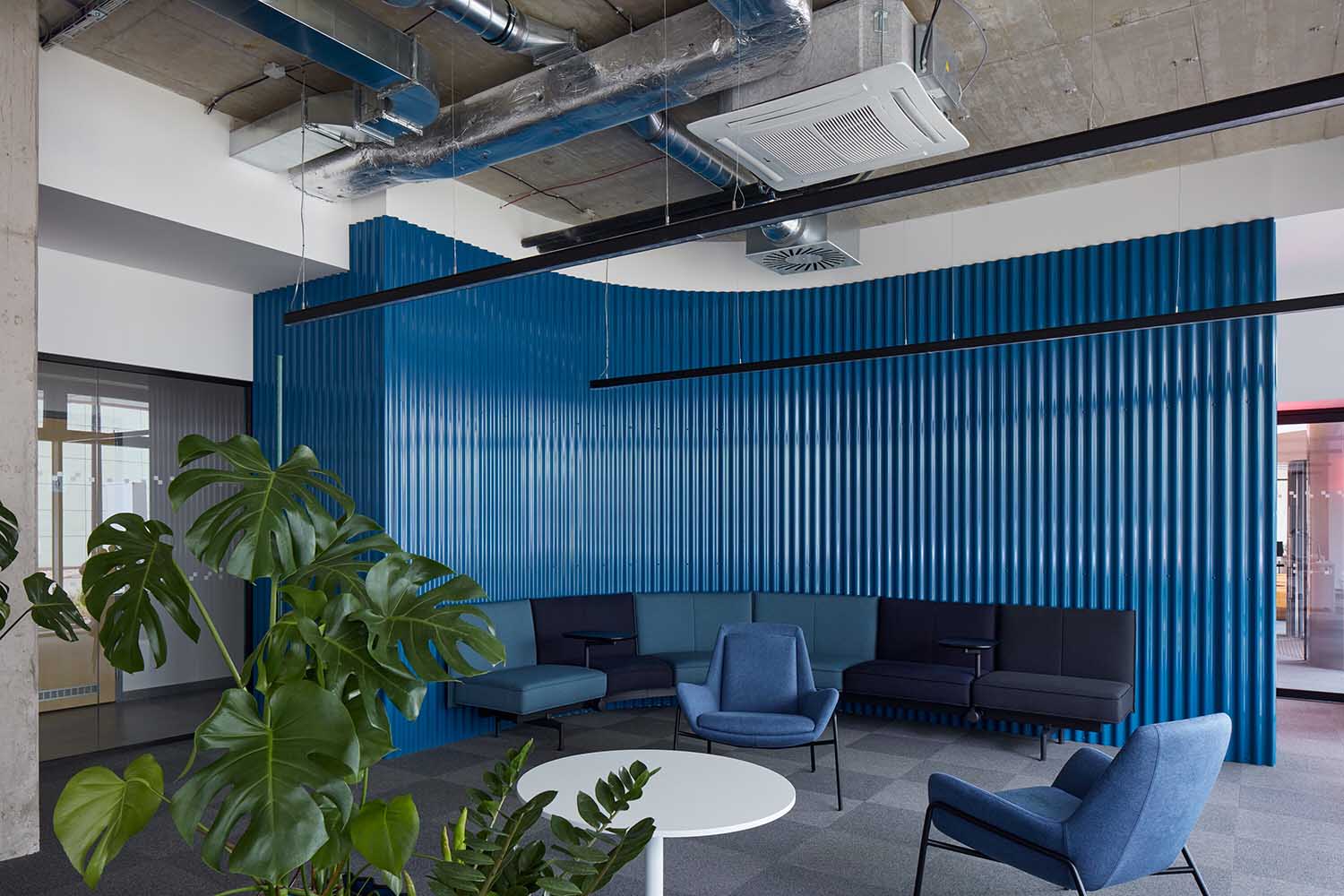 The workspace transformation also included allocating different floors to varying levels of expertise. The ground floor now accommodates solo entrepreneurs with its open-plan coworking space, while higher floors cater to the JIC team, established startups, and larger companies.
A central goal of the project was to enhance energy efficiency and minimize waste during the renovation. The upper floor is now separated from the ground floor by a glazed partition to reduce heat loss, and much of the furniture, lighting, and flooring were repurposed from the previous offices.
To create an inviting environment for entrepreneurs, startups, and digital businesses, an iconic installation on the ground floor symbolizing JIC's identity was introduced. A colorful plexiglass lighting fixture illuminates the space, casting changing colors on the surrounding surfaces, effectively connecting the ground floor with the upper levels.
Commenting on the project, KOGAA expressed their belief in the transformative power of inspiring spaces, stating, "At KOGAA, we truly believe in the power of inspiring spaces to make a positive impact on the world around us, and the new JIC HQ is the home for innovation where change can happen."
This retrofit project serves as a testament to the collaborative efforts of KOGAA and JIC in reimagining workspaces to align with contemporary needs while embracing sustainability, ultimately contributing to a thriving entrepreneurial ecosystem in the Czech Republic.
Project information
Studio: KOGAA – www.kogaa.eu
Author: Tomáš Kozelský, Viktor Odstrčilík, Alexandra Georgescu, Kateřina Baťková, Táňa Kantor, Markéta Fišerová, Josef Řehák [furniture], Natálie Hradilíková [furniture]
Studio address: Bratislavská 21, 602 00 Brno, Czech Republic
Project location: Purkyňova, 621 00 Brno
Project country: Czech Republic
Project year: 2020
Completion year: 2023
Gross Floor Area: 1655 m²
Client: JIC (South Moravian Innovation Centre)
Photographer: BoysPlayNice – www.boysplaynice.com
Collaborator
Main contractor: QDS Group
Glass walls: DEXO
Furniture supplier: Lino Design
Bespoke lights: Hormen
Bespoke LED neon lights: HappyFish
Graphic designer: STEEZY Studio