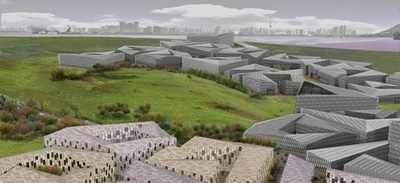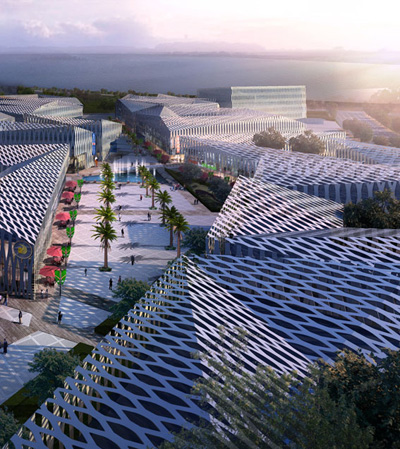 Project: Mountain Zhu Pedestrian Street
Designed by Gerardo Mingo Arquitectos + CCTN Arch
Floor Area: 200.000 sqm
Location: Xuzhou City, Jiangsu Province, China
Website: gerardomingo.blogspot.com & www.acctn.com
Mountain Zhu Pedestrian Street is a project created for the fast growing Xuzhou City in China by Gerardo Mingo Arquitectos + CCTN Arch, who had the task to create a state-of-the-art proposal for scope of 200,000 square meters. For more images and architects description continue after the jump:
From the Architects:
The aim for the competition proposal to design a commercial pedestrian street with offices business, club houses and hotels, has been to become part of an active process that involves the appropriation and exploitation of a natural space with a powerful presence, creating an opportunity for a dialogue with the existing territory. The site has strong landscaping characteristics which need to activate new functions. There is an opportunity to create an urban magnet.
It is an area with a great potential; its privileged location connecting natural and cultural significant points and the sensory experience: scent, colours, shadows, water.
The intervention tries to recover its natural ecosystem (such as the traditional commercial street) and provide a new content – "programmatical spaces" which encourage the people to:
*Move and connect on foot and by bicycle between the different parts of the site as an alternative to the car routes.
*Take part of an active social environment with public spaces/meeting spaces which integrate different programs (commercial, leisure, office and hotels).
Its lack of centre, its inability to define a start and an end point (there are many starts and ends) changes the traditional notion of landscape.
The streets are routes that always keep a degree of curvature that makes the walk somewhat serpentine and surprising, looking for different perspectives. The squares appear as nodes, with different sizes and orientations, in some cases just mere extensions of the streets. This produces a sense of permanent compression-decompression and the apparition of different activity poles, where the emblematic shops appear.
Gerardo Mingo Arquitectos

is a multidisciplinary office practising architecture, and urbanism. It is led by two partners with offices in
Spain
and
China
.