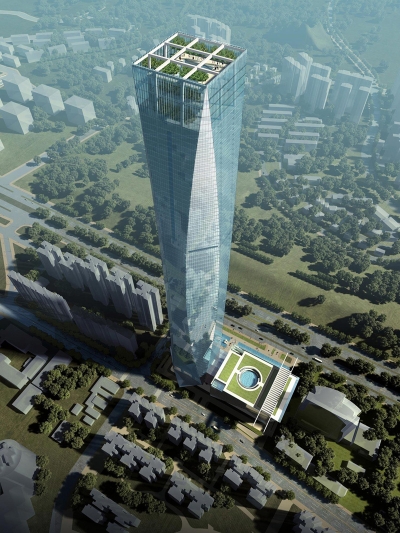 Project: Tian Long Fortune Center
Designed by John Portman & Associates
Site Area:176,528 sqf (16,400 sqm)
Gross Building Area: 3,516,871 sqf (326,728 sqm)
Building Height: 1,312 ft (400 m)
No. of Stories: 88
Location: Nanning, China
Website: www.portmanusa.com
This 88 storey mixed use skyscraper development of Tian Long Fortune Center is work of John Portman & Associates practice. The impressive skyscraper will be located on Minzu Boulevard in a low-rise city of Nanning. For more images and architects' description read after the jump:
From the Architects:
Located in Nanning, the capital city of the Guangxi province, the Tian Long Fortune Center sits is along Minzu Boulevard, the primary east-west corridor into the CBD. Reaching 1,312 ft (400 m), the tower will command attention as the tallest tower in the region. Its unique form begins with a square base that widens out to an octagon in the middle, before elegantly tapering back into a square plan at the top.

Envisioned as a finance/trade center, the tower is home to various banks and financial consultants. The upper portion of the tower holds a 5-star atrium hotel. Floors immediately above the hotel provide an exclusive executive club and destination restaurant. The level below the hotel lobby contains the hotel's fitness center, pool, restaurant, business center and other hotel amenities.