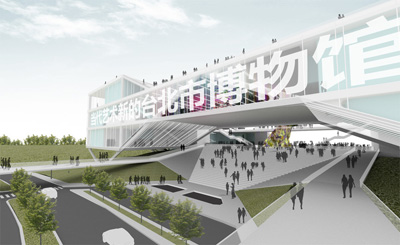 Project: Taipei City Museum of Art
Designed by Meter
Design Team: Henry Buckingham, Marco Vinicio Monter
Client: New Taipei City Government
Site Area: 20,000 sqm
Project Area: 51,045 sqm
Location: Taipei, Taiwan
Website: www.meterbuilt.com
Art by Meter joins the slew of excellent proposals for the design of Taipei City Museum of Art, they propose a massive complex of over 50,000 square meters. For more images and architects description continue after the jump:
From the Architects:
Our proposal for the New Taipei Museum of Art is predicated on exploring and celebrating the interrelationship between commerce and the display of art. This approach involved distributing the museum and commercial programs so as to heighten the drama of the encounter between them.

The primary difference between the experience of the Museum and that of shopping is emphasized by the spatial contrast between the two: Where the shopping experience is characterized by openness, even light, visibility and predictability, the museum experience is defined by unexpected changes in scale, views, light, sound and the chance encounter of other museum visitors.

At specific points in the museum and shopping experiences you come into contact with the other. For the most part these points of contact don't allow you to move between them, only to observe. It is through this mediated encounter that we seek to heighten the contrast between the two experiences.