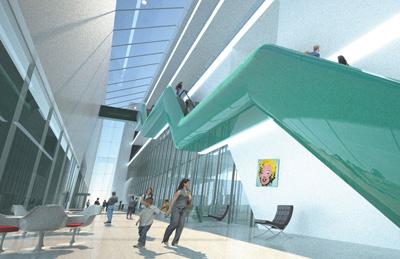 Project: Taipei City Museum of Art
Designed by Volkan Alkanoglu | DESIGN
Design Team: Volkan Alkanoglu, Laura Kwak, Rafael Ruiz, Fransisco Martinez, Xian Chi, Caroline Liu
Client: New Taipei City Government
Size: 510,000ft2
Location: Taipei, Taiwan
Website: www.alkanoglu.com
Volkan Alkanoglu | DESIGN share their proposal for the Taipei City Museum of Art, their solution finds a way to make art more approachable while at the same the building itself is created as an energy efficient entity. In addition to its vast exhibition space, the museum will also accommodate parking space, appropriate retail, restaurants, conference rooms, offices and media rooms.
For more images and architects description continue after the jump:
From the Architects:
The New Taipei City Museum of Art seeks to educate and motivate lifestyles through art and culture; thus promoting artistic creations as a moment in a time greater than none.
The New Taipei City of Art incorporates a well planned program distribution emphasizing the important relationship of art as lifestyle and lifestyle as art. Occupying roughly 20% of the site boundary, the limits within its footprint poses an excellent opportunity to harmonize an artistic community with its administrative counterparts. Having started from one initial mass, program and building are separated, each housing private and public sectors. This allows for specific programmatic relationships, achieving an efficient connection within the building and its immediate environment. The museum body is nested within the private sector in cradle like form, the goals of an approachable artistic lifestyle is gained in the museum's design.
The building design focuses on the orientation and attraction of views, the cradled nesting effect, and the integration of energy efficiency. Exploring various ways to interface with art, the museum offers guests the opportunity to release their creativity. Classrooms, outdoor exhibition spaces, and resource centers are available to the public. Education is readily accessible at the New Taipei City Museums of Art, and the learning environment nurtures all.