Studio Baremberg Bass recently completed this office project for a law firm in the City of Córdoba, Argentina. Take a look at the complete story after the jump.
From the architects: The law office is located on the third floor of a corporate building surrounded by beautiful views of the City Hall as well as the magistrate´s court.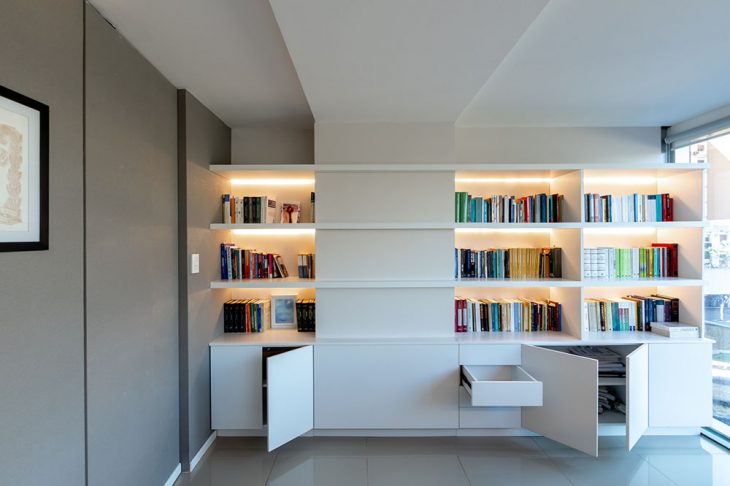 A single large entry corridor gives the office a more functional layout that connects all the law firm´s areas.
Considering uniform office sizes, the firm was able to address the corridor by using strategically frosted glass-fronted panel offices. Following the idea that workplaces should be agile to allow for the integration of new design trends, an organized and bright bookshelf ties the private offices together and displays the firm's best books to make an impression on clients.
In order to enhance the aesthetic of the corridor, each private office has a single pivot door made from solid matte wood planks that rotate on a pivot box in the floor. These doors have a rectangular (vertical/horizontal) pull bar that starkly contrasts with the deep wood finish, suggesting a cool contemporary vibe.
At the end of the corridor, the main office is the centerpiece of the firm. The abundance of glass gives this office incredible natural light, a stunning exterior view while keeping a spacious environment. This office, gifted with the appropriate furnishing, makes a solid first impression, creates a welcoming atmosphere for clients, and allows them to relax and place their confidence in the firm.
The office´s design makes up all the elements of the workspace that are both decorative and functional. Features such as paneled walls, flat weave area rug and neutral art decor also reflect the prestigious firm image and give the workspace an elegant personality.
The firm also counts with a flexible, more casual space for meetings and work. Equipped with the latest technology, modern chairs surrounding the wide table, this room is imperative to hold successful meetings and generate a collaborative work environment.
The chosen colors and accessories in the space such as lighting, wood, furniture and wall decor, work together to highlight and enhance the space´s beauty. Subdued and warm colors guide the decoration of the office reflecting the firm's transparent image. Neutral colors are also used to smoothly pair the walls with wood, floors, lighting and furniture details to create a sober and contemporary environment.
Project Name: Buffet de Abogados
Architecture office: Baremberg Bass – www.barembergbass.com.ar
Country: Argentina
–
Construction year: 2020
Surface: 174 m2
Location: Córdoba, Argentina
Photography by Gonzalo Viramonte