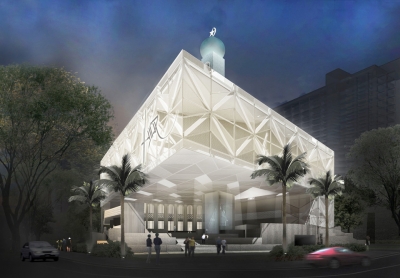 Project: Al-Ansar Mosque
Designed by FARM Architect
Project Team: Tiah Nan Chyuan, Peter Sim, Lee Hui Lian, Adib Jalal
Size: 4500 sqm
Location: Singapore
Website: www.farm.sg
A contemporary shaped design for Al-Ansar Mosque coming from the drawing board of FARM Architect studio.
From the Architects:
FARM, in partnership with KD Architects, is ecstatic to announce our first win in a national architectural competition organised by the Islamic Religious Council of Singapore (MUIS) and Singapore Institute of Architects (SIA) for the rejuvenation of the ageing Al-Ansar Mosque.

The mosque is situated at a traffic junction and sits on a steep slope. The key design intent was to improve the accessibility and connectivity of the mosque to the surrounding estates by increasing the visual and physical porosity of the existing building, making it a truly community mosque.

A large ground plaza, sheltered from the weather and filled with huge steps and ramps is created as the main urban gesture. The identity of the mosque is strengthened with a clear relationship between old and new. The new, while it is boldly expressed as an addition, also gently embraces the old and maintains a separation with a series of airwells and high volume spaces which allows daylight to enter into the building.

The facade to the new volume reinstates the mosque's presence in the neighborhood. Constructed from a overlapping series of metal structures and mesh screens, it forms a highly intricate Arabesque-inspired pattern which filters daylight and views into the spaces within.