ARO Studio has recently completed work on its latest residential project in Bac Giang, Vitenam – Tropical House 1. Bac Giang City is an industrially focused city in Vietnam, where the level of urbanization development is very high. Due to the tropical monsoon climate and high humidity in northern Vietnam, the air is extremely hot during the summer and extremely frigid during the winter. In order to solve the intense sunshine in the summer and maintain the heat in the winter, the architects developed a natural approach to living programs for all spaces in response to these problem requirements.
Greenery serves as the primary core that envelops the entire tropically themed home. The first-floor courtyards and the connecting area are very adaptable and connected to make it easier for the air to circulate properly and cool all the areas.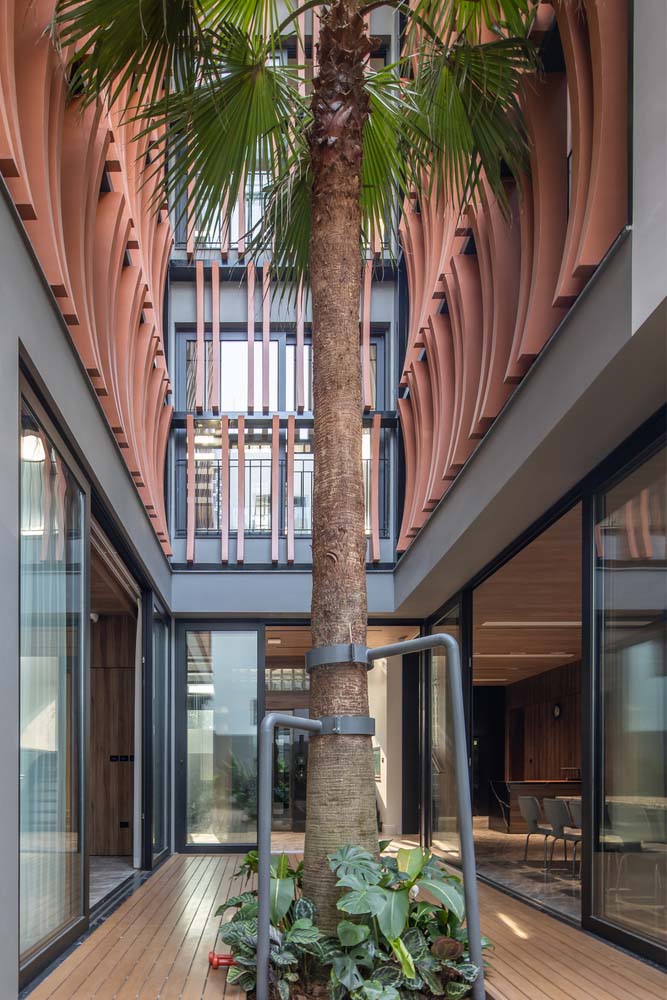 An open verandah that connects the garden and the parking area leads up to the house, and breaks in the architectural block create gaps in the ground that improve the natural access surface. For the space, nature
Each sleeping area will include at least one distinct garden space so that guests may connect with nature without being exposed to the weather. In the common rooms, users can open the glass to be connected to the tropical gardens. rain. Every evening or whenever they want, users can unwind next to their garden.
The building's architectural façade provides a layer of blue color that is symbolic of the Vietnamese people's ancestors. This layer of glazing will lessen the sun's intensity of light on the structure and also increase more seclusion for the layers of living space within. The garden layer serves as a transitional area between the blue layer and the living areas, partially regulating the microclimate and enhancing the scenery to give people a sense of relaxation.
The project is based on the idea that utilised areas should always have natural lighting and ventilation to guarantee a clean working environment for people.
Also, gardens will be set up on the top of the roof, where they will receive direct sunlight, with a cultivated vegetable garden that will produce clean foods for the home and improve activities for the young and old.
Project information
Architects: ARO Studio
Area: 189 m²
Year: 2022
Photographs: Hoang Le
Manufacturers: Anhduong Furniture, SAT Lighting, Stoneline, Tien Green, Xingfa
Lead Architects: Dang Minh Trong
City: Bắc Giang
Country: Vietnam