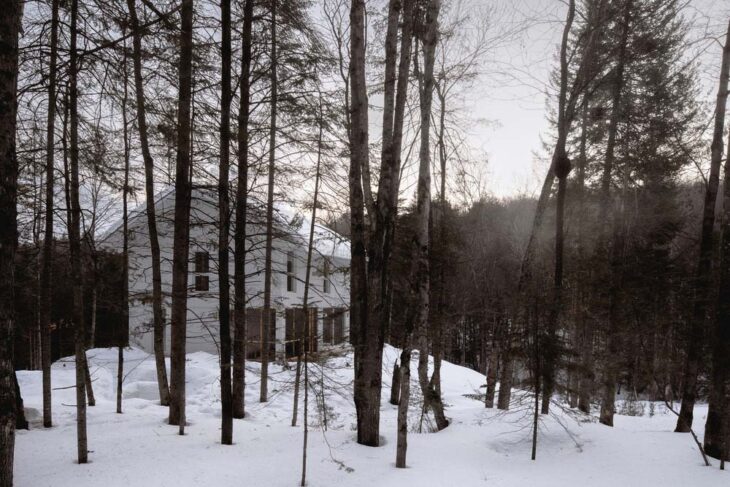 Atelier L'Abri designed this stunning chalet outside of the village of Morin-Heights, Quebec for a family of four. The house allows its occupants to escape from the city to enjoy the calm of nature.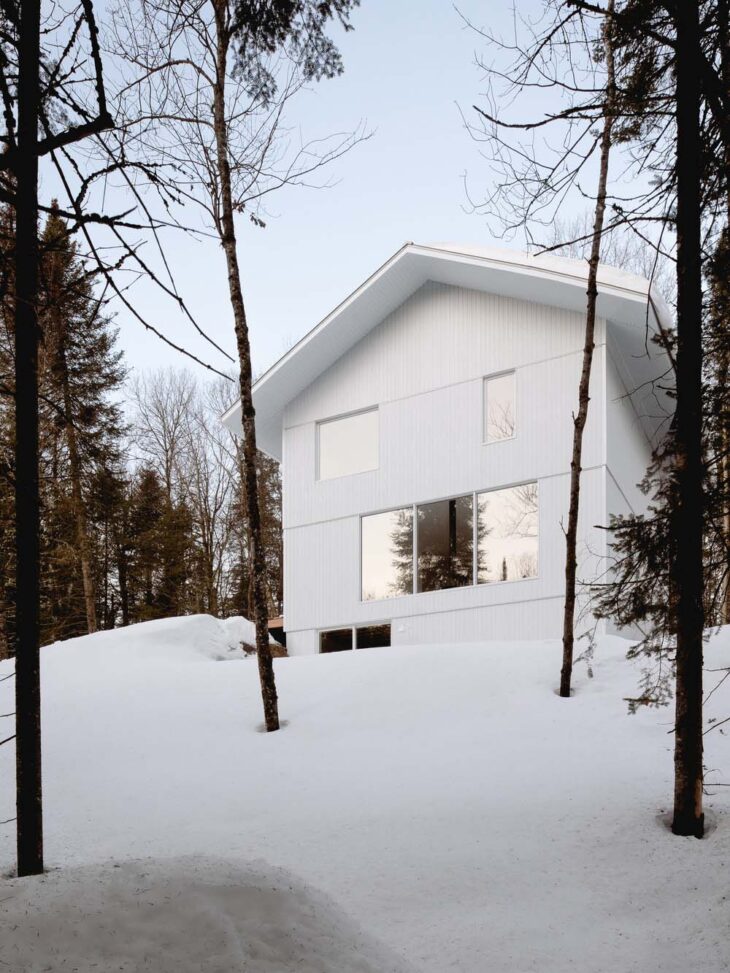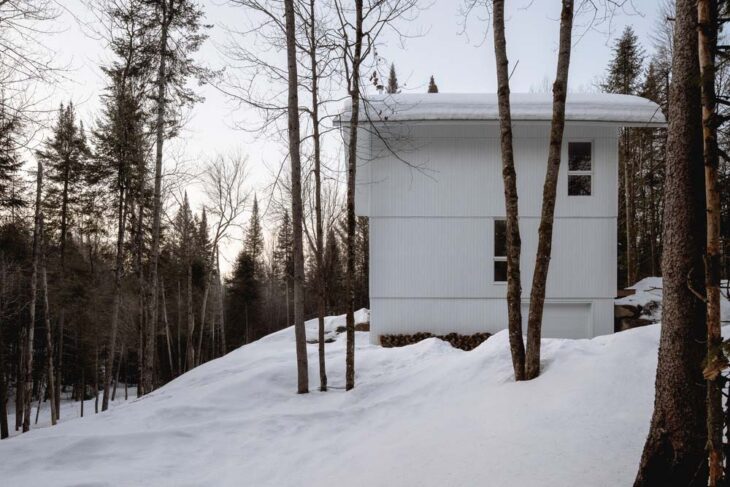 The building's design language is influenced by Austrian Alpine architecture, which also provided the idea for the project's name. The snowy owl, a white bird of prey that is especially well adapted to winter, is known as a Schnee-Eule in German. The compactness of the square design, which limits the footprint of the construction, was given special consideration throughout concept development. The upper level beds are nestled in the trees thanks to the vertical volume.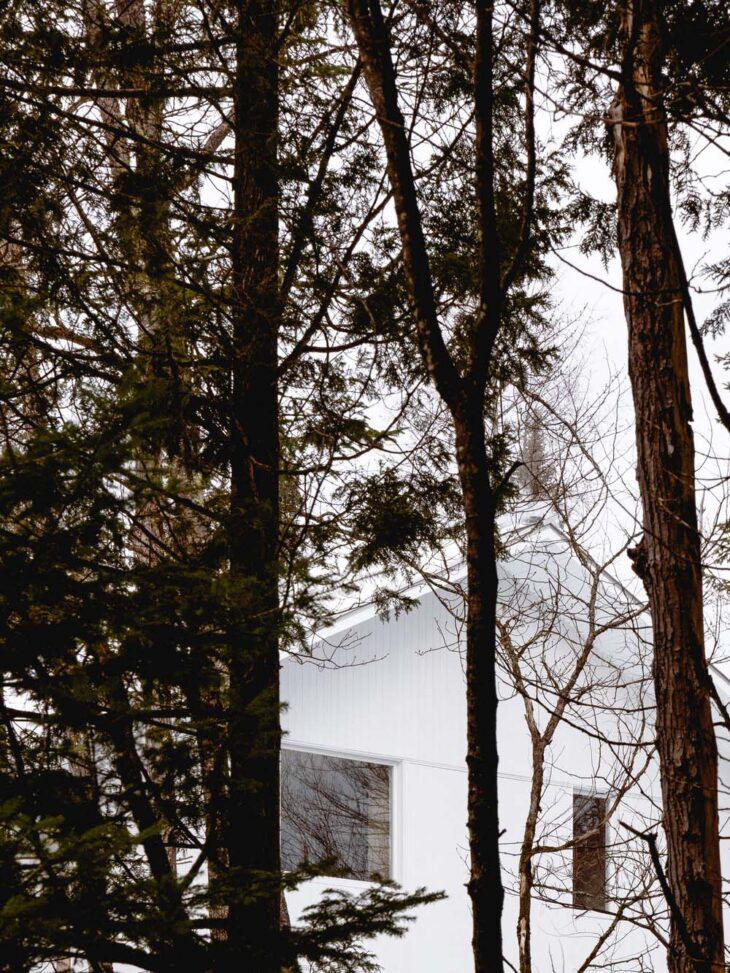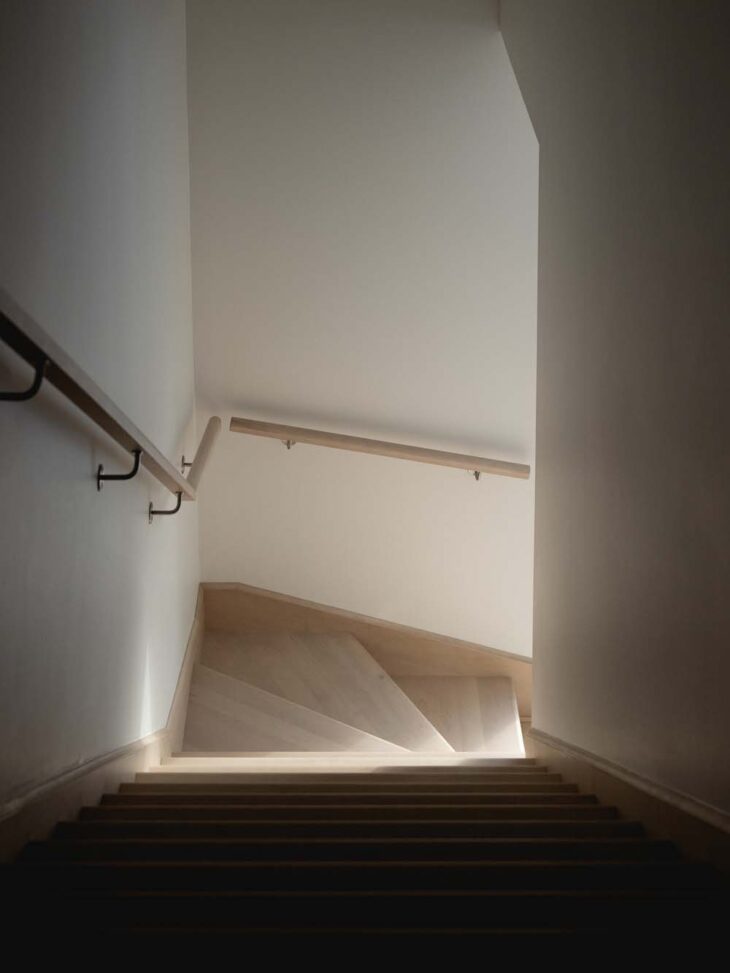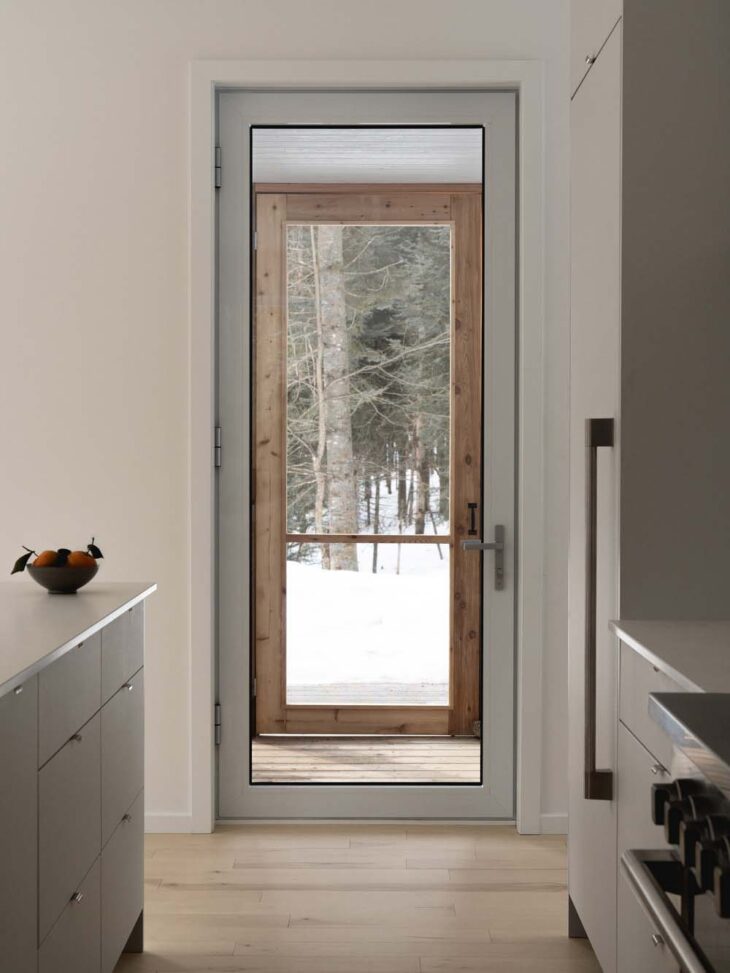 The family's life revolves around outdoor activities, therefore a gear room has been set up on the lower floor to offer easy access to cross-country skiing and mountain bike paths. To facilitate a seamless transition between the indoor and outdoor areas, a sizable terrace and screened veranda face south.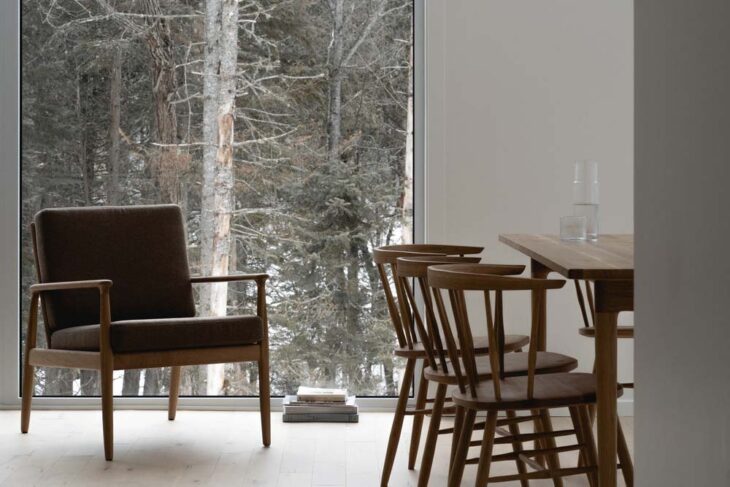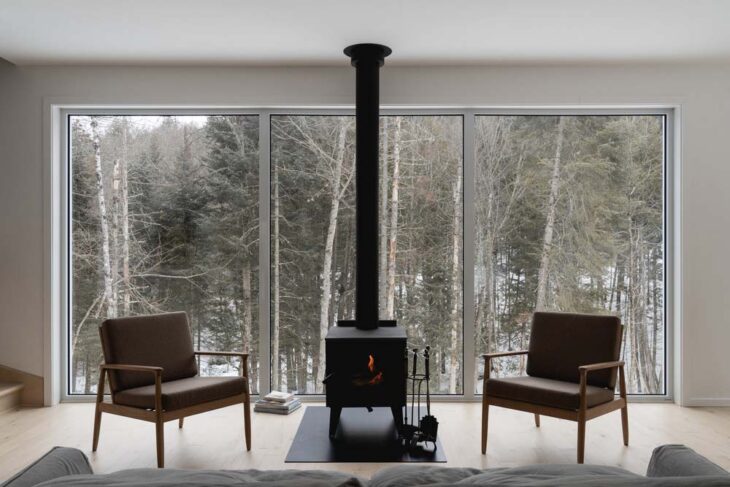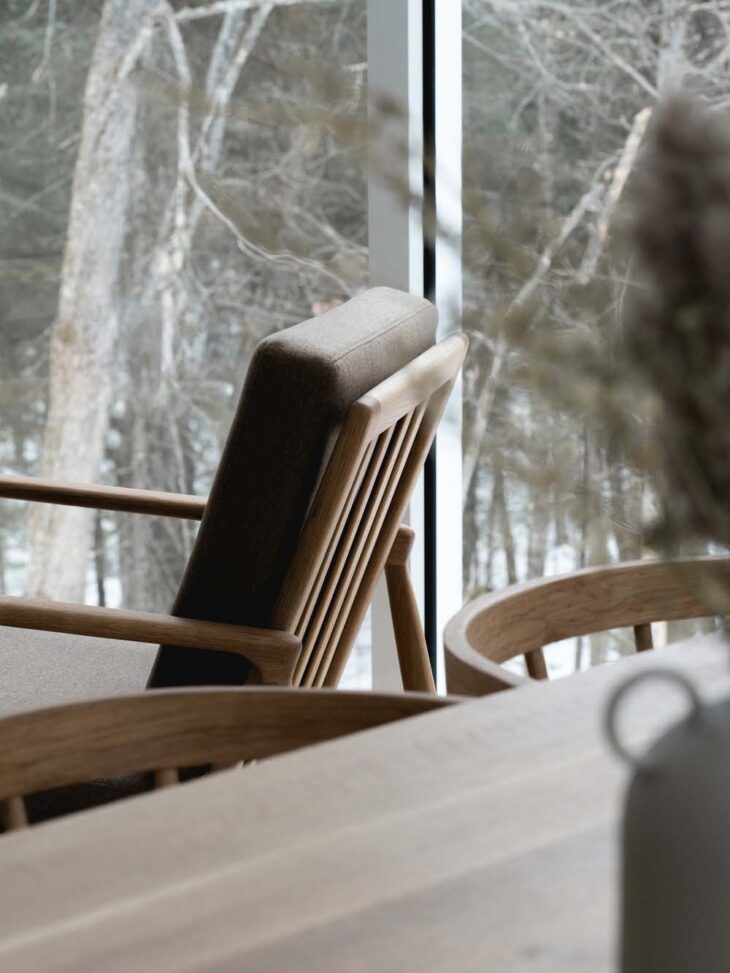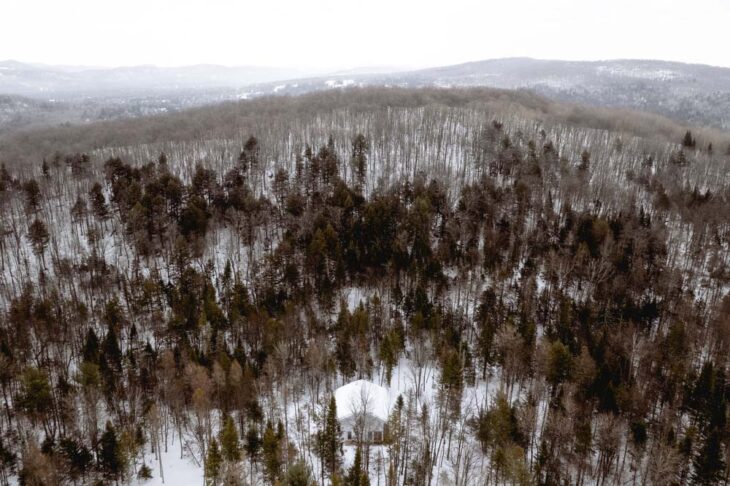 The concept blends in with the winter landscape thanks to the vertical installation of the white wood veneer. Its horizontal subdivisions and the double-pitched roof with its substantial overhangs are reminiscent of classic alpine lodges. Large bay windows allow for the contemplation of nature and the movement of light, which gives the space a serene and cozy feel. The living area, which has a woodstove at its center, encourages relaxation. A reading nook in the master bedroom is one of the small details that finish the overall picture.
The furniture is one-of-a-kind and was custom-made for the home by Montreal-based carpenter Inat.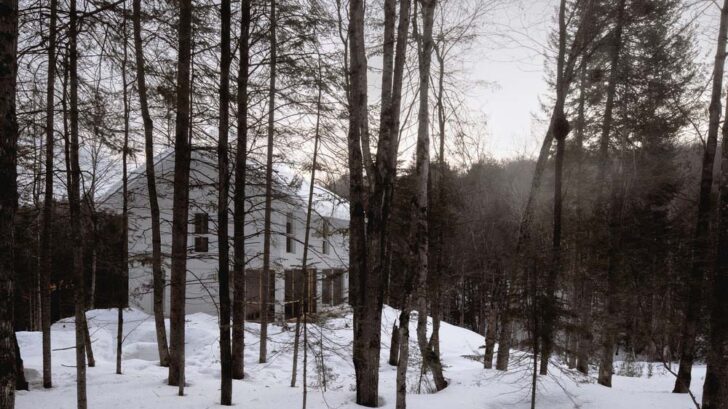 Project information
Name: Schnee-Eule
Site: Morin-Heights, Québec, Canada
Area: 2400pi2 (730m2)
Architecture: Atelier L'Abri – labri.ca
Construction: Invesco Habitation
Project Team: Pia Victoria Hocheneder, Nicolas Lapierre, Vincent Pasquier, Francis Martel-Labrecque
Suppliers: Inat, Fabelta, Mac Metal, Maibec, Bois Mirage, Luminaire Authentik
Delivery: 2021
Photographer: Raphaël Thibodeau