RAD+ar (Research Artistic Design + architecture) has recently complete work on this innovative residence located in the esteemed Menteng area. The task at hand involved reimagining the conventional expectations and requirements associated with the stereotypical, ostentatious Menteng residences. In the architect's response, the scale of the internal massing and the composition of the empty spaces are skillfully manipulated. The roof is cleverly divided into parallel bands, incorporating open sky gardens in an alternating sequence. This design choice results in a captivating diagonal loop of sky circulations, adding a dynamic element to the overall structure.
This exquisite 1500sqm residence epitomizes the cutting-edge iterations of the renowned RAD+ar project's serial house, specifically designed for the innovative 'urban tropical house experimental'. The architrects designed a residence that boasts multiple gardens and offers a diverse range of neighborhood experiences within its confines. The design should embody the essence of infrastructure, resembling a pocket park that seamlessly integrates with the densely populated surroundings. Antonius Richard, an aspiring architect, presents his latest project for review.
The ground floor boasts an expansive and unobstructed layout, characterized by its remarkable transparency. Absent of any partitioning walls, this design choice fosters a seamless visual connection that spans the entirety of the residence. The swimming pool serves a dual purpose as a visually striking light reflective element, while also functioning as a basement skylight. Through the seamless integration of multilevel stacking gardens, the residents are bestowed with a myriad of captivating vistas from every level. This ingenious design element imbues the space with a remarkable sense of openness and elegance, elevating the overall aesthetic appeal. The roof landscape, with its gentle slope, establishes a visual connection to the dynamic Jakarta Cityscape, characterized by its impressive array of high-rise buildings. In the midst of a natural setting, residents have the unique opportunity to engage with their surroundings and seamlessly integrate nature into their daily routines, all while being treated to breathtaking vistas of the urban landscape.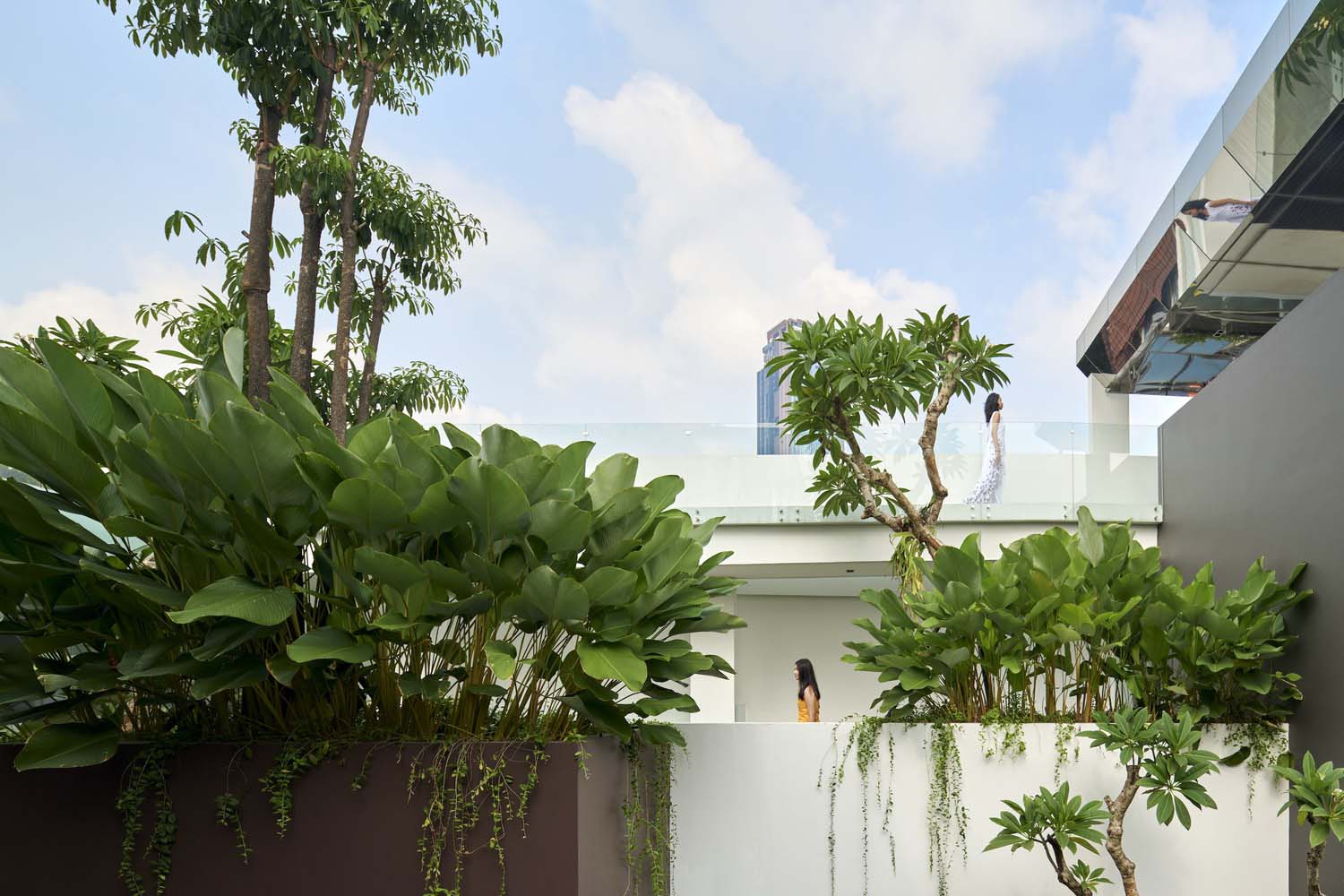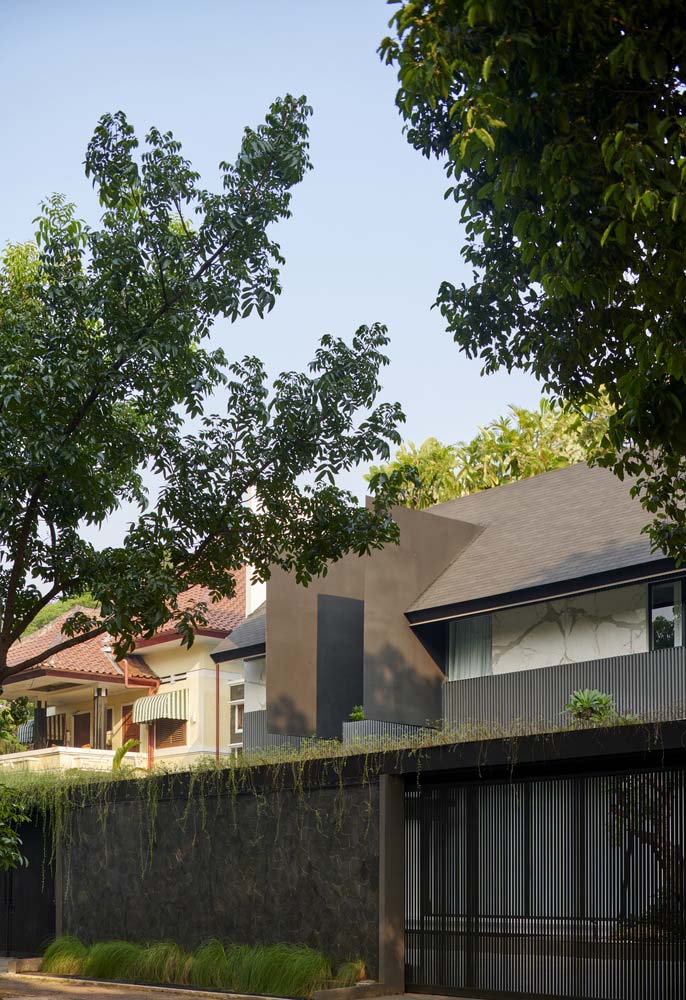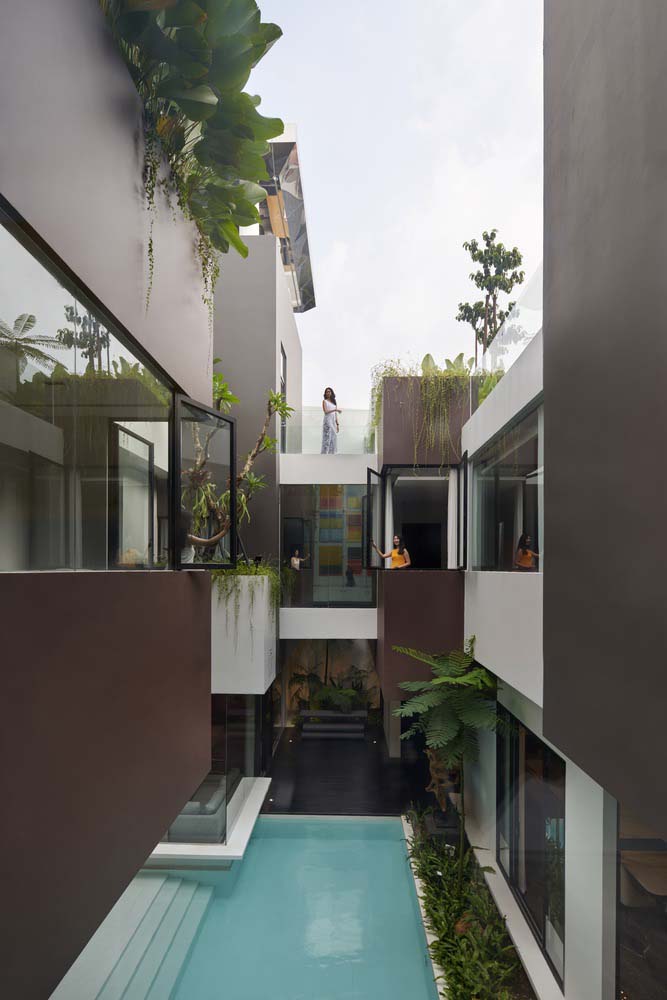 This contemporary tropical residence prioritizes functionality and sustainability over aesthetic appeal. Its design embodies a sense of modesty while boasting exceptional energy efficiency. The architects have employed five fundamental passive building techniques, complemented by active building elements like cutting-edge HVAC systems that significantly reduce energy consumption. Additionally, the inclusion of solar panels on the rooftop and various intelligent home systems further enhance its eco-friendly features. In response to the inquiry of a modest young family seeking an innovative approach to engage with the dynamic arrangement of numerous mezzanine gardens within a straightforward two-story exterior, this compact dwelling harmoniously integrates indoor and outdoor spaces. The result is a welcoming ambiance that exudes warmth, all while upholding a refined and modern aesthetic.
Project information
Architects: RAD+ar (Research Artistic Design + architecture) – radarchitecture.net
Area:1500 m²
Year: 2023
Photographs: William Sutanto
Manufacturers: Daikin, Mill Aluminium, Toto
Lead Architect: Antonius Richard
Architecture Design: Partogi Pandiangan, Antonius Richard Rusli, Junovan Muhammad, Leviandri, Felda Zakri
City: Menteng
Country: Indonesia