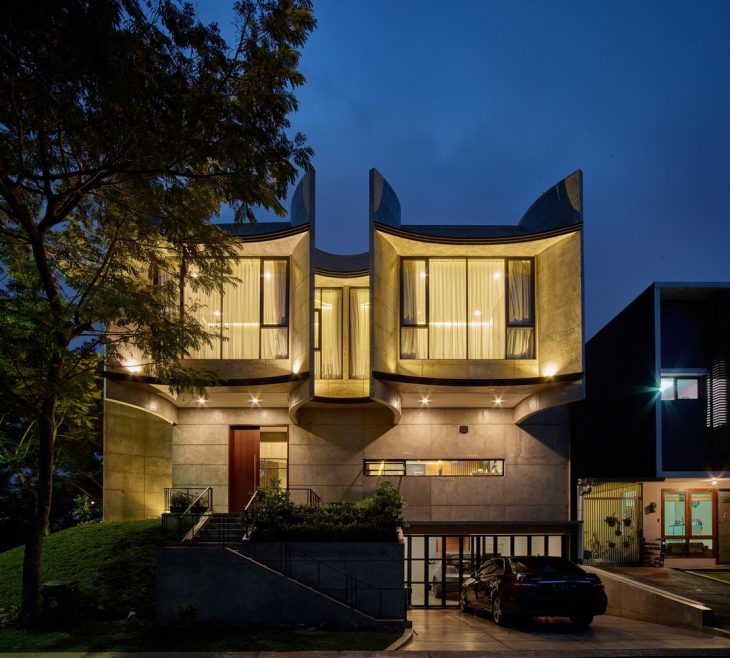 RAW Architecture designed this stunning luxury residence located in West Jakarta, Indonesia, in 2017. Take a look at the complete story after the jump.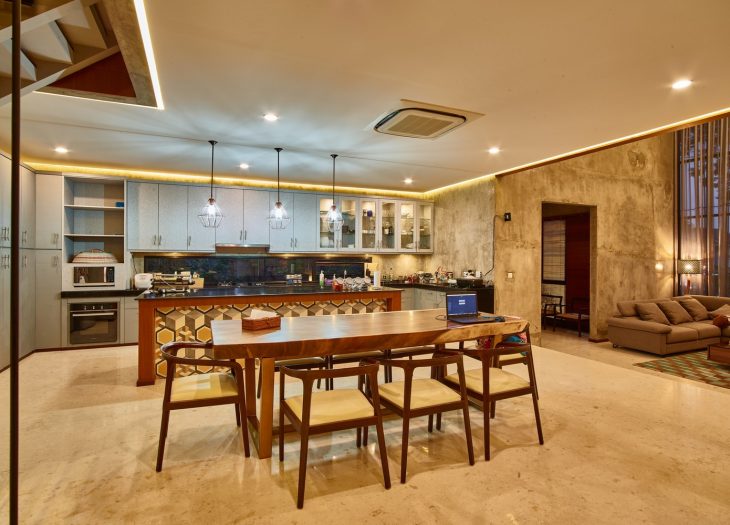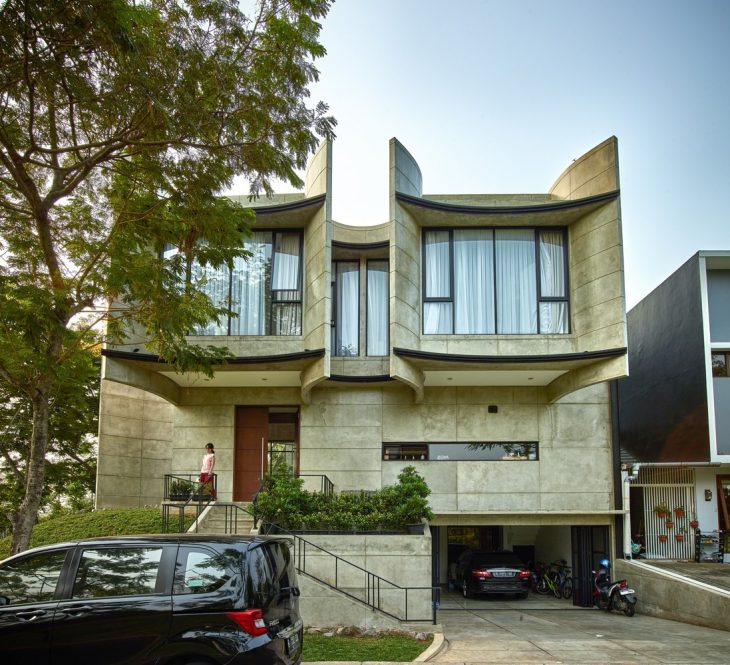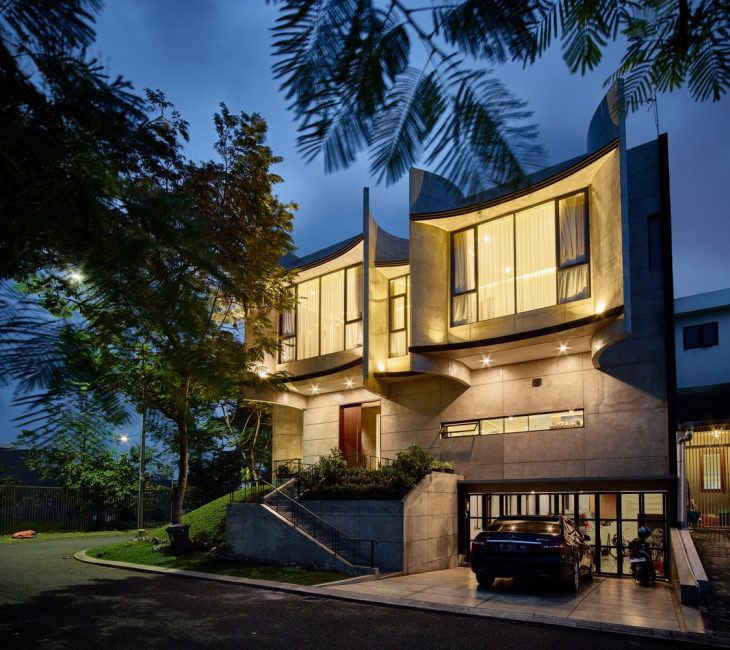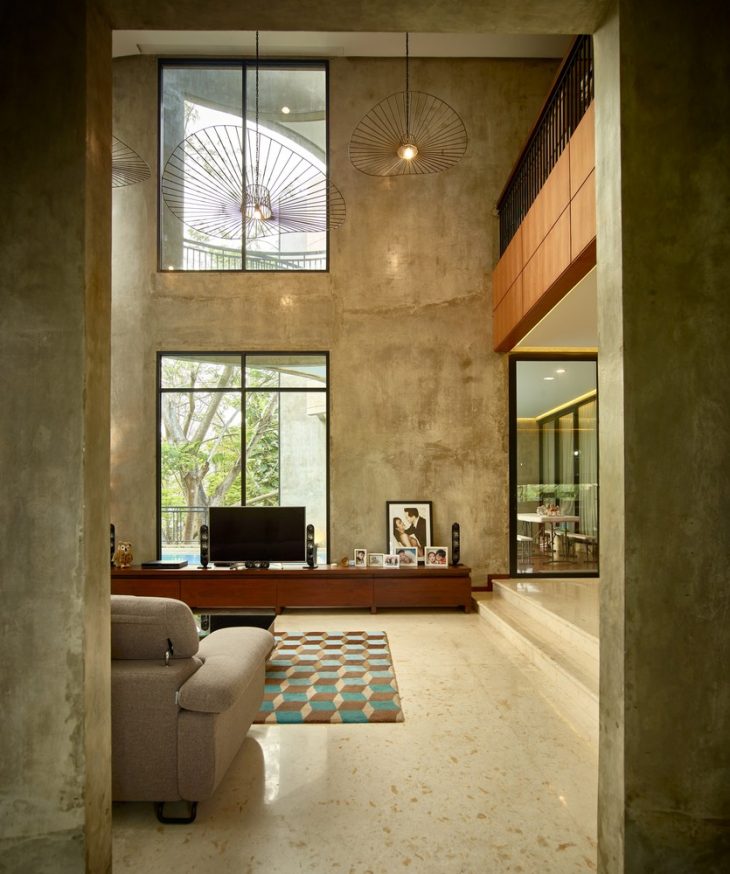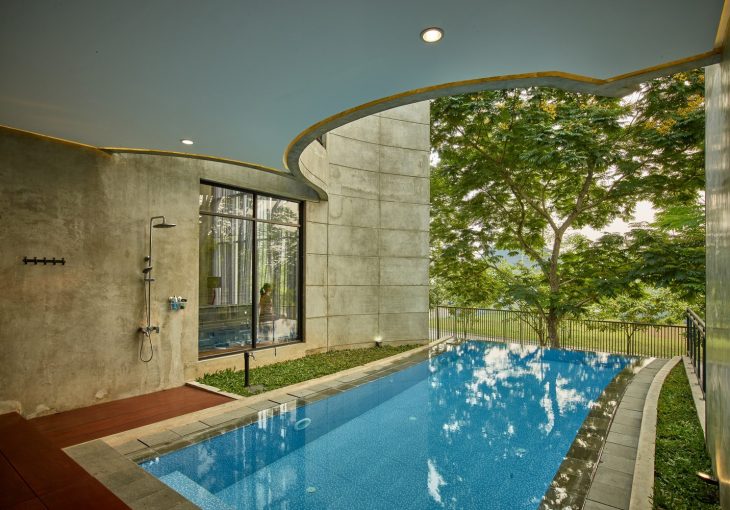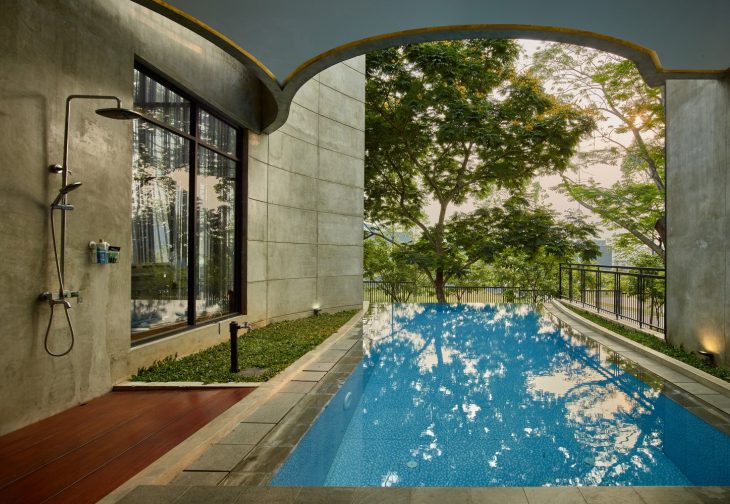 From the architects: Located in The Green Precinct, Bumi Serpong Damai, Tangerang, Kampono House sited on the corner of the complex facing west and south. Its total area is 319 sqm, and having land shaped round. The design use this existing situation to emphasize land potential of scenery and continuous attributes by juxtapositioning axial line and curvature lines, both in interior and exterior part. From outside, the house shows its extrovertness while from inside, neatly put dwelling program kept family activities intact and still private. Land orientation influence design process as opportunity to maximize lighting reception and vistas. Double height window standing still upfront side that facing Southwest, which shaded by 2 existing Albizia Chinensis trees. The design process changes in a flow/continuous manner into final shape following its ground and scenery, as to resemble a dancing house, which were inspired from Mrs. Adhisty profession as ballerina.
Entering the house, an open plan living room welcomed inhabitants and visitors. The ground floor ceiling is extended to maximize its spaciousness by height of 4 meter. On top of the living room, airflow mechanism is consisted in air stacking effect, -a lightwell, with size of 180×180 cm and periphery opening as cross air circulation. Swimming pool is located on second floor to guard user's privacy, this position is achieved by raising the level of ground for about 2 m above, with land cut-and-fill method. Its positioned below curvature roof and having outmost scenery of entire neighborhood.
Roof garden is placed at the rooftop to insulate the building from heat. This space also serves as relaxing place for immediate garden party. Below on the first floor, there are 3 bedroom beside central stair. Two bedroom is designed in 18 sqm for children, adjoining to terrace from curvature component. The master bedroom have bigger area of 30 sqm, with walk-through closet for clothes and powder area, adjoining master study, and facing directly to swimming pool.
The ballete floor is placed on the same floor between master and kids room. This space is also works as second living room for family. The service floor and wet kitchen is located in semi-basement floor, along with utilities as genset and wáter pump.
Material used in the house consisted of local cream Tulungagung marble, solid merbau wood, and steel pipe for handrailing. For handrailing, it is designed vertically placed each in 80 mm distance, put horizontally for kids safety. It used local ceramic for service floor, and coated bare concrete for outdoor finishes.
Kampono House is one example of project which exercise the modification of form and program with open plan circulation, in the tropical climate of Bumi Serpong Damai Tangerang, Indonesia.
Photography by Eric Dinardi
Find more projects by RAW Architecture