Kyiv based architecture and interior design firm Men Bureau has recently completed its latest residential project – JP Residence. It is the first detached house for a two-person family who has previously lived in a rental unit.
The homeowner prefers a calm, straightforward, natural, and uncomplicated environment. A significant amount of warm-colored wood and plaster was used to meet the needs of the client in a space that included a bedroom, living room, home office, kitchen, and two bathrooms. To create a sense of smoothness, the architects added a large number of circles and arcs, and utilized rounded edges to various areas of the interior for aesthetic comfort. The materials used represent the client's natural and minimalist tastes, as well as the necessity for longevity, durability, and practicality. This home was built to last, with a simple, authentic, and casual aesthetic.
The design of the kitchen utilizes simple materials such as cherry wood, boticcino marble, and steel as an accent. Arch chairs developed by the South Korean firm Finder continue the lines of the lamp with their circular curves. The kitchen and bookshelves are made of cherry wood, while shallow niches are decorated with alternating artwork.
Japanese paper lanterns by "TwentyTwentyone" add a warm diffused light to the living area. The clutter-free open space is the result of the designer's minimalist approach.
The bedroom is framed by a wood and glass box in order to open up to natural light from all sides, in addition to maximizing space and creating a comfortable living environment. Automated blinds are used to provide seclusion on glazed walls.
The custom tactile pieces and bespoke furnishings all function as well-crafted handcrafted extensions of the home, expressing the owners' and their objectives.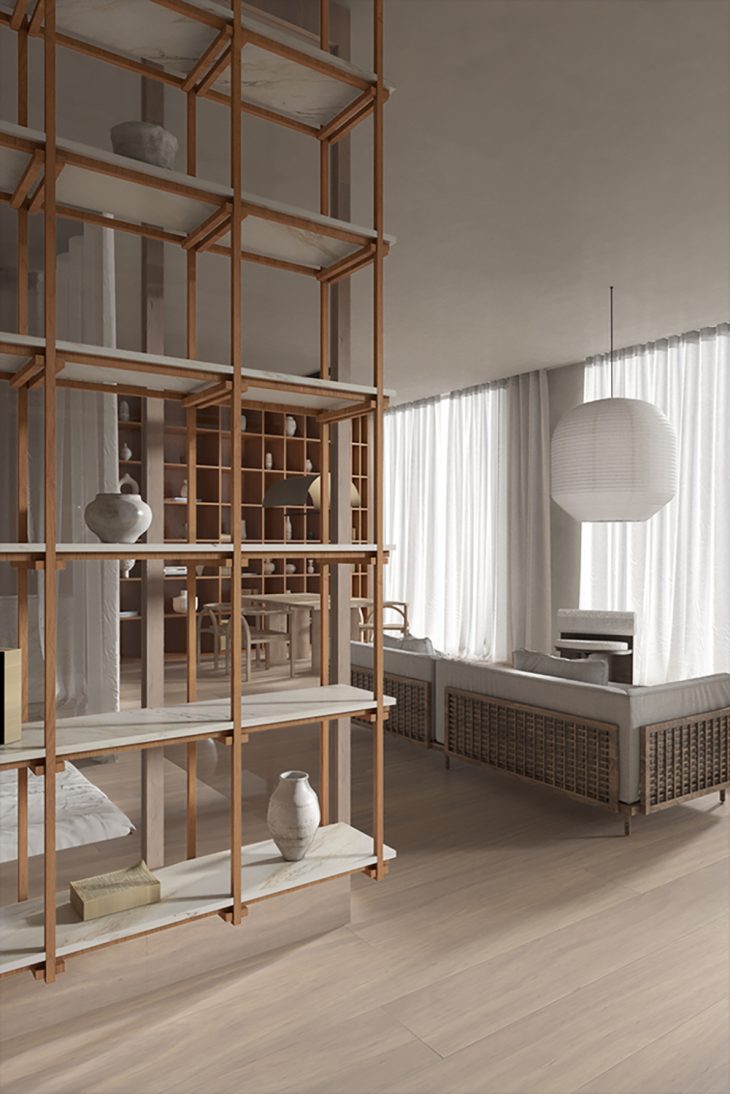 The home library, another characteristic space, frames the outlook for a quiet area to unplug and read.
The residence also has a selection of unique pieces developed by Men Bureau for the project. The wall-mounted ceiling-mounted bookcase is constructed without the use of screws or bolts. The designs are instead made up of wooden poles and marble planes that simply slide together.
To ensure that the picture is complete, they opted to utilize the same materials throughout the house.
The bathroom, in contrast to the muted tones of the common areas, becomes a distinct zone, coated in grey terrazzo. Rather of clashing with the sophisticated material backdrop, various textures showcase the residents' personalities and lifestyle.
Project name: JP Residence
Location: Kyiv (UA)
Sector: Residential
Area: 130 m2
Year: 2021
Find more projects by Men Bureau: www.men-bureau.com