In a world increasingly defined by fast-paced urban living, architect Leila Dionizios brings the serenity of nature to the forefront with her latest creation, the "Lake Refuge." This 80-square-meter sanctuary, unveiled at the CasaCor Rio 2023 exhibition, offers a harmonious blend of comfort, well-being, and a strong connection to the natural world.
Dionizios embarked on her fifth participation in CasaCor Rio with a clear vision. She explained, "With all the adversities we have faced in recent years, there has been a redirection of focus to the interior of our homes, prioritizing these characteristics." The Lake Refuge is a testament to this philosophy, offering a haven that soothes the soul and rejuvenates the spirit.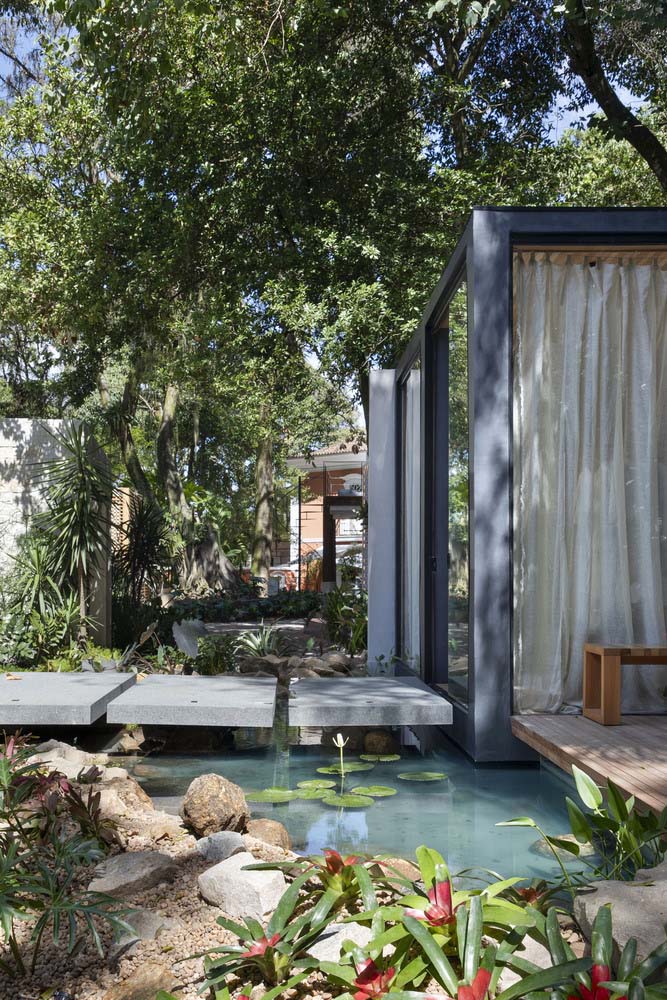 The Lake Refuge is a unique space, crafted from two shipping containers. Situated in the external area of the exhibition, the environment exudes a Scandinavian-inspired aesthetic infused with a tropical touch. Leila's design sensibility shines through the use of light tones and natural materials, including linen for curtains and bedding, and a rich presence of wood in coverings and furniture. A standout feature is the wall adorned with sustainable wood "tiles" from the AZU brand, a signature launch by architect Marcelo Jardim.
The namesake of the Lake Refuge, the artificial lake, adds a distinctive touch to the space. Executed by Bernardo Vieira, partner of Beleza Pura Lagos e Jardins, the lake forms a seamless connection with the bungalow through a deck, creating an outdoor area for contemplation and socializing. Ana Veras' expert landscaping transforms this aquatic feature into a calming element, with the gentle embrace of native plants like Waterlilies and Pickerelweeds, which bloom year-round. On the banks, indigenous species such as Guaimbé, Neomarica, Clusia, Bromeliads, and Ripsalis are complemented by the elegant silver-hued Bromeliad Odoratas, adding a touch of sophistication to the project.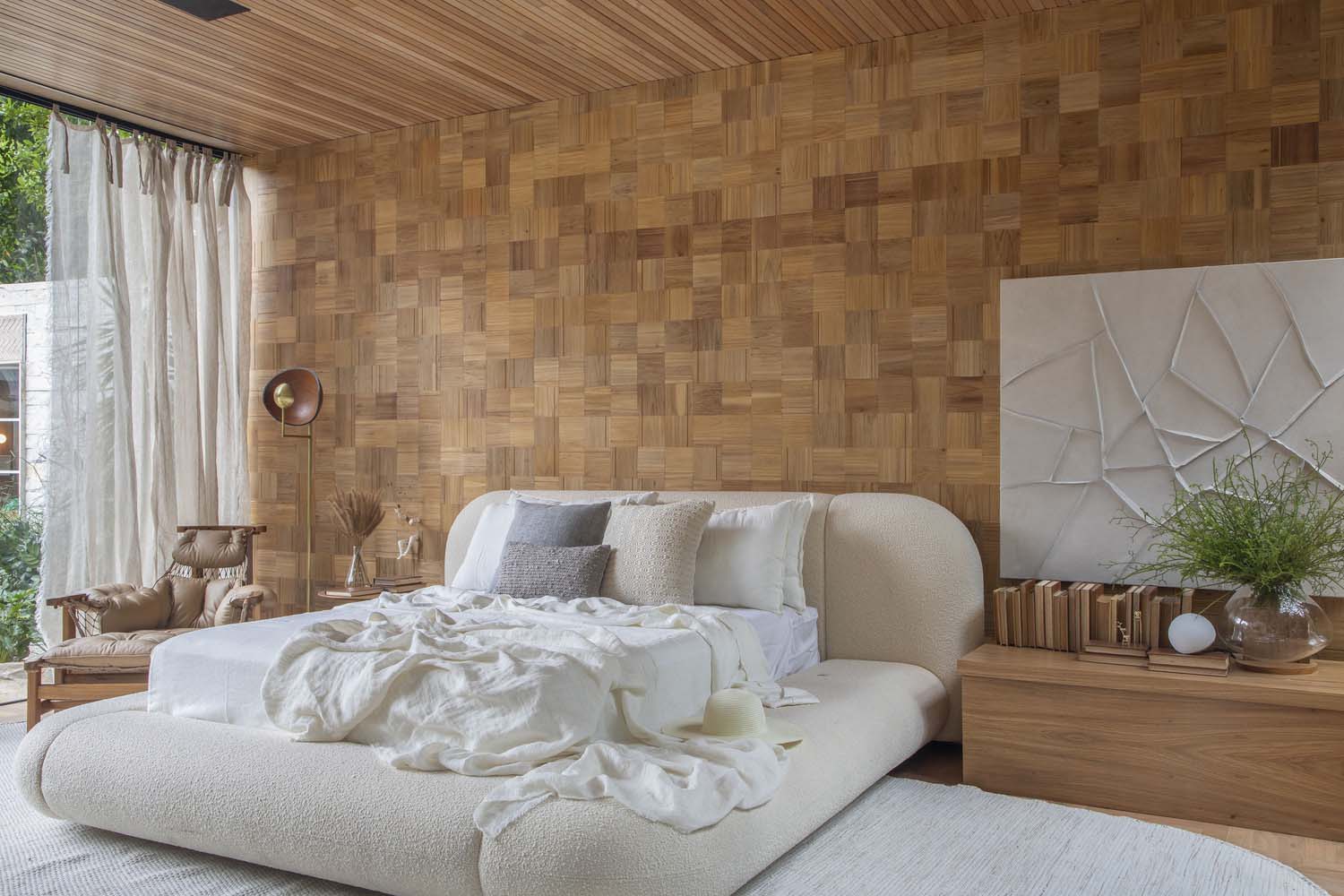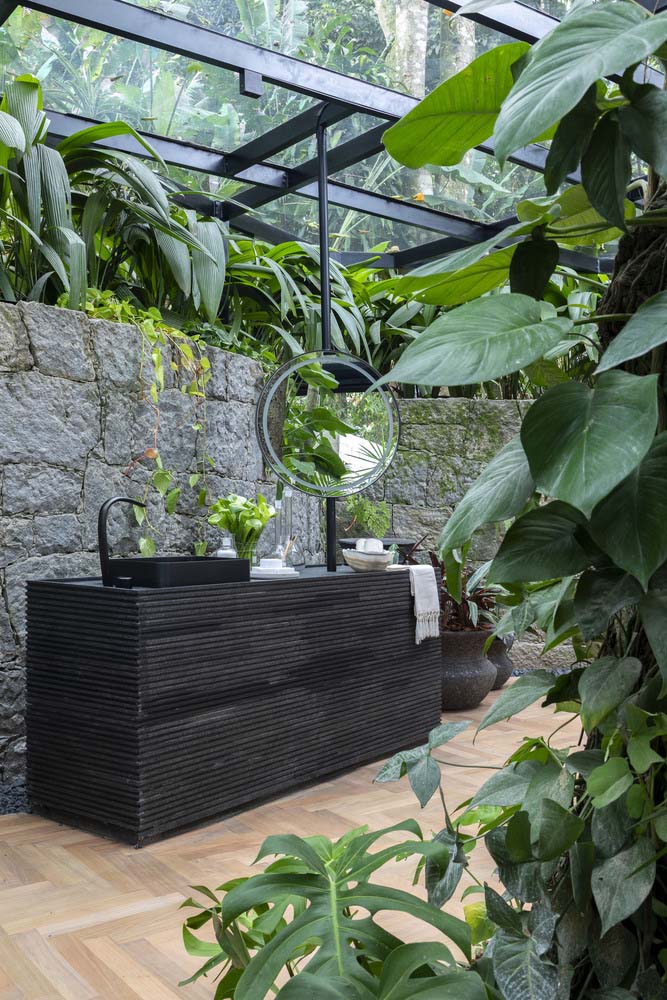 Inside the bungalow, visitors are greeted with a carefully curated selection of Brazilian design furniture. Notable names like Jean Gillon, Jorge Zalszupin, and Jader Almeida contribute to the ambiance. The generously proportioned bed, upholstered with off-white boucle fabric from Reveev, offers dimmable lighting, a USB port, and wireless charging, all in the name of prioritizing comfort.
The bathroom, occupying a small external area, integrates existing elements on-site, such as a stone wall and mature trees. Leila's design vision shines through in the sculpted Corian bathtub, a raw stone countertop, and the Ajajá stool, generously provided by designer Hugo França. A glass skylight frames a view of the treetops, enhancing the connection with nature.
Lake Refuge is not just a physical space; it's a tranquil retreat that speaks to the importance of embracing nature in our lives.
Project information
Architects: Leila Dionizios – leiladionizio.com.br
Area: 80 m²
Year: 2023
Photographs: Denilson Machado – MCA Estúdio
Manufacturers: Altero, Arquivo Contemporâneo, Atelier Hugo França , Azu Wood Tiles, Beleza Pura Lagos, Clover madeiras, Deca, Galeria Hathi, High End Automation, Kafer Churrasqueiras, Marcos Venieris, Organne Vasos, Reveev, Sandra Decorações, Sanglass, Trama Casa, Vigolucci
Visual Design: Studio Jefferson Stunnes
Landscaping Designer: Ana Veras
Construction: Plenty Construtora
Artwork: André Ferri, Fabian Albertini, Rodrigo Zampol, Fabiana Queiroga
City: Rio de Janeiro
Country: Brazil