yh2_ yiacouvakis hamelin architects have recently completed work on their latest residential project – Maison Carlier. This stunning project is located in the bustling heart of Montreal's Little Italy district and is built on a through lot.
The design capitalizes on the distinctiveness of the site, which benefits from dual street access. This newly constructed townhouse, located on Drolet Street, has been thoughtfully designed to complement the existing sixplex on the same street. The townhouse occupies the space previously used as a parking lot, with convenient access from rue Henri-Julien. The centrally-located courtyard serves as the focal point for the overall design, resulting in a unique two-headed multiplex typology that is well-suited for this unconventional site.
The project is characterized by the intersection of two distinct architectural forms: a suspended brick volume and a vertical block composed of wood and glass. The project's fragmentation enables seamless integration into a diverse urban context.
The primary structure of the building is a floating brick volume that seamlessly blends with the uncomplicated geometry of the neighboring structures. The front facade features an ocher brick facing that creates a woven effect, accentuated by black lines that are seamlessly integrated into the frame. The vertical apparatus of the black brick side walls beautifully complements the fine framing of the facade facing the street. The courtyard features a dematerialized brick envelope, while the rear facade provides a picturesque view of the trees located in the center of the block.
Simultaneously, the foundation upon which the primary structure rests, as well as the apex of the edifice, are punctuated by a sinuous glass and timber form that penetrates the brick mass. The vertical extrusion serves to guide one's ascent through the various levels of the house.
The unconventional allocation of functions across various levels is a notable feature of this design. The sleeping quarters are situated on the second storey, which benefits from a relatively subdued illumination.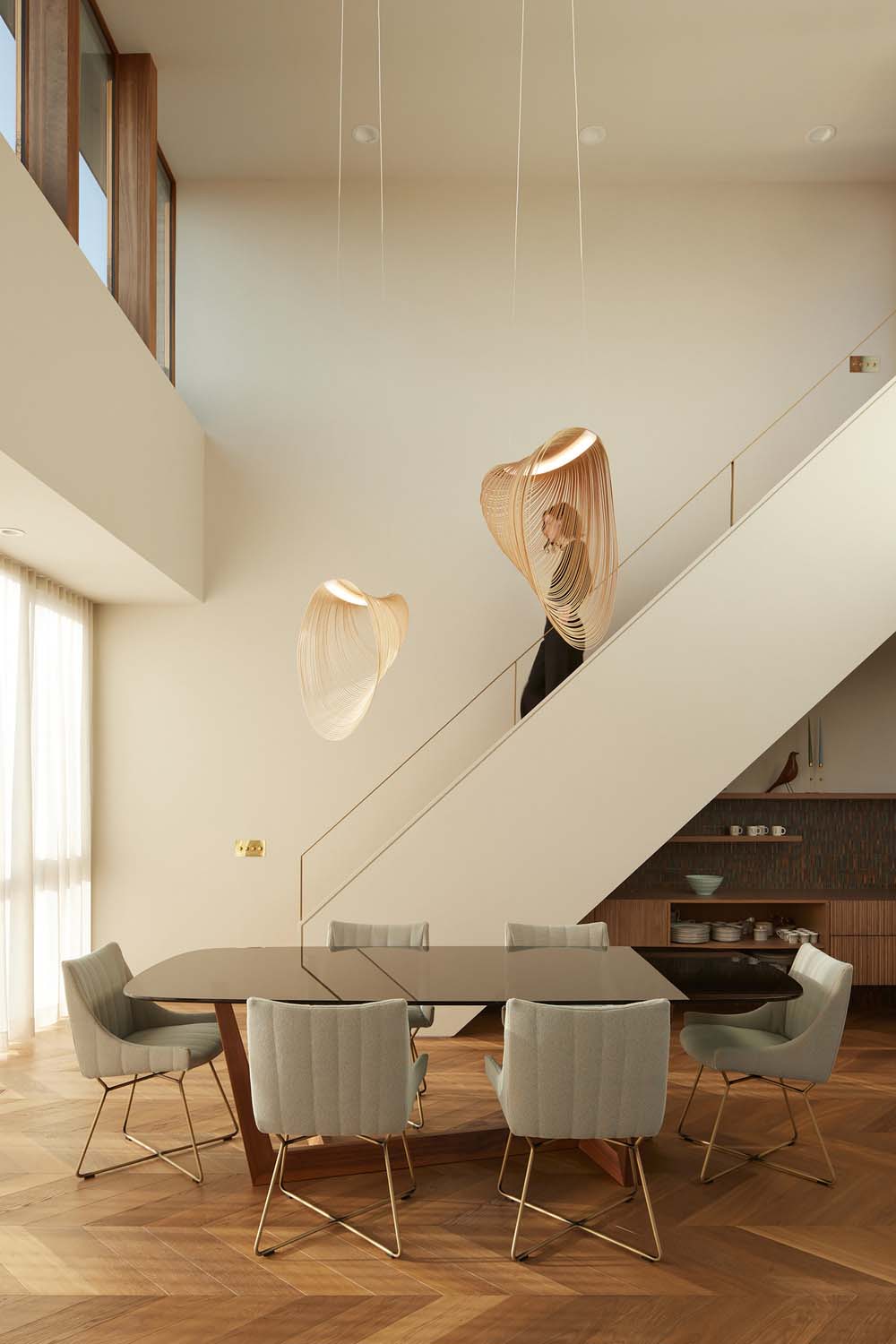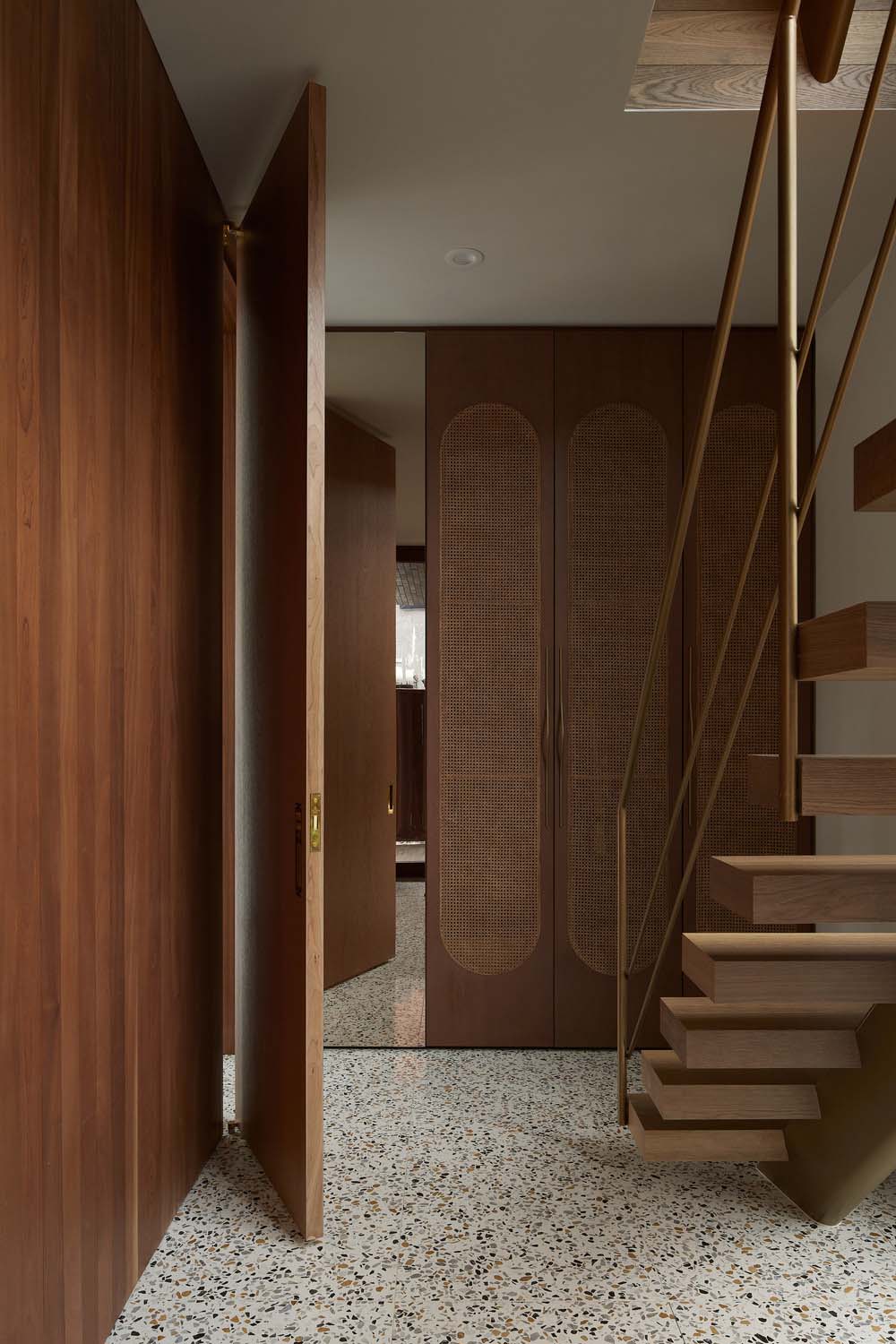 The third floor living rooms are strategically positioned to receive ample natural light through numerous exterior windows. The interconnectivity of the space is emphasized by the varying ceiling heights, which serve to define distinct functional areas. The implementation of a glass extrusion is evident in the form of a skylight, which serves to elevate the double height area and create an expansive atmosphere towards the heavens. The rooftop terrace's staircase is seamlessly integrated into its design, offering a stunning ascent that gradually unveils breathtaking views of the cityscape.
This project's architectural design features simplistic volumes that harmoniously blend with its surroundings, showcasing a masterful use of materials and their execution. The architecture in question is characterized by its expressive nature, with a keen attention to detail and a diverse range of textures that serve as the guiding thread throughout.
Project information
Project Name: Maison Carlier
Location: Montreal, Quebec, Canada
Completion date: Juillet 2022
Clients: Joey Mastrogiuseppe et Lisa Wolofsky
Architects: yh2 – yiacouvakis hamelin architectes
Design team: Marie-Claude Hamelin, Loukas Yiacouvakis, Lisa Busmey, Étienne Sédillot, Karl Choquette
Collaborator: Ingénieurs Génie X
Contractors: Loracon Construction, Construction Cargem, Carrelage M. Clement, Maçonnerie Gy Inc.
Photographer: Maxime Brouillet
Find more projects by yh2_ yiacouvakis hamelin architects : www.yh2architecture.com