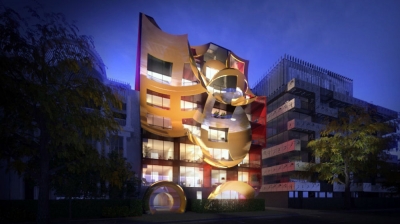 Project: Orbis Apartments
Designed by ARM Architecture
Client: Arno Corporation
Location: Melbourne, Australia
Website: www.a-r-m.com.au
Orbis Apartments in Melbourne designed by ARM Architecture, the seven storey building's completion is expected by 2014. Residential units range from one bedroom apartments to lavish penthouse's.
From the Architects:
Orbis addresses the northern end of Albert Park Lake reserve and has been designed to make optimal use of appropriate scale to ensure a suitable density close to public parkland and pedestrian access to commercial strips.
The great Viennese architect Adolf Loos believed that apartment buildings fulfilled different roles inside ̶ as places to live in, and outside ̶ as contributors to the quality of the civic space and the street. Over recent years 'sameness' and 'placelessness' have crept across the city in the form of poorly designed apartment blocks. For Orbis, it has been our goal to create apartment houses of the highest quality, ones which express the vitality of city life. We have sought to energise these houses through well laid out interiors and through shaping and marking the face of the building. It will be a startling addition to the street and to the city.