Rama Architects have recently completed their latest residential project on the tranquil shoreline of Clareville Beach, the M House. The project represents a remarkable fusion of modern design and immersive greenery that redefines the relationship between man and nature.
With architectural hints of Brazilian Modernism, M House boasts a concrete form characterized by deep eaves, voids, and an unyielding commitment to openness. However, it's the project's core principle that truly sets it apart: to create a restful and private family home that melds harmoniously with the landscape, both from above and below.
One of the standout features of M House is the immersive planting that cascades from the rooftop, visible from every room, and the greenery that sprouts from the ground up. This intentional fusion of nature with the built environment blurs the lines between the exterior and interior, effectively allowing the dwelling to vanish behind a curtain of lush vegetation, offering residents privacy and tranquility.
The architects behind M House have managed to achieve a delicate balance between the solidity of the structure and the softness of the natural elements. The 'hard' elements are evident in the Brazilian modernist design, which incorporates concrete, stone, and tallowwood. These materials form a robust structure with expansive eaves, creating a secure and sheltering environment.
In contrast, 'soft' features, including the play of light, the interplay of voids, and the incorporation of the surrounding landscape, are seamlessly integrated. The result is a sense of oneness with the trees, plants, and water that envelop the residence.
The architects have ensured that every aspect of the design is meticulously executed, from the architectural elements to interior design, landscape integration, and even artwork. The collaboration with Sprout Studio and Reflective Gardens for landscaping has been instrumental in achieving the natural immersive environment surrounding the home.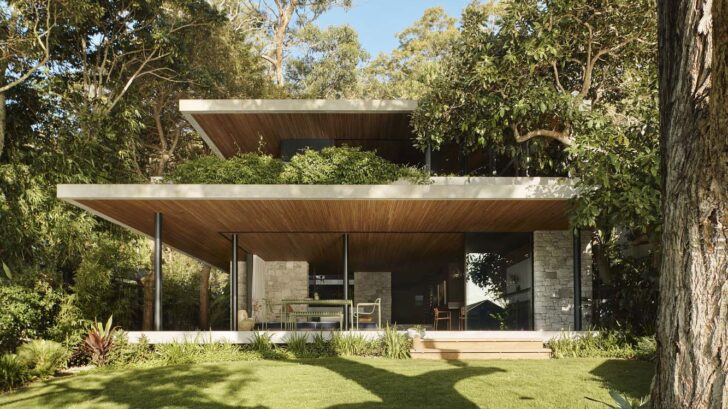 Project information
Architects: Rama Architects – www.ramaarchitects.com
Year: 2023
Photographs: Anson Smart
Builders: Hampton Constructions
Interior Designers: Rama Architects
Landscape: Sprout Studio, Reflective Gardens
Architects: Rama Architects
Artwork: Keith Kerinaui
Styling: Composition Studio, Avalon
Joinery: Debrich Custom Joinery
City: Clareville
Country: Australia