Joel Contreras has recently completed works on this stunning residential reconstruction project in Phoenix, Arizona. Instead of demolishing the house's solid foundation, the architects placed a lot of emphasis on incorporating it into the new design. The client and the historic neighborhood can be pleased with and supportive of the outcome by using parts of the previous home while transforming it into something new. Take a look at the complete story after the jump.
From the architects: Using a modern take on a traditional style, this adaptive reuse concept is located in Phoenix, Arizona. With original masonry walls and a new roof nestled on top of the clearstory glass, the home is the perfect marriage of old and new. Using Joseph Eichler's double gable home as inspiration, the shape of the roof is a nod to the 1960's iconic home. The newly renovated home is decorated with quartz countertops, white oak cabinets, Doug Fir clad ceilings and sandblasted walls. With new elements such as the addition on the back, charcoal painted board and batten finish, and a pool surrounded by a mahogany deck, this home complements the surrounding neighborhood while providing its own take on modernism.
The area of focus for this home was to incorporate a great design, encouraging the historic neighborhood to welcome it with open arms. While many designers solely think about the property itself, not the neighborhood, it was important to us to be respectful of the surrounding area. We focused greatly on incorporating the existing home into the new design, instead of tearing down what good bones it had. Using remnants of the past home while elevating it to something new allows for the client and historic neighborhood to be happy and supportive of the result.
The owners, Melissa and Scott, bought the ranch house and were feeling very uninspired by it. They couldn't decide if tearing down or remodeling the home was the right direction. When they first started conversations with Contreras, he suggested a hybrid between the two – keeping the good bones and removing the outdated pieces. They were skeptical at first, but after rendering a few views for them, they immediately fell in love. Contreras was inspired to make the home look like a new version of itself, with a window to the past.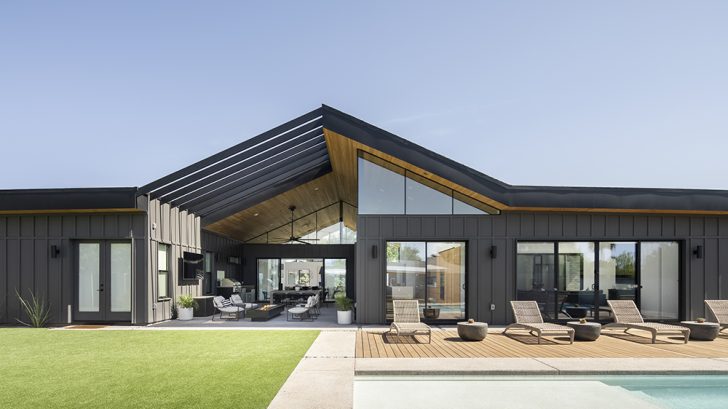 Discover more projects by Joel Contreras – joelcontrerasdesign.com