Luc Plante architecture + design has unveiled "The Footbridge," a stunning primary residence that seamlessly melds modern architecture with the breathtaking natural landscape of Quebec's Eastern Townships. Situated amidst the picturesque mountainous terrain of the Estrie region, this innovative structure represents a harmonious coexistence between human design and the beauty of nature.
After meticulous analysis of the topography, the architects found inspiration in the land's steep curves, which has led to the creation of a residence characterized by bold lines and daring volumes. Positioned strategically between two rocky massifs on a small plateau, "The Footbridge" deliberately leaves the surrounding forest untouched, offering residents panoramic views of the rolling hills and the untouched wilderness.
This family home is a sanctuary bathed in natural light, featuring an interior enveloped in soothing neutral tones. Every room has been meticulously planned to maximize its connection with the natural surroundings.
The three-story residence is intelligently connected to the landscape, reaching out to embrace the lush forest. A built-in gazebo and a footbridge between floors complement the design, breaking up the building's imposing height with changes in materials from one level to the next.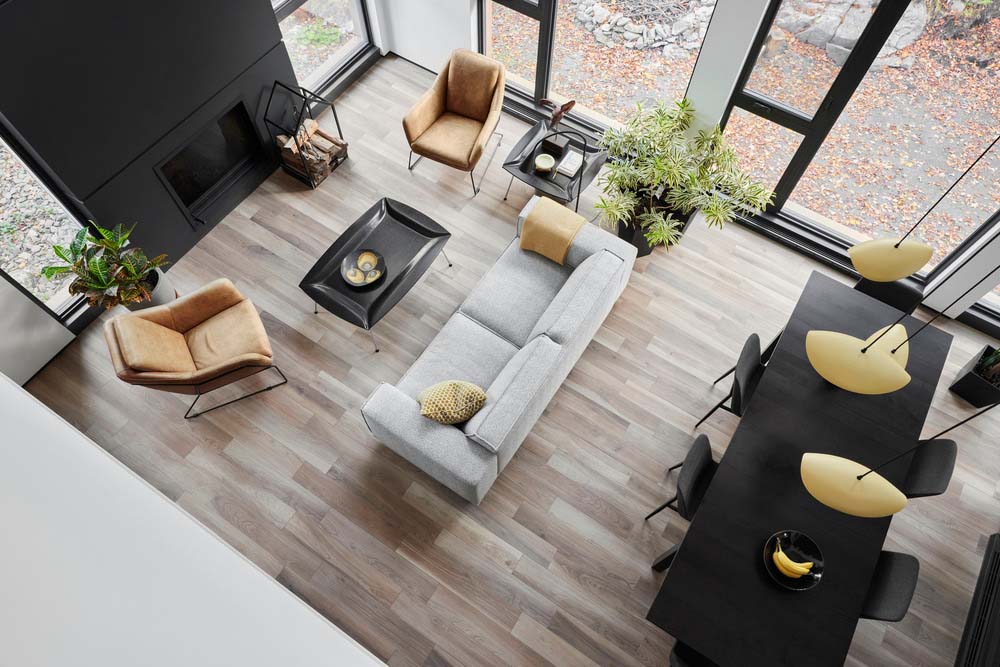 However, the true magic of "The Footbridge" unfolds on the third floor, where the distinction between indoor and outdoor living becomes blurred. Elevated above the bedrock, the living areas seem to extend into the mountain's embrace. Depending on the perspective, the house offers different views – facing east, it appears to be nestled high among the trees, while facing west, it feels at one with the ground.
Inside, simplicity and unobtrusiveness define the layout, mirroring the surrounding environment. The use of natural wood and sheet metal creates a clean, bright interior with a contemporary aesthetic. Each strategically placed window ensures that the outdoors remains a focal point, bridging the gap between the interior and exterior seamlessly.
The third storey features a mezzanine held aloft by beams supporting an exposed-wood floor. This level defines the kitchen space and offers breathtaking views of ski hills on the horizon, serving as a backdrop to the office space. For guests, a part of the mezzanine can be converted into a small guest room, ensuring a comfortable stay for loved ones.
Designed with flexibility in mind, "The Footbridge" can support an extension to the mezzanine floor to accommodate two additional bedrooms and a family room if the need arises.
Project information
Project: Footbridge
Location: Bolton-Est, Quebec
Architecture: Luc Plante, architecture + design inc – https://lucplante-architecte.com/
Project team: Design team: Luc Plante, Caroline Desbiens, Kim My Le Quoc
Technical team: Chantal Riendeau, workshop manager, Miriam Anctil
Engineer: Groupe A.S.M, Aldrin Sapunariu
Contractor: Entreprise Mathieu Ostiguy inc.
Photographer: Annie Fafard
Project start date: June 2020
Project end date: 2022
Area of the site: 783 m2
Constructed area: 192 m2,included 27.5 m2 gazebo