DMTALLER has recently completed its latest residential project in Mérida, Mexico – Villas 72 Residence.The project's most major challenge was the uneven terrain with a narrow access point.
Given the difficulty of accessing the location, it was crucial to think carefully about the construction techniques. Nonetheless, the architects managed to create a strong project materializing between the local workforce and the final materiality by looking at the project as an element that would use local resources and construction processes.
Understanding the city and its architectural values was the first step in the process to achieve a project that would adapt to the new needs of users while taking into account the most outstanding aspects of the construction methods of the Yucatan peninsula.
The materials were used largely to establish monochrome environments where light and its reflections were the protagonists coupled with neutral hues in walls, floors, and ceilings. The idea is built around a few straightforward components that work together to create airy, well-lit spaces with a pleasant appearance thanks to the use of local wood. The transcending textures optimize the project's economics by always taking into account the surrounding limestone that already exists and construction materials like the bare voussoir.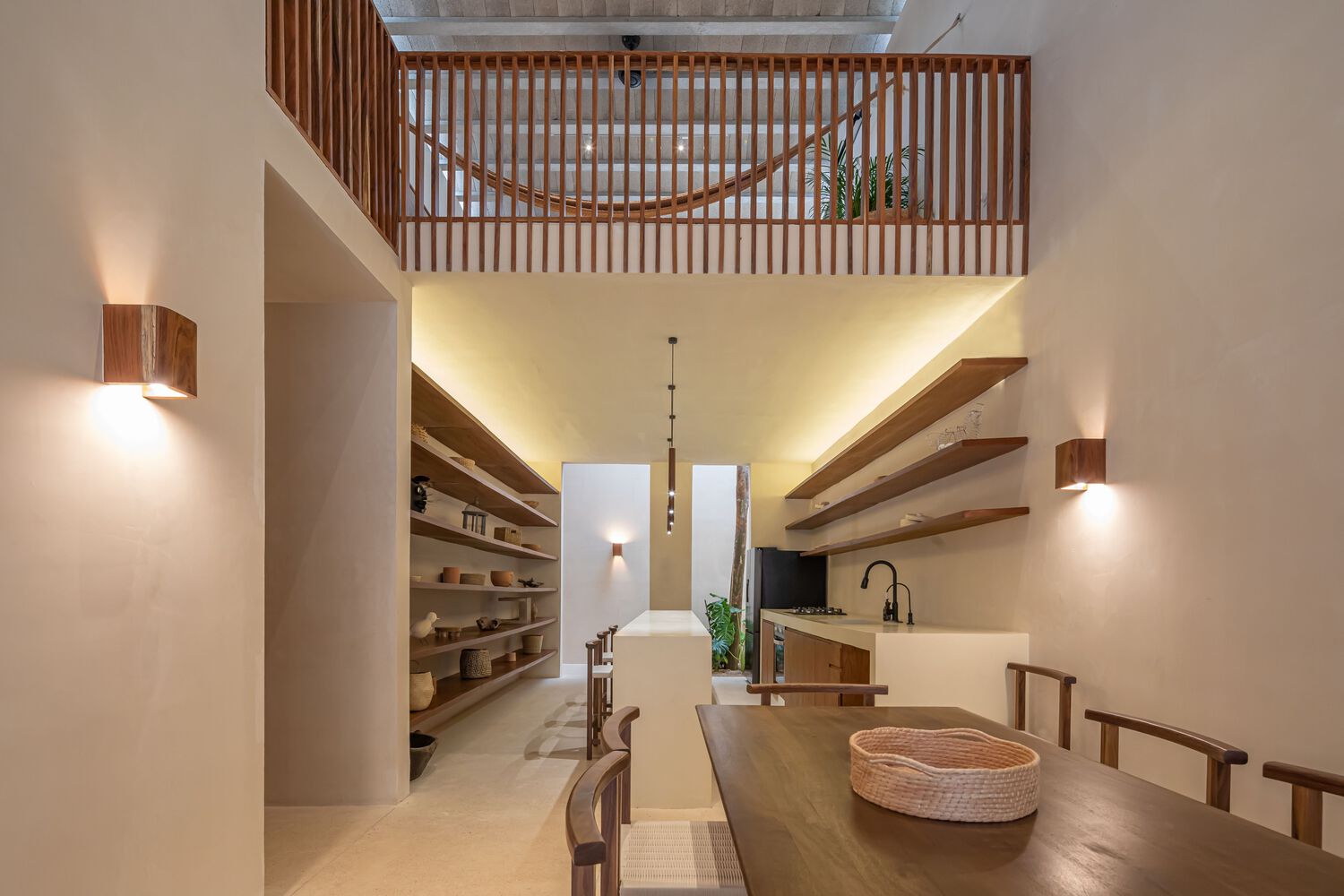 It was essential to understand the materials in order to complete a bioclimatic, sustainable project and enable the creation of comfort in all locations. Each villa is built on two significant organizations. The social area of the entire project is contained in the first one, which features a double-height gallery. Three rooms and a parking lot modulate the second volume, the project's main body, and the measurements show that they do so in a way that maintains the project's scale.
By merely having transition areas between each one, circulation was essentially reduced to a minimum thanks to the optimization of both volumes. Terraces allow for shading through the walls so that an external space can be used while taking the site's temperature into consideration.
It is significant to note that the project successfully integrates into the surrounding environment not only through architecture but also through landscape design, as each of the homes contains endemic plant species that can be found both inside and outside the villas.
Project information
Architects: DMTALLER – www.dmtaller.com
Area: 818 m²
Year: 2022
Photographs: Alejandra Urquiza, Alonso Velarde, Daniel Macias
Manufacturers: Hunter, MAYAN STONE, Mabe, PUCLOVE, Samsung, Édron
Achitectural Design: Daniel Macias Capdevielle
Interior Design: Daniela Gamba Romero
City: Mérida
Country: Mexico