HEMAA Architectes have completed works on the "Les Coteaux Fleuris School" in the village of Heudobouville, France. HEMAA Architectes and Hesters Oyon created a modern learning space that is already primed for future growth.
This new school is connected to the Norman settlement of Heudebouville and is situated on a spectacular setting with the slopes of the Seine Valley as its backdrop (France). a scene of a rural setting covered in trees. The school takes materials and morphology from the local history, including the wood from the half-timbered houses in the city center for the glass frames and framework and the slate from the bell tower and town hall for the façade and roof.
Large contemporary longères are created by reinterpreting the morphology of the homes and farm structures on the property. A longère is a long, narrow home that grows along the axis of its peak and is typical of the Brittany and Normandy regions of northwest France. Longères are typically inhabited by farmers and artisans. The topography of the site directs the placement of the work, the placement of the homes in accordance with the land's contours, and care for the surrounding natural soil. The playgrounds are defined by these regulations, which also depict orchards and create valleys that gather rainfall from the entire site and feed a landscaped basin below.
With each household having the chance to grow, this multi-layered structure anticipates the village's anticipated growth and the school's upcoming expansion. Classrooms may be added, the canteen, courtyards, and yards can be expanded, and the equipment can support additional users and pupils while maintaining the original layout. The networks and fire safety systems currently accommodate for this potential development in this regard.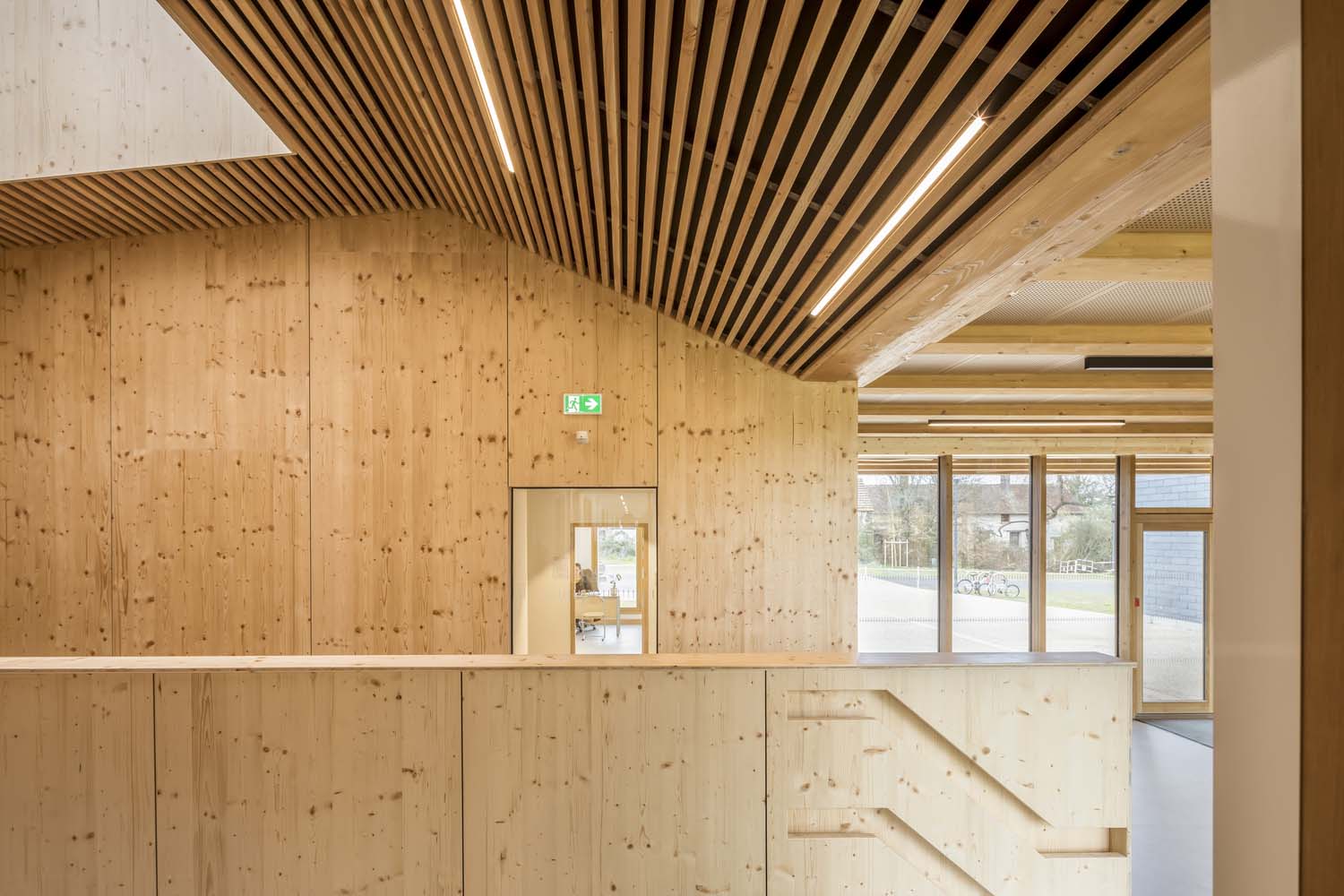 Because there isn't even a single intermediary bearing point in the portico structural system, the premises are completely modular and can evolve in the future. The façade and the roof are constructed of pre-assembled, off-site modules that combine structure, airtightness, and insulation. The 5×2 m parts that the carpenter and I produced in 3D have made it possible to manage the building period.
The school's building is a step in a strategy to lessen its carbon footprint. Reaching the challenging E3C2 and BEPOS criteria is made possible by the use of wood and slate, the integration of photovoltaic panels, and the lack of fossil fuel consumption for equipment heating. And last, only businesses based in the area and local resources were used in the construction of the site.
Project information
Architects: HEMAA Architectes, Hesters Oyon
Area: 1500 m²
Year: 2022
Photographs: Sergio Grazia
Manufacturers: Cupa Pizarras
Technical Design : BETEM
Acoustician: Impedance
Project Management Assistance: CICLOP
Find more projects by HEMAA Architectes: www.hemaarchitectes.com