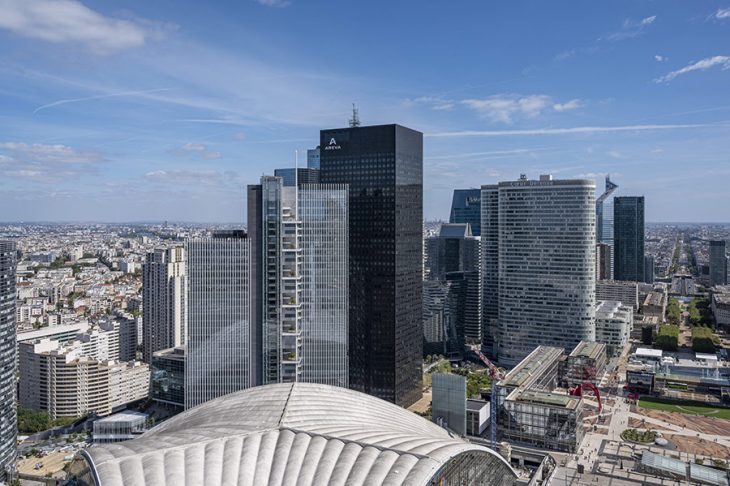 Cro&Co Architecture designed this stunning 32-story mixed use tower in Paris La Défense. Take a look at the complete story after the jump.
From the architects: The 150-meter Tour Trinity enjoys an exceptional location in the business district of La Défense, in Paris, on a site that had to be invented. In order to ensure its successful insertion in this particularly dense built environment, surrounded by architectural icons (CNIT, Tour Areva, Tour Total), Trinity stands above the traffic routes.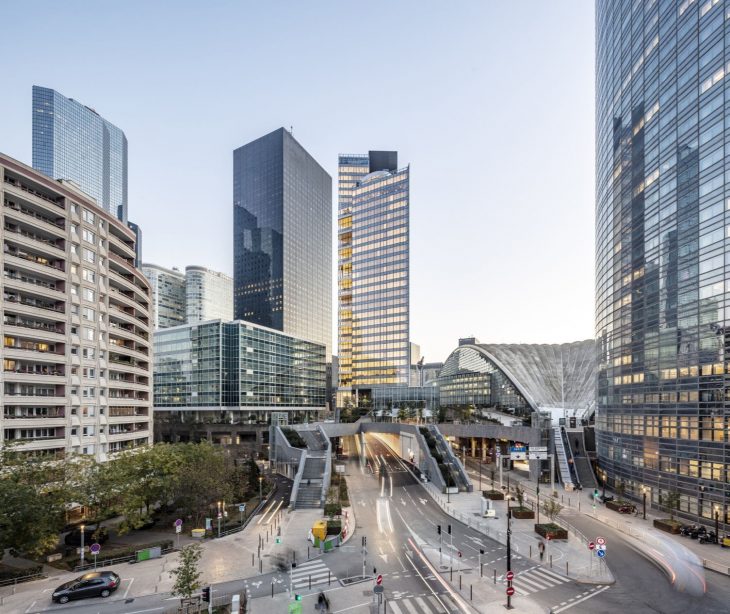 Located in Paris La Défense, Trinity is a 32-story tower, built ex nihilo on a concrete slab poured above a seven-lane roadway, a first in France. A major feat of civil engineering, the slab is planted, providing 3,500 square meters of landscaped public space and linking the previously disconnected neighborhoods of the CNIT (National Center of Industries and Techniques) and Coupole-Regnault: a concrete solution for enhancing the quality of life of its users on an urban scale.
Trinity is La Défense's first tower to develop an offset core, yielding a "heart of life" with exterior glass-walled elevators running along the façade. Diverging from the traditional office building format, Trinity is a tower conceived to facilitate open interaction with its environment, and promotes a new way of working, through its shared spaces, its 43 planted terraces and balconies, its rooftop and its 4,000 m² devoted to services.
In an environment as dense and constrained as that of La Défense district, which houses 16 of France's 20 tallest buildings but where very little area is still available for new construction, the first challenge was to invent the landholding on which the tower would be built. The solution was a feat of civil engineering: a concrete slab poured over seven traffic lanes, providing an ex nihilo land for the construction of a high-rise building.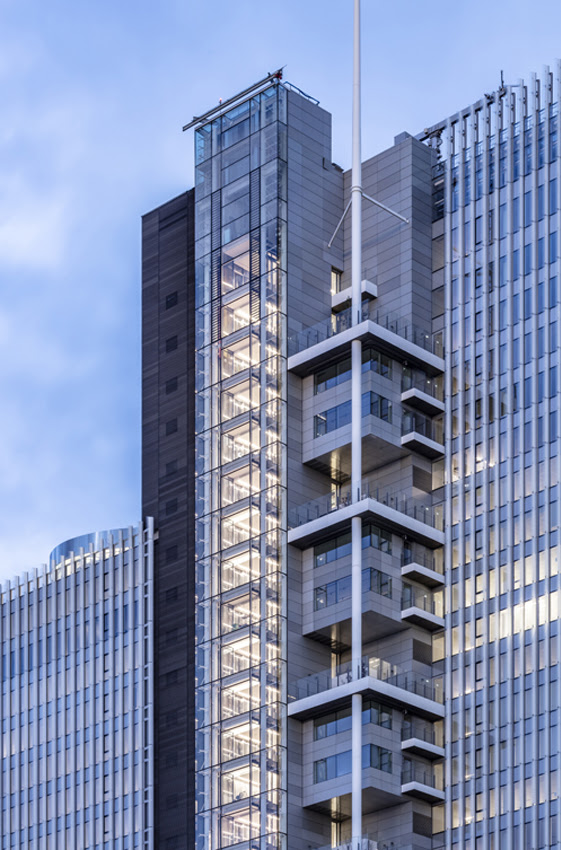 Then, the project had to be integrated into the existing heterogenous surroundings, counting a number of architectural icons (the CNIT and the Tour Areva), and smaller buildings such as Notre-Dame de la Pentecôte Church and residential buildings.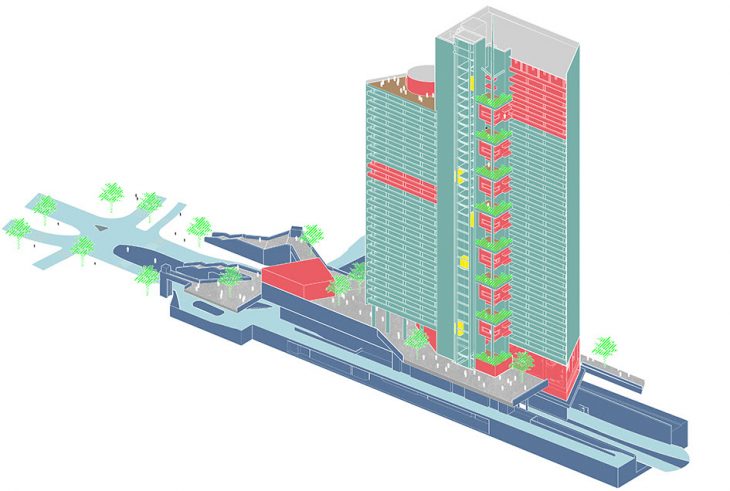 Particular attention was paid to the design of the furniture, created by the architect and manufactured by a French boat-hull builder. Three custom-made, 43-meter-long curved and sculpted aluminum furniture pieces structure the hall, providing sitting areas, reception desks, a bar desk, and more.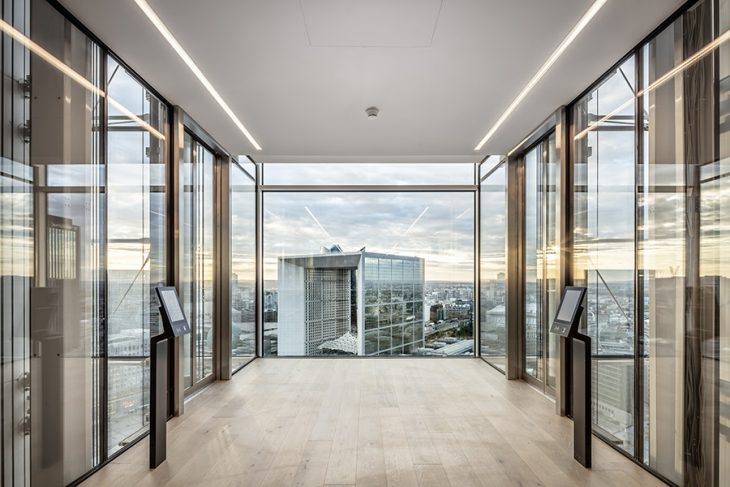 Imagined as a place of exchange, Trinity breaks with the conventions of the office tower and its standardized and monofunctional spaces by privileging serendipity, flexibility and pooling. It enables users to take full advantage of the tower's spaces thanks to their reversibility and wide range of uses.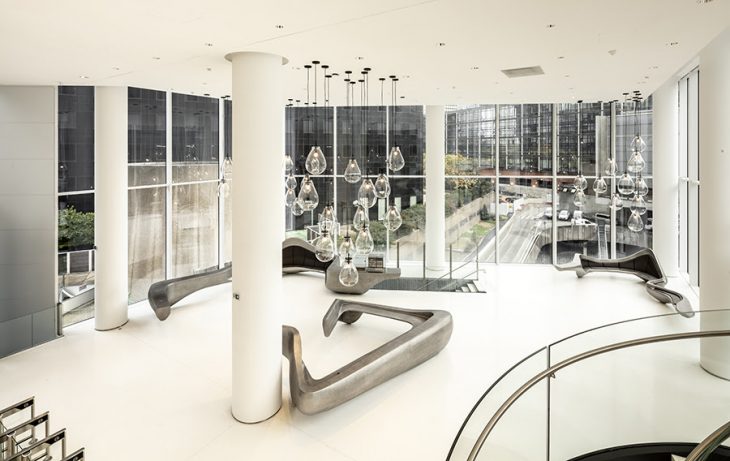 Inside the tower there are 45,000 m² of flexible work areas, 4,000 m² of services including reception, waiting areas, cafés and bars, and 1,500 m² of terraces and loggias accommodating nearly 4,500 employees.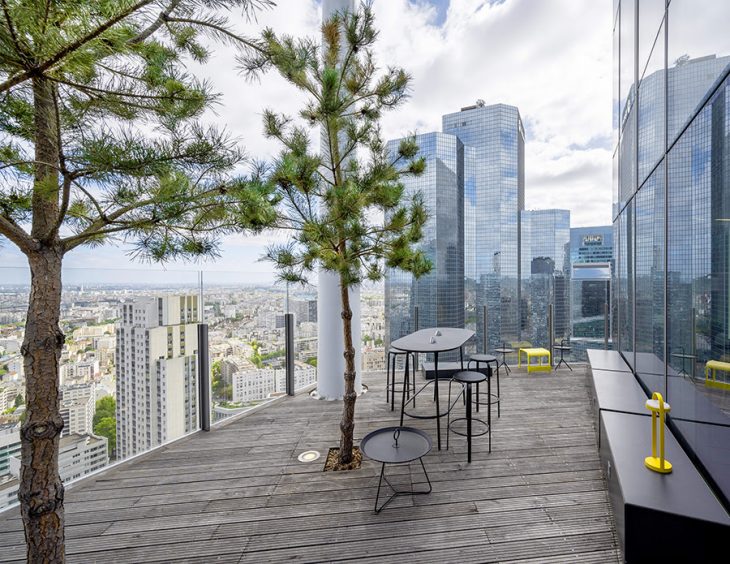 Address: 1bis place de la Défense – 92800 Puteaux
Program: Offices, retail, urban connections
Client: SCI Trinity Défense (Unibail Rodamco Westfield)
Delegated contractor : Espace Expansion
Architects: Architect: Cro&Co Architecture – Jean-Luc Crochon
Project leaders: Francesca Benente, Federica Bestonso, Daniel Durassier, David Lefrant, Benjamin Liatoud
Design: Catering area: Saguez & Partners ; Common areas, lobby and lobby furniture: Cro&Co Architecture
Landscape architects: Bureau Bas Smets, Phytoconseil
Project management: Artelia BI
Structural Engineers: Setec tpi ; M&E Engineer: Barbanel ; Quantity surveying: AE75 ; Acoustics: Tisseyre & Associés ; Lighting: Les ateliers de l'éclairage ; Sustainability: ALTO Ingénierie ; Façades: Arcora ; Elevators: ARUP ; Restaurant concept development: Restauration Conseil ; External Works: Progexial ; Security and alarm systems: CSD & Associés ; Building control office: Socotec ; H&S coordinator: Bureau Veritas ; Surveyor: Cabinet P. Fauchère et M. Le Floch ; Signage: Gérard Plénacoste ; Artist: Carlos Cruz-Diez, «Physichromie Trinity» Paris, 2017 (6 meter high artwork, specially made for the lobby of the Trinity tower)
Surface: 49,400 m²
Delivery: November 2020
General contractor: Bateg (Vinci Construction France)
Photo credits: © Luc Boegly © Laurent Zylberman
Find more projects by Cro&Co Architecture: www.croandco.archi