What is it that you desire? A comfortable seat for movie nights or the perfect option to spend the days with your friends over conversations and games? Worry not, the best bean bags are here, if you need a bigger list though, the Architecture Lab can complete the list!
Dive into a comfortable bean bag and let your body relax while you chat or work online. These are well packed and provide cosy seating for kids and adults alike. Do you have more than one kid in the house? There are double seating options available to make room for all of them. You could also sit or lie down on one, and you are not going to want to get up for a long time.
But when we set out to purchase bean bags, we found multiple options in the market and choosing one was rather challenging.
To save you from that hassle, this detailed and comprehensive list of 5 top options has been curated. We have also included a buyer's guide to help you choose the right one for your needs.
So, grab a cup of coffee and let's get down to business!
Top 5 Bean Bags In 2020
Ayra Bean Bag Chair
Are you searching for a beautiful yet quirky addition to your living space? This bean bag from the house of Ayra is bound to impress you. It is known to be a starter armchair and will work well with people of all ages. If budget is a concern, choose this affordable option that will not burn a hole in your wallet.
Standout Features
Super soft fabric
100% polyester
Made with polystyrene beads
Why Did We Like It?
To begin with, this product provides tapered support and will give you the perfect backrest. Not only does the design look great, but your head and back get the extra support that it needs. You can curl up with a book easily in the ample space that is provided. And what's more, it is very lightweight, and you can pick it up and move it easily.
Secondly, this item is made of plush super soft fabric, which includes 100% polyester. This provides a very soft space to land. Do you have a habit of falling back on your chair? You can easily do it with this as the body is strong and known to be durable.
Plus, you have a choice among 3 colors. The shades include a rich mineral blue, deep yolk yellow, and a classic marl grey. Make sure that the color chosen complements the color tones in your living space.
What Could've Been Better?
While it will look excellent in medium-to-big-sized rooms, the product might not be a good fit for smaller rooms or nurseries. Since it is a big chair, we found that it looked out of place in a small room. So, compare the measurements with the size of your room to visualize it well before purchasing.
Pros
Known to be very durable
Tapered support
No assembly needed
Acts as a starter armchair
Cons
Cox & Cox Indoor Outdoor Double Beanbag
If you are planning to snuggle up with your loved one in the backyard while watching a movie under the stars, our next recommendation will be perfect! The Cox & Cox Indoor Outdoor Double Beanbag is indeed one of the top products as it strikes the right balance between comfort and style.
Standout Features
Dimensions of 62 x 130 x 95 cm
Double-stitched seams
Breathable fabric used
Why Did We Like It?
Have you always wanted a sofa for your terrace or backyard? Take this along with you whenever you are planning to sit outside and have a great time. This is a favorite among kids and adults alike. Plus, 2-3 kids can easily fit in and spend time watching movies outdoors.
Planning a date night? This could be the sofa that you want to get super comfy in. It is extremely soft, and you would surely want to cozy up in it.
Besides, if you are worried about taking it outdoors, you can breathe easy! The body has a splash-proof cover and will not be destroyed even if you leave it in light rain. The material is also resistant to harsh sunlight, and you will not see any form of discoloration.
Further, the item is double-stitched to ensure no tearing even if kids jump over it. Long story short, it is well known for its durability.
What Could've Been Better?
While it provides an unmatched level of comfort, it comes at a higher price. If you have a strict budget, this product may not be affordable. But if you are looking for an outdoor sofa cum chair, we would totally recommend this. Spend a few extra bucks to enjoy nights outside in comfort.
Pros
Made to be splashproof
Filled with EPS polystyrene
Resistant to fading
Durable rubber handle and tag
Cons
JD Williams Chenille Maurice Bag
Up next is a brilliant bean bag that will lift up the ambiance of the room while providing a comfortable place to sit on. The JD Williams Chenille Maurice Bag is an eye-catching product that portrays elegance along with a stylish body. Dive into it and turn on your favorite channel to have a great weekend.
Standout Features
Made of linen
Dimensions of 58 x 58 x 80 cm
Why Did We Like It?
It is incredibly lightweight and sized just right for kids to drag around. With dimensions of 58 x 58 x 80 cm, it is perfectly sized for kids and will be an excellent fit for their playroom. The size is such that the chair will look good in small and big rooms equally.
One major issue with bean bags is that holes can be easily made with a sharp object, and that could spoil the whole look. But this product has a tough cover made of linen, which is soft as well as durable. Holes will not form easily, and you can leave it with kids unsupervised.
Further, we loved the teardrop design of the bag. It not only adds style to your room but makes it easier to carry around. There is a loop on top that can be used to lift it.
What Could've Been Better?
We found that it is not wide enough for people with a larger body structure or plus-sized individuals. The sitting space is limited, and this may be a hindrance. Hence, we would recommend making a note of this before purchasing.
Pros
Perfect for rooms of all sizes
Very stylish
Known to be durable
Lightweight and easily portable
Cons
Will not fit plus-sized individuals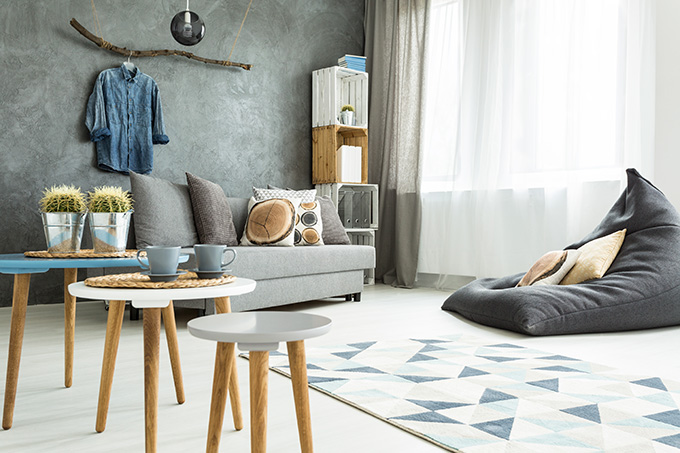 John Lewis & Partners Barley 64800201
We are finally nearing the end of this list, and it is time to introduce the John Lewis & Partners Barley 64800201. With 3 beautiful shades to pick from, you can have an incredible addition to your bedroom or living room.
Standout Features
Made of 100% polyester
Polybeads used as filler
Why Did We Like It?
If you prefer lounging indoors or you have to work from home a lot, this is an excellent solution to sit comfortably. It will provide you with the benefits of a sofa with a proper backrest to lean back.
Further, it is made of polyester, a kind of fabric that lasts long. Polyester is very durable and does not show signs of wear and tear easily. It is not scratchy and will not be a source of discomfort.
Also, it does not absorb water and is resistant to splashes. This is an essential factor when you have kids or pets in the house.
Moreover, the surface can be cleaned with a wet cloth, and it is easy to remove dust and dry dirt. You can opt for a lighter shade too, as it will not catch dirt easily.
What Could've Been Better?
The only issue with this product is that it reduces in size over time. The poly beads will shrink, and you will have to top it up with new beads once in a while. While it will stay sturdy for longer if kids use it, heavy weight will lead to faster compression.
Pros
Easy-to-clean surface
Resistant to water splashes
Perfect for indoor lounging
Cons
Fatboy the Original 9008008
If you are looking for a large-sized chair, Fatboy, the Original 9008008 is going to be an incredible pick. Our friends love it, and it will be an excellent addition to playrooms or common rooms where kids and teenagers come to relax.
Standout Features
Multifunctional bag
180 x 160 cm
Why Did We Like It?
First of all, it has a large size of 180 x 160 cm, which works very well for lying down. You can choose to sit alone or with another person, thanks to the massive size. We have also used it as a rocking chair, and it has provided a very relaxing experience.
Also, the cover is stuffed with softballs, which are made specially to adapt to your posture. It will mold to the contours of the body and will provide you with optimum comfort.
Designed and made by Jukka Setälä, who is an award-winning designer, this will be an attractive addition to your room. We loved the gorgeous red color and the coziness that it adds to a room. You can also choose a black or an icy blue version if that fits better.
Further, the material is water-resistant and prevents any form of staining. You can use a mild soap and damp cloth to clean it up in case your kids drop something on it.
What Could've Been Better?
It works very well for big rooms or balconies, but it will not fit into small rooms. As you've already seen, it is pretty big in size and will end up taking all of the space in a small room. Hence make sure that there is enough area for you to place it before purchasing the product.
Pros
Perfect for kids and adults
Water-resistant
Does not catch stains
Available in 3 different shades
Cons

Buyer's Guide
Now that you have gone through the 5 top products, you will know that each one is unique in its way. There are variations in size, height, and seating capacity, to name a few.
To help you out, we have put together a list of essential attributes that you must consider before buying any of these options. Take a look now. We hope this guides you towards buying the one that fits the best.
Cleaning Process
As a rule of thumb, always remember that light colors are difficult to clean while darker shades do not show marks easily. We would suggest making a note of this before purchasing a bean bag.
Also, read the instructions carefully or call up customer care to know the cleaning process. While most of them can be cleaned by wiping with a soft cloth, some might not be water-resistant. For these options, it is best to brush the dirt off.
Others have a removable cover that can be taken off and cleaned separately. This is the best option if you have kids in the house who might stain the cover.
Size
How much area do you have to keep the bean bag in? There are many variations from large two-seater ones to smaller variants, which will only provide you with enough area to sit on. Ideally, you should measure the area and then compare it with the size of a product. That way, you will not go wrong and get the perfect size for yourself.
Water And Stain Resistance
Some products are resistant to both water and stains. Now if you have kids or pets in the house, you already know how difficult it is to maintain a clean space. Don't let this chair add to your worries and make sure that it is made of waterproof material.
Also, every bean bag cannot be taken and placed outdoors even if they are resistant to water. It will not be able to survive heavy rain and the constant moisture in the air might destroy the product. There can also be mud stains which might be very difficult to remove. There are special options to keep outside and you should look into it before purchasing.
Back Support
If you are going to use it for working, it is best to choose a product with back support. These will be more comfortable to sit on. On the other hand, if you need one to chill with friends, a cube or a teardrop shape will work out well.
Verdict
A bean bag is one of the most versatile seating options that we have found to date. You can sit or lie down on it, and it will mold itself according to your posture. Once you are comfortable with sitting on one, there is no turning back!
With this, we come to the end of this detailed guide about the 5 best bean bags in 2020. But before we take our leave, let's go for a quick recap of our favorites. The Ayra Bean Bag Chair is the best overall for its tapered support and quirky design.
On the other hand, if you are looking for a 2-seater design that can be taken outdoors, the Cox & Cox Indoor Outdoor Double Beanbag is a wonderful choice. At the same time, the most authentic product is JD Williams' Chenille Maurice Bag, which is known for its beautiful exterior.
Happy shopping!