Your backyard is a place you might spend more time if it looked nicer. The good news is you have the power to change the appearance of your backyard with a few small updates. You'll be glad to have a place to go when you want to relax, read a book or soak up the sun.
There's no need to implement all of the changes at once. Take your time and make sure what you're doing is going to make you happy in the end. All it takes is focusing in on the most important factors for you and doing as much or as little as you deem necessary to have it make a difference. See tips for updating your backyard into a more appealing space.

Create Levels
Your backyard will look nicer if you have different levels for your patio and lawn areas. Do this yourself by using railway sleepers to build steps that divide the different areas in your backyard. Steps and a retaining wall are all you need to create a beautiful separation of space. Your yard will look bigger and fancier when it's all done.
Furniture
Take a look at your furniture and be honest about if it's time to update the set to sections that are more modern. Use your umbrella and seat cushions to add a pop of color to your backyard. Consider how many pieces you want on your deck or patio and the level of comfort you require. Invest in a fire pit that you can enjoy with the whole family on the weekend. Do your homework ahead of time and think about colors and styles you prefer. There are lots of choices out there, so this will help you narrow it down.
Landscaping
If you're not someone who's very good at landscaping or doesn't enjoy the task, hire someone who is. This will make a big difference in the presentation of your backyard. You want to make sure your grass, shrubs and trees are well-maintained. Plant flowers, add a water element and place mulch for additional touches that make it look nicer. Think about if you want to add a fence or bushes for extra privacy. Planting a vegetable garden is a nice idea and will give you a project to work on during the weekends.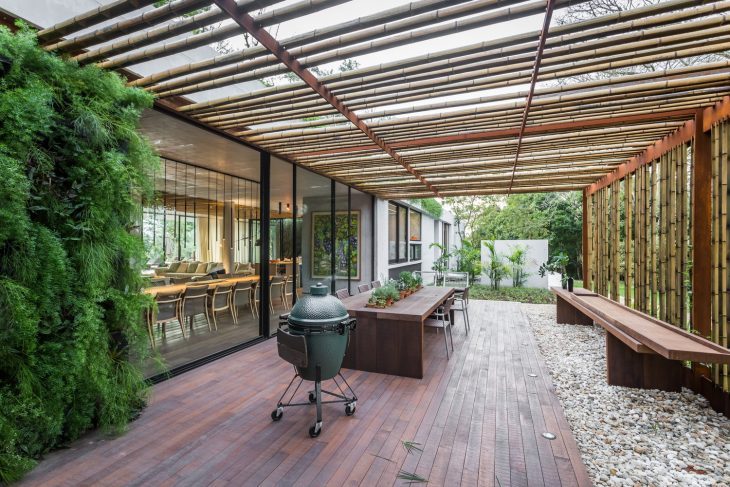 Redo Deck or Patio
Your backyard won't be of much use to you without a nice deck or patio. Take a look at yours and determine if it's time to invest in a new one. This improvement will instantly upgrade your space and you'll want to spend time outside. If you're going to the trouble of making the other updates, it only makes sense that you'd want to have a beautiful patio or deck to show off.
Conclusion
You're missing out if you haven't taken the time to improve your backyard. Start small and work your way into tackling the larger projects. These are tips for updating your backyard into a more appealing space.
All images from House 01 by ES Arquitetura a project designed for a locationin Criciúma – SC, Brazil. The project was brought to conclusion earlier this year, see more of the stunning house on our pages.