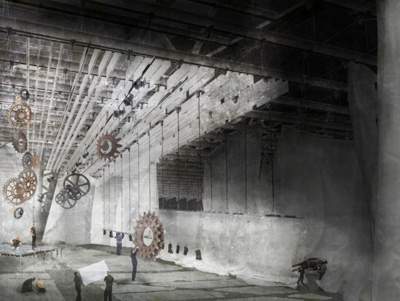 Project: "New York Theater City"
Designed by Louise Scannell
Location: New York, USA
Louise Scannell finds a unique way to present work for the New York Theater City proposal, for more about the project continue after the jump:
Form the Architect Louise Scannell:
"This proposal challenges the iconic buildings and public spaces of Broadway. The elevated fixed theatres create a landmark in this important riverside location, and create a new public space at this higher level, relating to the adjacent High Line. At the lower level is a more open and experimental place, inviting members of the public and smaller theatre groups to put on more unconventional or improvised performances. Once these performances have been rehearsed and polished, they may move up to be performed in the more traditional, fixed theatres.
Approaching from 12th Avenue, the visitor passes into a large open public space, where facilities such as restaurants and cafes are situated. This open space feeds into the undercroft space, underneath the massive steel structure. Different theatre formats can be created in this completely open space by suspending acoustic curtains from the extensive fly system that covers the ceiling. The fly system is also used for suspending lighting and scenery. This open space is surrounded by rehearsal rooms and production facilities, such as workshops and costume making studios. Some of these buildings puncture through the structure above. The two fixed theatres that are situated on the upper level also puncture through, revealing the concrete soffit of the base to the undercroft. Ramps, stairs and lifts provide access to upper levels.
The top level rises from 33rd Street, reaching a plateau where the three copper clad objects sit. From this point these theatre buildings cannot be accessed, as they remain completely enclosed objects, but views down through the concrete paving reveal activity in the foyer on the level below. The visitor also experiences views over the river and across the city. Ramps at this level cut down into the foyer below, which is located within the depth of the structure. At this level are a number of small bars, and the entrances into the fixed theatres.
This projects aims to provide a unique theatre experience, and one that will hopefully attract people who do not usually attend theatre performances. The undercroft space acts as a large workshop where a number of performances may take place, of varying styles. It is hoped that this space will encourage smaller theatre companies and community groups to become involved in the New York theatre scene."
Source Arcilook. *