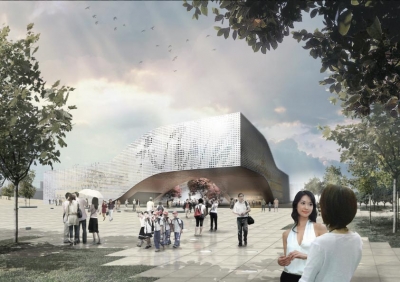 Project: DQZ Cultural Center
Designed by Holm Architecture Office
Collaborators: Al, Kragh & Berglund
Size: 30 000 m2
Location: Daqiuzhuang, China
Website: www.holmarchitectureoffice.com
Holm Architecture Office creates a solution for the DQZ Cultural Center in the fast growing Chinese city of Daqiuzhuang. The center is shaped as a public exhibition and a community building, discover more of the design after the jump:
From the Architects:
The DQZ Culture Center is designed as a public exhibition and community building that integrates a high variety of programs and functions. The new DQZ Culture Center building forms a square lifted slightly in the diagonal corners to bring in and extend the existing North South axis of the city. Dual entry points to the building leads to the visitor through the building public programs to the upper level exhibition spaces.
The inner courtyard of the building creates a lush landscape with cherry trees and terraces which can be used as an outdoor venue for theater and festival events.
The buildings facade is perforated steel which both allows for natural ventilation as well as the integration of the building signage into the facades itself.
The building occupies a re designed plaza that mimics the historic marshland in tone and variety combining landscape, trees, flexible water features and gathering spaces into a new urban center with the DQZ Cultural Center at its core.