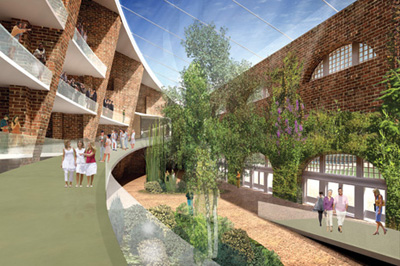 Project: New Holland Island
Designed by WORKac
Location: St. Petersburg, Russia
Client: The Iris Foundation, New Holland Development
Website: work.ac
An island closed to the public for more than three centuries will get a new purpose with a winning redesign proposal by WORKac, giving the city of St Petersburg a new cultural hub.
For more images and architects description continue after the jump: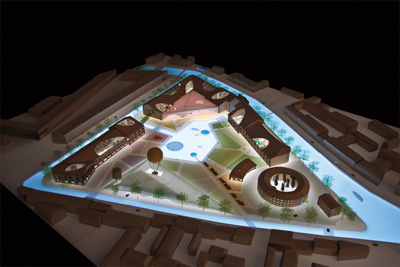 From the Architects:
New Holland is an 8-hectare island bordered by two canals and a river in the heart of St Petersburg, within 20-minutes walk of the Hermitage and the city's other major cultural sites. The island was conceived by Peter the Great in 1719, and became Russia's first military port in 1721. It belonged to the military since its foundation and had thus been closed to the general public for 300 years. We have imagined New Holland Island as a microcosm of wider St. Petersburg: a cultural "city within the city" that sponsors a vast range of public spaces and programs, from the visual and performing arts, to new technologies, to education, to markets and a hotel. Rather than adding new architectural statements, however, we have worked primarily through subtraction to carve from the historic warehouses their amazing potential for public and cultural activity, retaining as much public outdoor space as possible.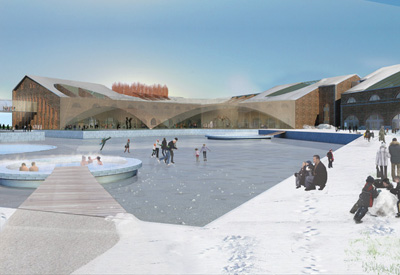 The warehouses will be fully restored on the exterior. Within, new voids and skylights are introduced within the repetitive brick structure to organize the programs and larger internal spaces. Outdoors, public activities, performances and exhibitions are supported around the testing pool and new landscaped areas.
Two new structures accommodate programs that the warehouses cannot contain. A landscape-covered "wedge" provides space for parking and shared infrastructures for the island; the sloped surface can be used for watching events and hosts a tethered balloon to view the city. Secondly, a triangular tent is proposed between two warehouse buildings to provide large-scaled exhibition space in the winter. In summertime this becomes a sculpture garden.
To ensure the cultural center remains vibrant year-round, an interior public promenade winds its way across the tops of the warehouses, linking the buildings with sky bridges. This is a new kind of public space, combining functional circulation with gardens and views down into the buildings.