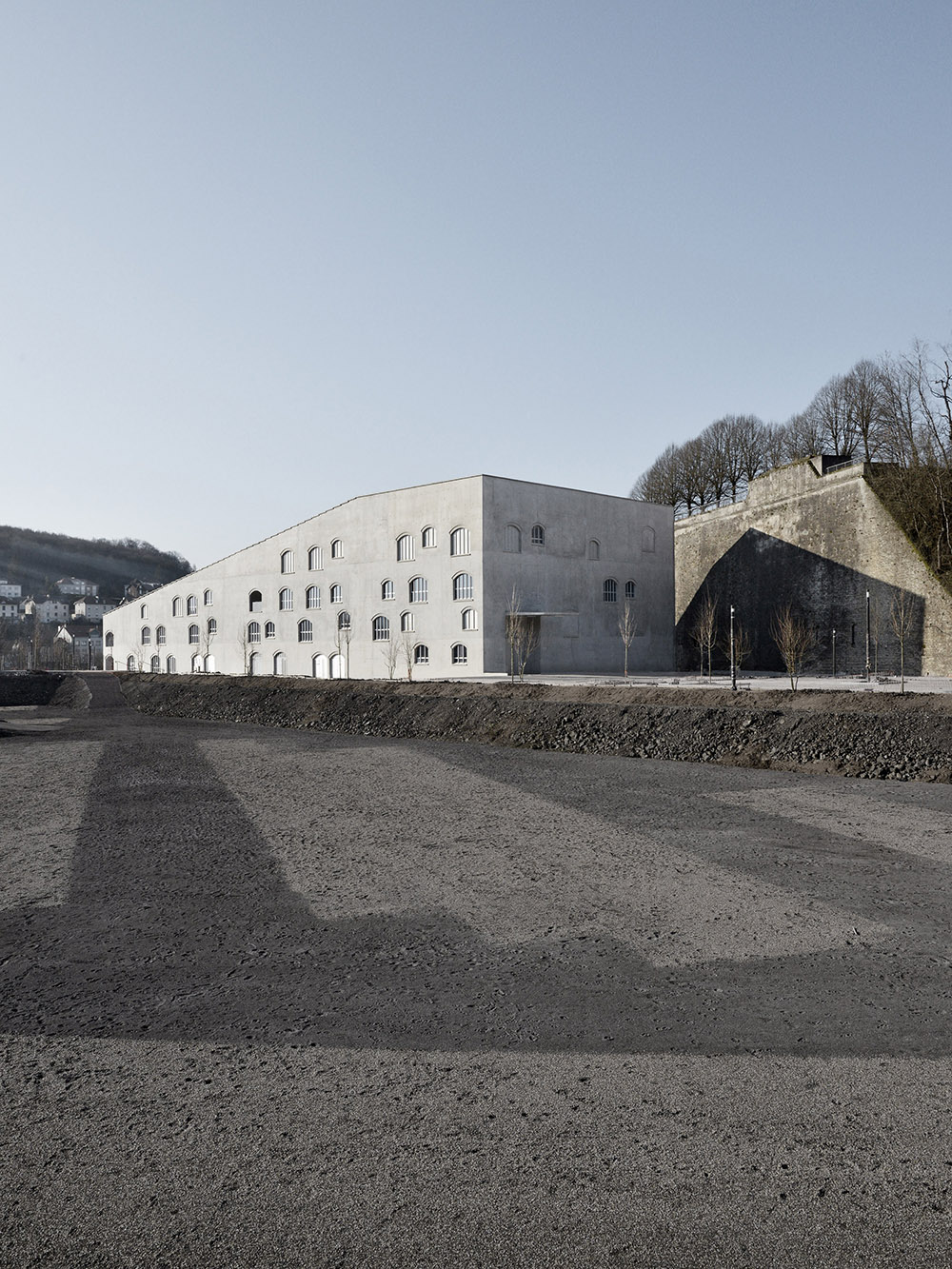 K Architectures has completed works on L'Arche, a new cultural center in Villerupt, France.Villerupt was established on the border with Luxembourg on subsoil that was originally rich in iron ore. It grew as a result of the massive development of the use of this resource, going from 560 people in 1861 to almost 16,000 people a century later.
"Faced with this striking landscape that could have inspired the "wall" of the series "Game of Thrones" and faced with this working-class history that has creolized the region with a strong Italian consonance, Karine Herman and Jérôme Sigwalt were able to draw inspiration from an unheard of context."
To fill the tens of thousands of jobs required to remove and process millions of tons of material, many Italians will immigrate. There will be four generations after that till the resource is depleted.
Many Villeruptians still have strong ties to their Italian heritage more than fifty years later, and Villerupt hosts an annual Italian film festival with broad national appeal. On the other side, the majority of industrial structures have been demolished, although this era's remnants may still be seen throughout the terrain. The most impressive retaining walls are enormous ones. L'Archë is situated at the base of one of them.
Villerupt is the center of a string of municipalities built in the Alzette valley. These neighbors, united by the same industrial history, are now all linked to the massive demand for laborcalled for by Luxembourg.
Together, these governments are working on a sizable joint initiative to clean up a massive industrial wasteland and create a brand-new neighborhood with a bright future. L'Arche was the first structure built here, symbolically, and it was done so in an effort to win the title of "European Capital of Culture" alongside its neighboring Luxembourg city, Esch-sur-Alzette. Even before it was fully delivered, the objective was accomplished in 2022.
L'Arche was designed as a hybrid cultural setting where various artistic disciplines, the creative industries, and digital arts can coexist. There is a bar-restaurant, a theater, a performance space, a fab lab, and an immersive digital art gallery there. It is a place of life and sharing.
CONCEPT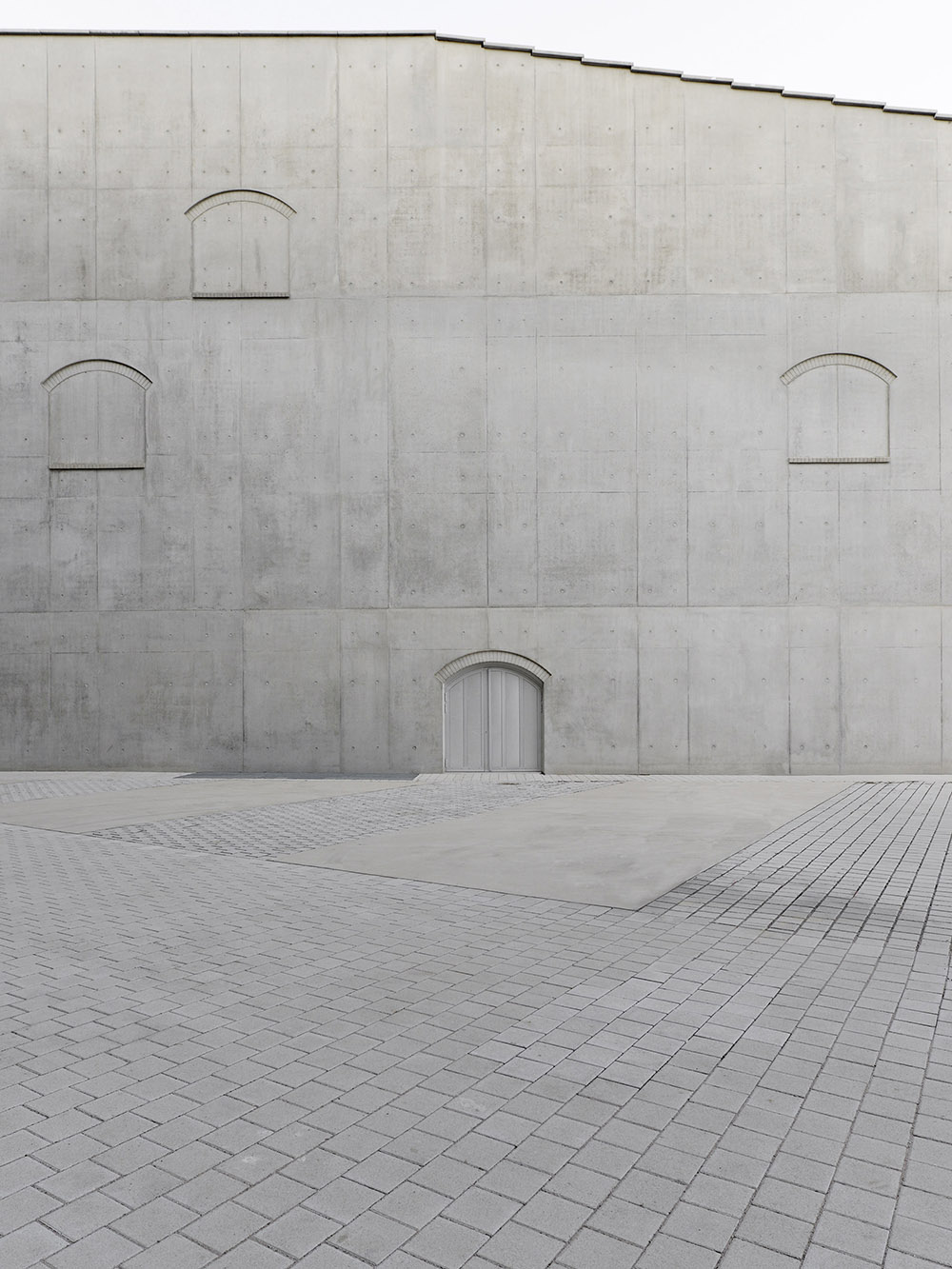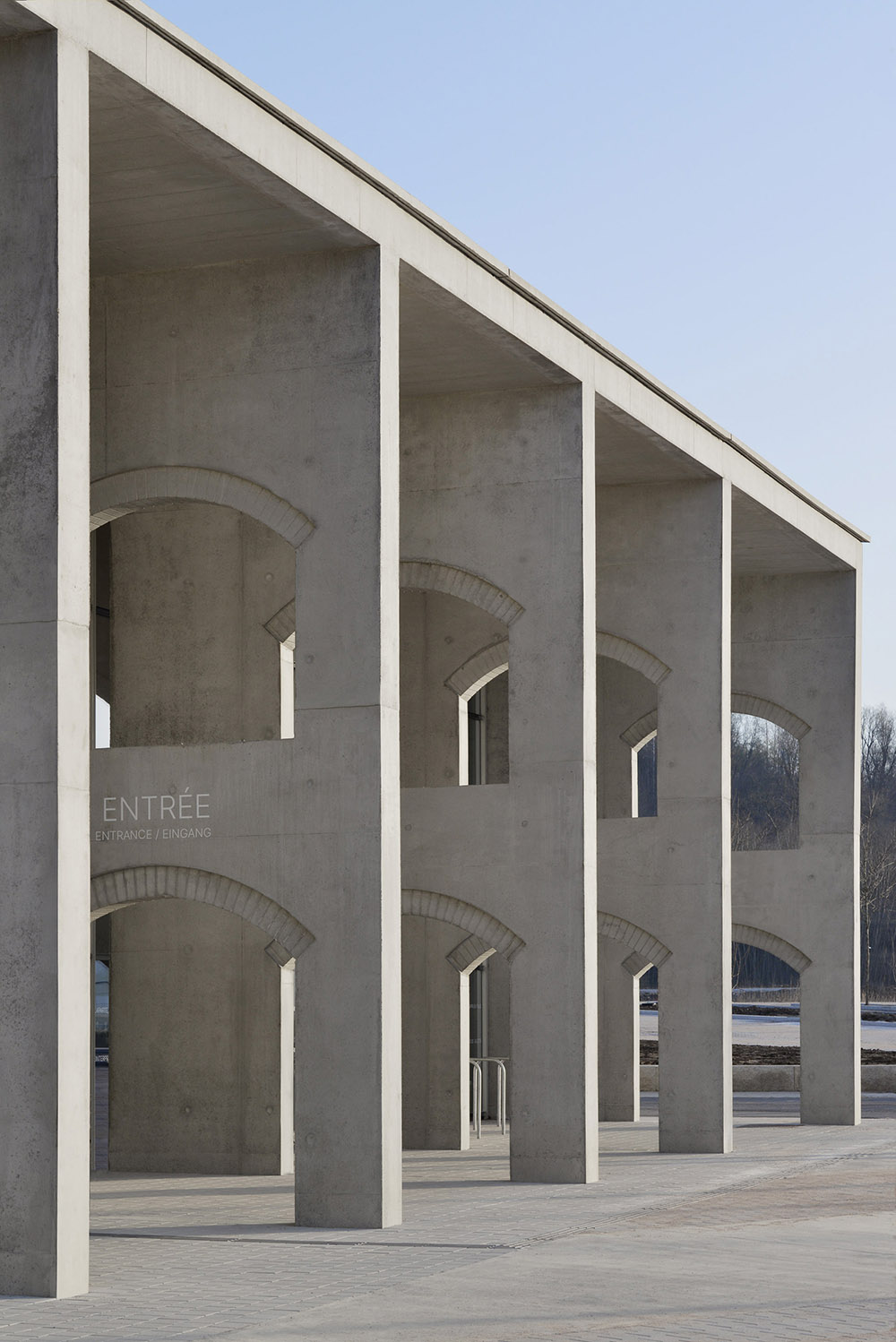 L'Arche is situated at the base of a huge wall. The mined ore was loaded onto a technical platform and then delivered to the steel mills below by way of this high, solid wall made of stone. Karine Herman and Jérôme Sigwalt were inspired by an unheard-of background when confronted with this spectacular scenery that may have served as inspiration for the "wall" in the television series "Game of Thrones" and this working class past that has creolized the area with a distinct Italian consonance.
Their story structure has created a very unique, possibly endemic form. Its huge and mineral shape reacts to the disproportionate wall that surrounds it with the same force. Another enormous retaining structure that was constructed nearby and is honeycombed using the arcades method is also mentioned in his book. A timeless motif that calls to mind the Colosseum in Rome, a support structure built in Italy about 2000 years ago. The architects were also motivated by an almost common reference found in Italy.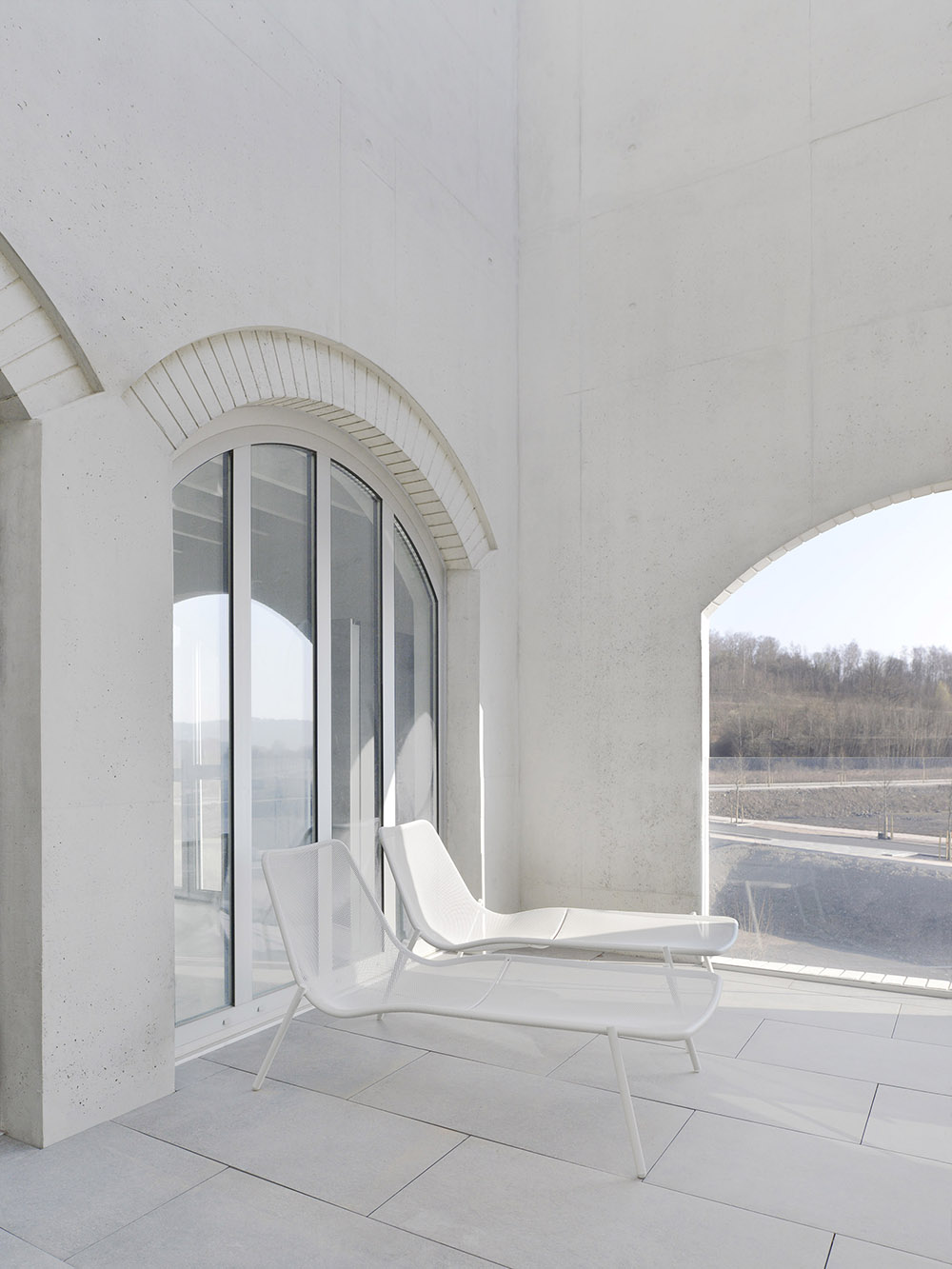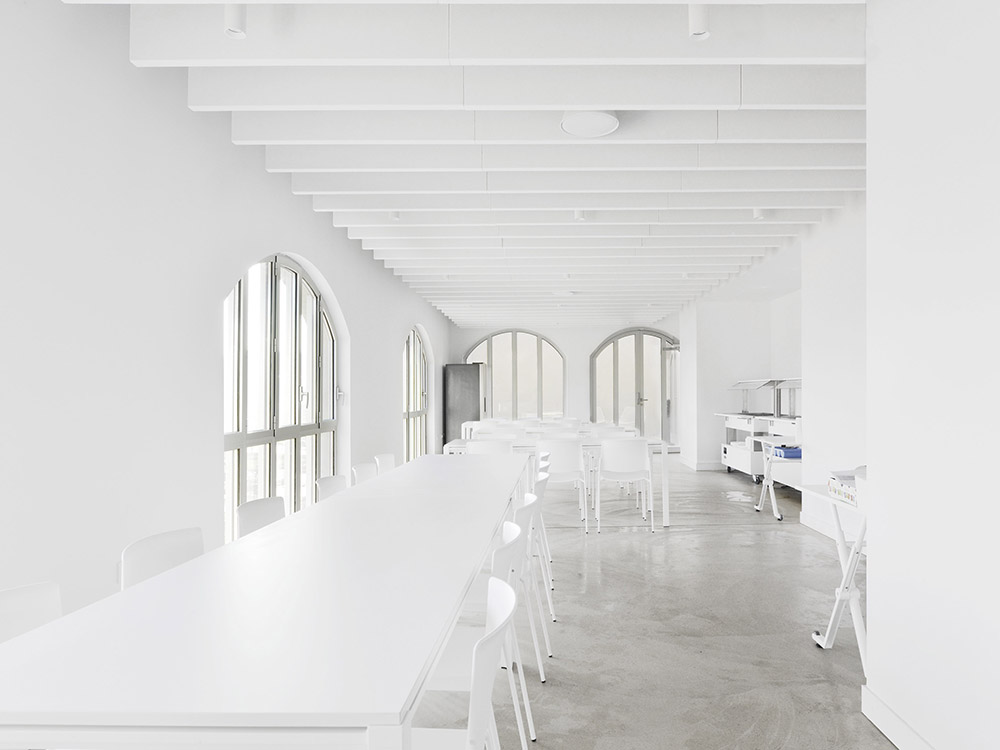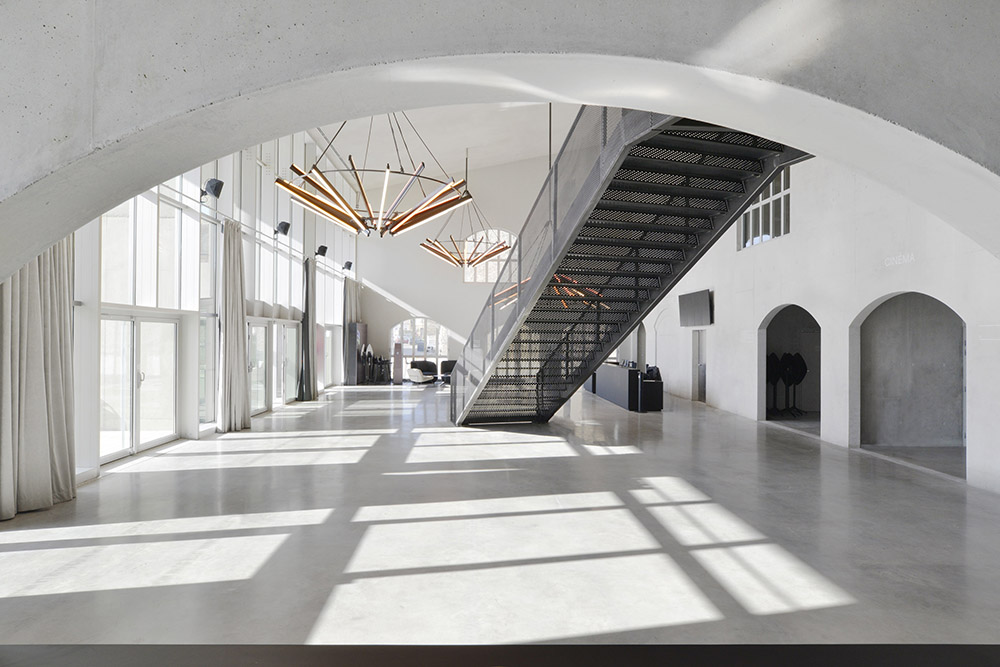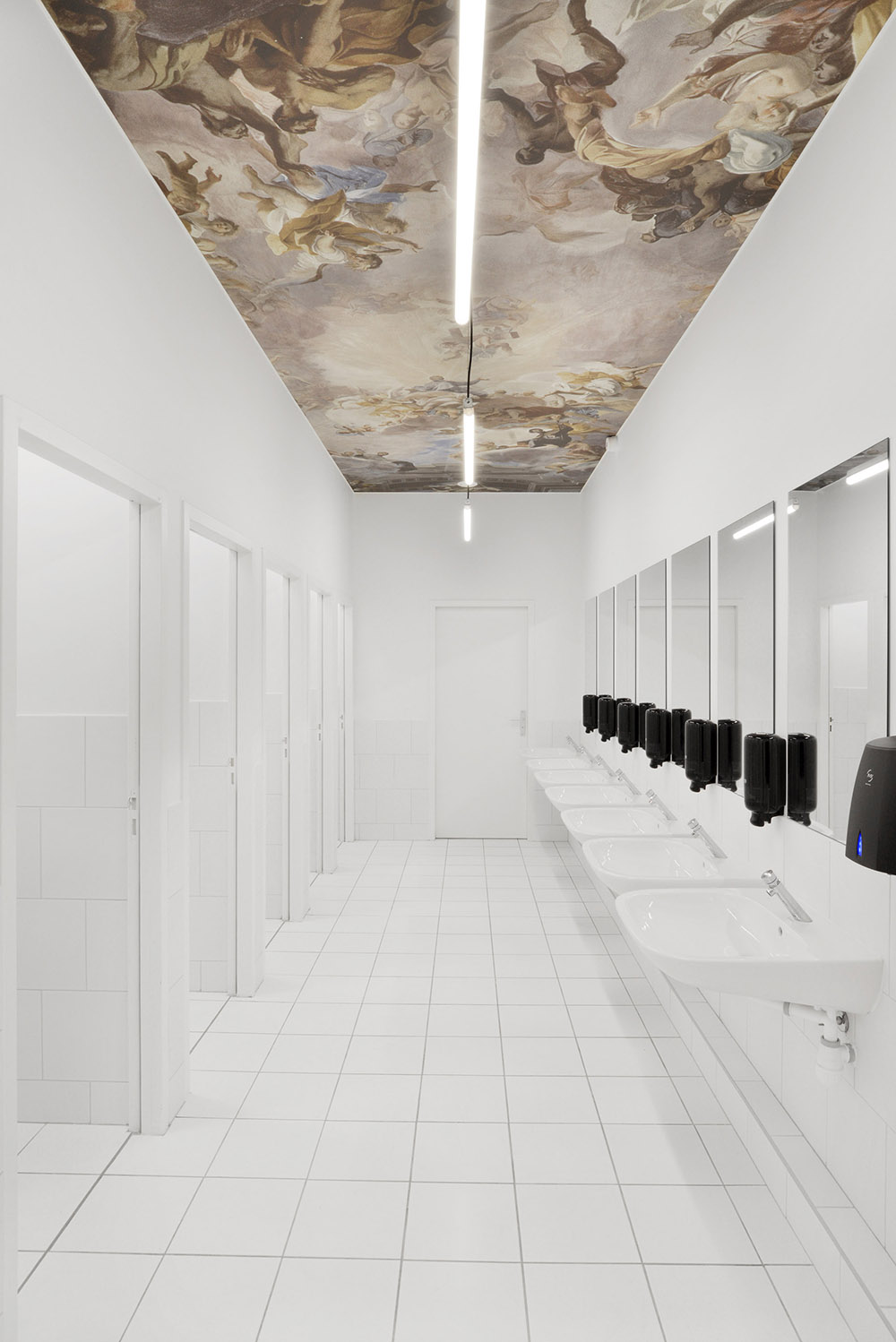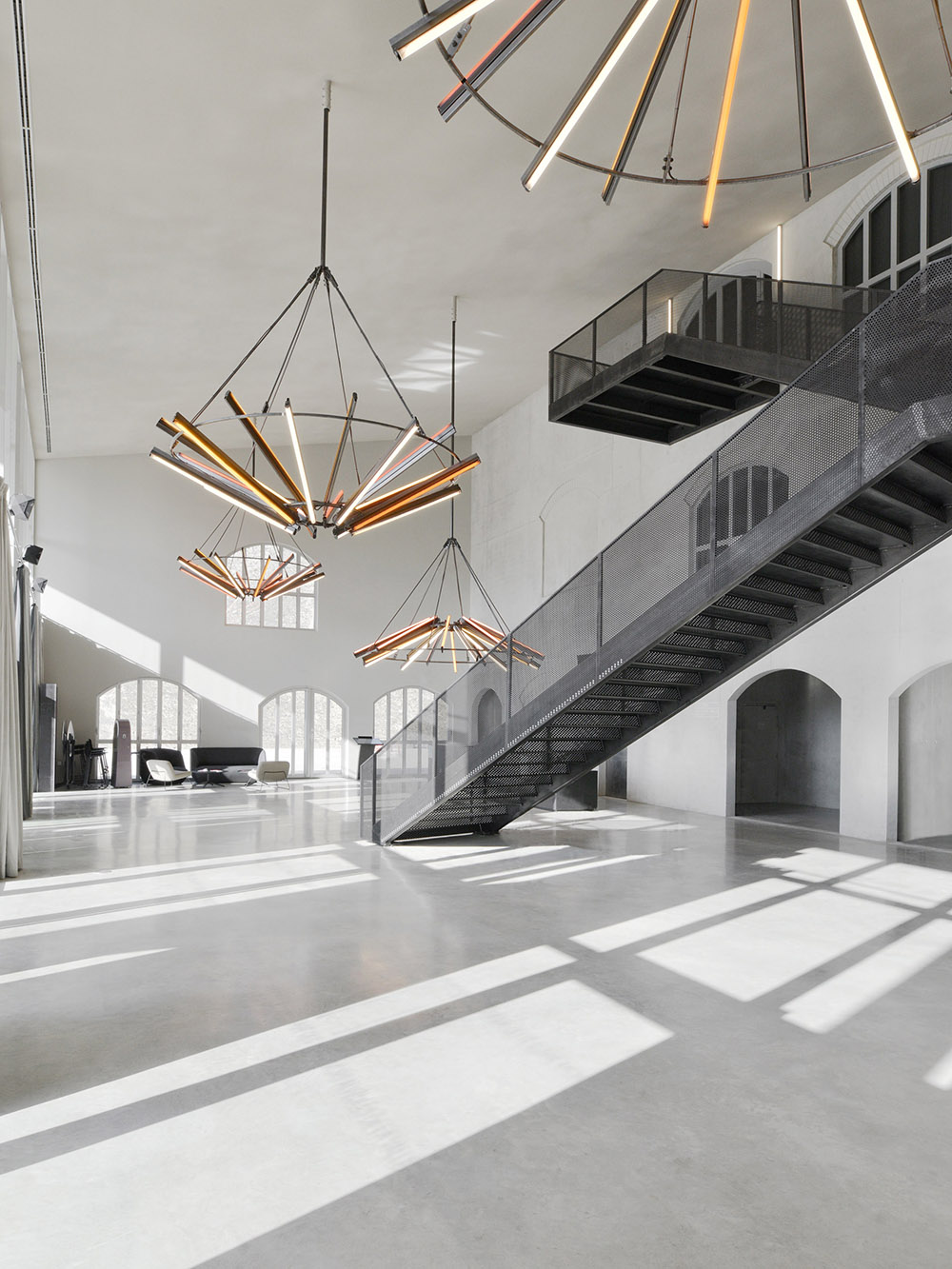 It is a modest structure that was constructed in the 20th century in one of the island of Capri's untamed and fantastical creeks. Since Brigitte Bardot and Michel Piccoli strolled through it in 1963 for Jean-Luc Godard's Le Mépris, this home, known as the Casa Malaparte, has become a symbol of Italian rationalist architecture. The creation of this connection to Villerupt appeared to be nearly out of place, but the architects dared, and the Arch was in fact designed to evoke the distinctive shape of this home. Its enormous volume is profiled in a vast paved staircase that allows our eyes to slip to the heights of the wall, which is beveled on the fifth façade. A building that combines architecture and digital art will be installed on the high landing, which is intended to serve as a belvedere.
The enormous structure has been made smaller and generously opens up into the Esplanade through arcades.
Fellini's Casanova and the Godfather are only two of the many movies for which Nino Rota is titled after the Italian composer. The third location welcomes visitors with a space that is energized by a bar-restaurant and a tiny temporary stage. A big auditorium with very ambitious capacities for adapting to a capacity of up to 1,140 people is framed by inner facades that open out to different spaces, including the 147-seat cinema, the immersive gallery, the "fablab," and, above all, a vast auditorium.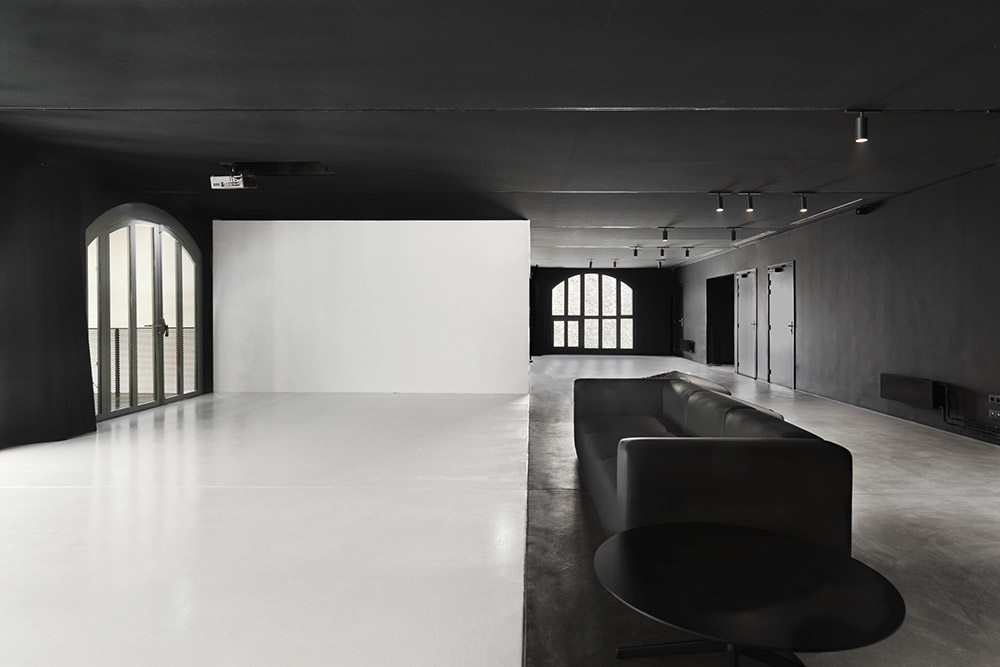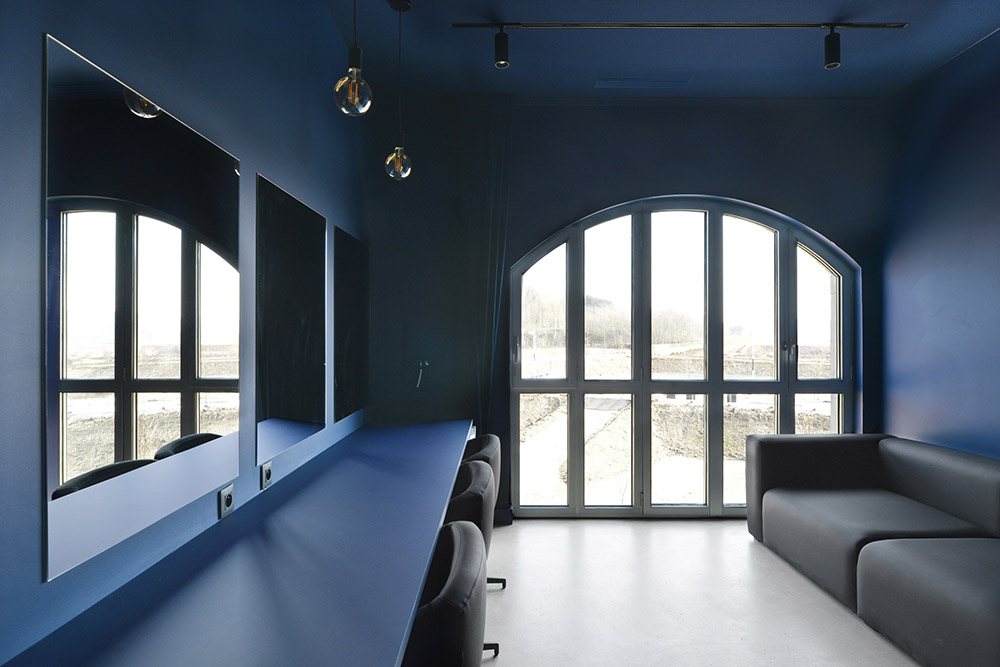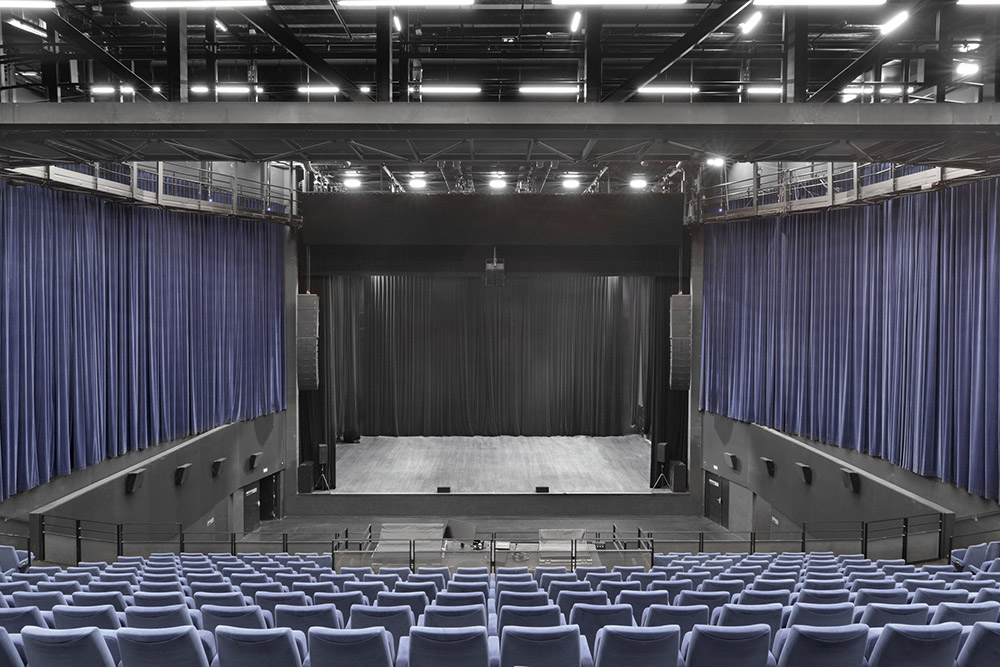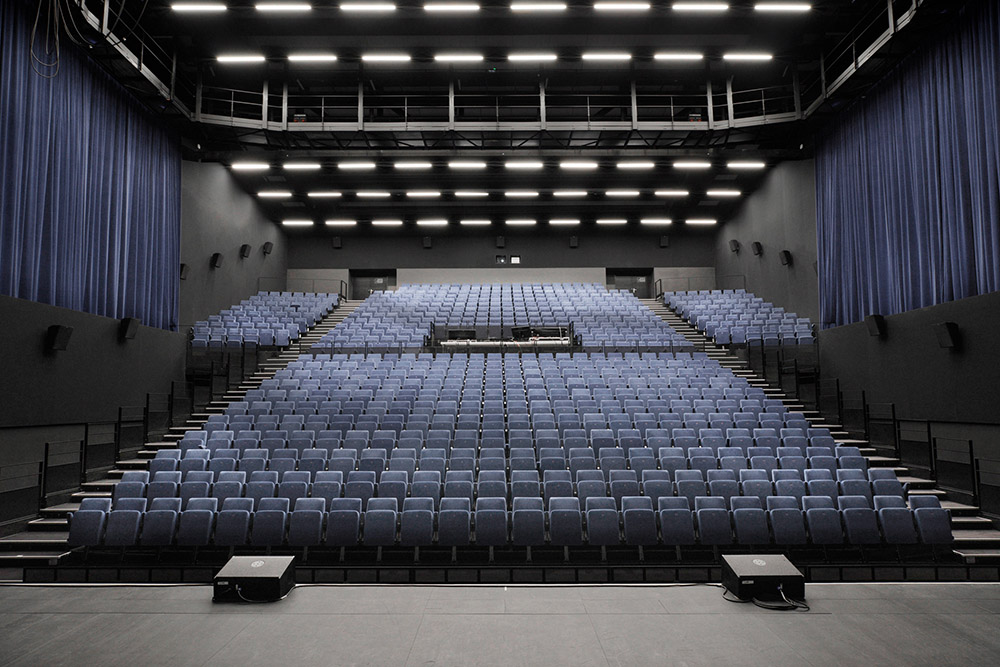 Intentionally written in the same modern minimalism is the interior architecture. The spacious, naturally lit hall welcomes the audience in a warm environment that is accentuated by artworks designed in the opulent style of theatrical foyers.
The staircase that leads to the main hall's balcony is removed from the internal façade so that it can be seen in the room as a massive piece of art. Chandeliers made especially for the space offer the lighting. Two models—one concave and the other convex—are created using a technique similar to the scenographic structures. Their assembly are fairly low tech, and their frame is made of bare steel. These frameworks are built to hold up cone-shaped lines of technical lighting equipment. To create the prominent hues of a Lorrain sunset, show gelatin is put on the bulbs. In general, fading tones or concrete grays are used to select the colors. The remaining areas are matte whitened, as if powdered with Meudon white.
L'Arche is a distinctive structure that adheres to the eternal subject that its architects continue to explore in their works. The authors utilize a malign delight to never push their scenic referents beyond the boundaries of abstraction, even though minimalism continues to be their prevailing tendency. It seems as though they don't want their creations to be remembered in history.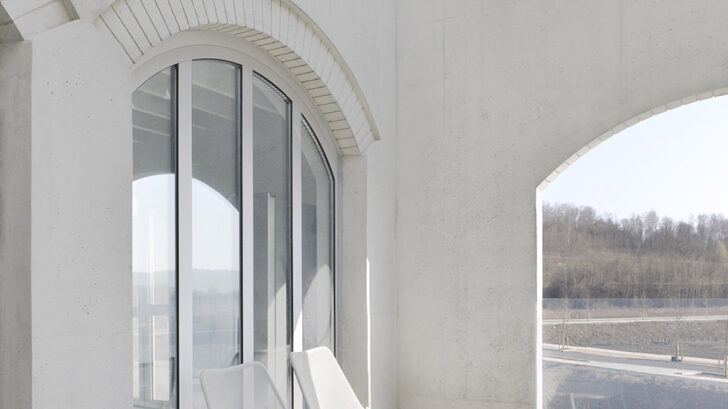 Project information
Project Owner: Community Of Municipalities Pays Haut Val D'alzette
Project Management Team: K Architectures (Emilie Bourdier, Project Manager Architect) Avec, Changement A Vue (Scenographer), Batiserf (Structure), Altia (Acoustician), Bmf (Economist), Area Etudes Nantes (Fluids), Area Canopee (Hqe), Burgeap (Decontamination), Aia Management (Opc)
Program: cultural equipment, a hybrid cultural space where digital arts, creative
industries and multiple artistic practices meet. a 147-seat cinema, an auditorium with a capacity of 1140 seats (402 of which are seated) or 688 seats, a bar-restaurant, a fablab and an immersive digital art gallery and music studios.
Budget: 11,9m€
Surfaces: 3 272m2
Materials: Concrete, Metal
Timetable: 2016/2022
Photo Credits: Guillaume Amat