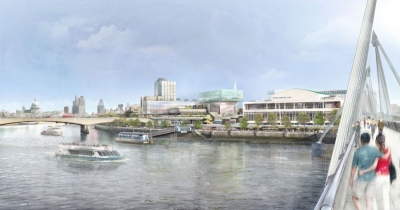 Project: Southbank Centre
Designed by Feilden Clegg Bradley Studios
Client: Southbank Centre
Location: London, United Kingdom
Website: www.fcbstudios.com
World known practice Feilden Clegg Bradley Studios shapes the Southbank Centre project in London, UK. Architects' design their solution as a world-class cultural centre of the 21st century, providing more art for more people in better spaces. View more of the design after the jump:
From the Architects:
Feilden Clegg Bradley Studios are architect and lead consultant for the project to transform the Festival Wing of the Southbank Centre including the refurbishment and renewal of the Queen Elizabeth Hall, Purcell Room and Hayward Gallery. The project will create, with the successful Royal Festival Hall refurbishment, a world-class cultural centre for the 21st Century providing more art for more people in better spaces.

The project includes the creation of major new arts spaces including a new glass pavilion, a new central foyer and a new liner building. The proposals will enable Southbank Centre to realise its vision to deliver a larger and more ambitious arts, educational and cultural programme across the site for all its visitors to enjoy.

The project will bring the performance spaces and galleries in this part of Southbank Centre up to the standard of the recently transformed Royal Festival Hall, addressing current urgent problems including poor access to, and upgrading of, the stages and galleries, substandard back-stage areas, and worn out services. The project reclaims unused and underused space to transform the whole of the complex and deliver more flexible cultural and social use in line with the successful and popular festival programme across art forms.