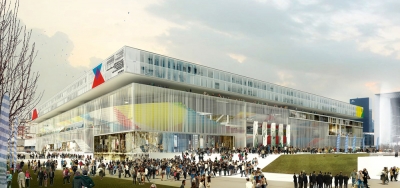 Project: ARENA 92
Designed by Sériès et Sériès Architects, Agence Search Architects and Van Santen & Associés
Design Team: Gaël Brulé, François Lepeytre, Ana Bras
Location: Nanterre, Paris, France
Website: www.seriesetseries.com, www.agencesearch.fr & ww.vs-a.eu
New Stadium for the French Rugby Union Club Racing 92 comes as a project shaped in a collaboration between Sériès et Sériès Architects, Agence Search Architects and Van Santen & Associés created as a symbol of the new urbanity of Paris, unifying sport and culture. For more images continue after the jump:
About the Project:
The aim was not to design the stadium only, but a contemporary and contextual monument, multi-purpose edifice which allows diverse programs to take place. Funding of the arena largely relies on the set of offices, seamlessly integrated into the building, and on the fact that the space of the sport stadium is easily transformable into the hall for spectacles. Instead of juxtaposition or fragmentation of programs which would disrupt readability, functionality and versatility of the building, the architects proposed a radical solution and clear overlay that allows the project to be indentified and recognized at first glance – as a monument, where the diagram of uses becomes the architectural project, without any compromise.
The program of the Stadium is distributed horizontally – the play area is slightly underground but directly accessible, primary public circulation is placed 4 meters higher and the peripheral access area forms the belt around the stadium structure. The under-volume of the roof acts as fifth façade, while the sixth is the cover, active dynamic skin which lines are major visually unifying element. Two office plateaus cover the building, perfectly soundproofed and exposed to natural light, therefore providing pleasant working space above the game area.
Source Evolo. *