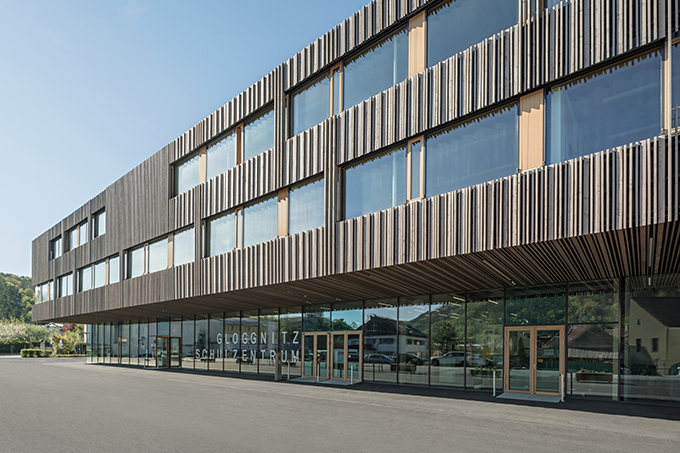 Prior to the emergence of the COVID-19 pandemic and the need to adapt classroom layouts to account for physical distancing, classroom design had already begun to undergo a "smart" transformation. A growing number of experts globally were calling on the need to overhaul classroom layouts to create environments that better foster communication, collaboration, creativity and leadership skills, and that reflect the varying needs of different learning styles. This article will explore what these design changes entail, and how they influence student learning.
Brett E. Murphy Hunt, a doctoral candidate and Ed.D at Northeastern University remarked that: "For those of us studying education theory, it has become clear that problem-based learning is the future. Projecting 10 to 15 years into the future, I don't see the students-at-the-desks and teacher-at-the-front model remaining. Instead, students will be charged with solving problems in small groups, prioritizing critical thinking and shifting teachers into the role of tutor or learning guide."
Hunt believes these changes will affect classroom furniture design, room layout, the integration of smart technology, and that all of these elements will work together to optimize learning.
Of course, furniture is important in this cutting-edge education model of the future, as the layout of the room will suggest a sense of equality among all members of the classroom; comfortable risers and/or desks placed in circles will promote collaboration and teamwork.
It must be mentioned that with the advent of COVID-19, modern classroom designs will undoubtedly place even greater emphasis on flexible layouts, integration of social-distancing technology and creating safe, productive environments.
Part 1: Creating Flexible Layouts
Working in tandem with the rise of personalized learning, modern classrooms will have flexible layouts, giving students more choice about the kinds of furniture and workspaces they want to use. One of the benefits of flexible classroom layouts is that they allow instructors to test and adjust the space to meet the varying needs and learning styles of each student or group of students.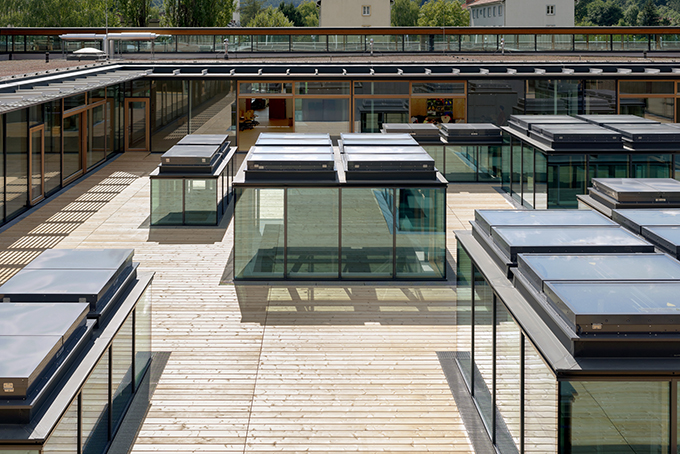 Erika MacKay, a college instructor of 10 years and head interior designer at Niche for Design has said that "it is widely accepted that each classroom contains a mixture of learning styles: auditory, visual, reflective, and kinesthetic. In my opinion, the best classrooms are tailored to multiple learning styles."
This also reflects a growing shift from the traditional classroom model, where the teacher lectures at the front of the room. As Jessica Rossow, an interior designer part of the Higher Education team at Design Collaborative, and member of the IIDA describes:
"[Teachers] want to sit with their class and use technology to cast content to a screen. The ability for them to be equal with their class as they teach helps put a classroom at ease, making both the subject and teacher seem more approachable."
Typically, these modern, agile classrooms include an open gathering area, multiple seating options and flexible zones that can be adapted for different learning activities. This layout allows for a variety of grouping formats and lesson types that take into account students' varying learning styles.
Erika MacKay adds that "Furniture that is able to be easily reconfigured is the most effective for flexible learning environments. Power options are also beneficial for mobile work, both in the classroom and outside in common areas. Lounge style-seating adjacent to corridors is continuously [used] for group and individual work."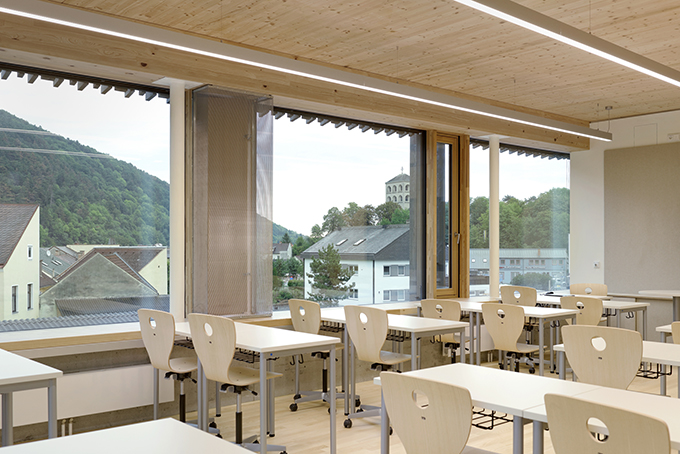 Flexibility will be crucial when it comes to COVID-19 as well. Educational space planning paradigms of the past, driven by density and cost, will need to change. Flexible and fluid spaces will better support the adaptability expected of educators and students. Portable Partitions, a company that has been helping schools provide safe and versatile learning environments in the midst of the pandemic, recently began manufacturing special screens for added safety. As their managing director Tony Haydar describes:
"The need for flexible space has only become greater in the past five years…. The education sector has always been one of our largest markets, and when COVID-19 hit, we reached out to our customers to understand how we could help them. In the past, our panels have been used as movable visual and acoustic barriers that enable flexible learning environments and it seemed obvious to adapt our products using clear acrylic they could be used for temperature checks. The acrylic is non-porous and washable and allows 100% vision. It is easily configurable to any space, anyone can set it up, it's lightweight and durable."
Part 3: Integrating Technology
Unsurprisingly, the integration of technology will be a key aspect of modern classroom design — especially during this year's back-to-school season as some schools incorporate online, remote learning. Technology, whether it is laptops, tablets or mobile devices, puts information at students' fingertips, and motivates them to research and make discoveries. Erika MacKay echoed this:
"Classrooms are definitely getting smarter. The integration of technology has changed drastically and the demand for power access is a significant part of that. Ten years ago, it would be just a handful of students with laptops, today it is nearly everyone. Classrooms that have ample power access (ideally incorporated into the furniture), are much easier and safer to work in. I cannot tell you how many times I have seen students (and faculty) trip on laptop cords."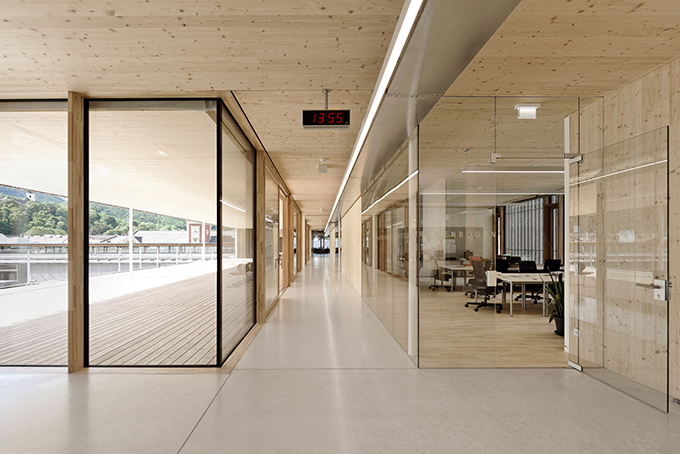 In addition, technology integration supports inclusive classrooms, as it allows students to move at their own pace, whether they are looking for opportunities for enrichment or need help to catch up. The integration of technology can also help with the differentiating needs within an inclusive classroom in the many ways.
Through technology, class can be more engaging as teachers can offer students endless opportunities to customize, and engage and interact with every area of their learning. It can also make catering to individual needs easier. A computer does not replace the teacher in a classroom, but instead can help them be in two places at once. Finally, it can close the gap between reluctant readers and writers. Technology enables teachers to create video files to share with students when they need to read grade-level material in other subjects. Listening to a teacher read the assignment helps level the playing field for a struggling student.
Ultimately, learning at the right level and pace helps keep students engaged, which dramatically reduces inappropriate classroom behavior. As Rossow describes:
"Most modern classrooms prioritize the ease of working technology into their design and layout. Technology such as smart boards, video and remote learning, tablet testing and the accommodation of students using their own technology in the classroom setting has become top of mind. Layouts that are flexible and prioritize this ever-changing technology set these classrooms up for future success."
Whether classrooms permanently re-open, or whether a more hybrid online/in-person approach will become the new norm, technology will be at the centre of the educational experience. From encouraging safe collaboration through video conferencing and messaging to providing digital accessibility to classroom needs, technology will be at the centre of the educational experience.
Part 4: Creating Light-Filled Environments
This may come as a surprise, or at the very least an after-thought, but lighting is an important part of modern classroom design. Bright fluorescent lighting is being replaced with more natural and incandescent light through the use of windows and lamps. Not only does this make students more comfortable and reduce headaches, but studies have shown that student learning rates improve between up to 26 per cent in classrooms that are exposed to adequate natural lighting.
Flexible lighting options are also beneficial, as students and teachers use technology more frequently, since dimmed lights make screens easier to see. MacKay describes how "Emphasis on natural light has meant that new academic spaces recognize that students perform better in classrooms with windows." Dr. Aronian also recognizes the importance of natural lighting within classrooms, adding that "Natural sunlight is ideal, with [proper] shades to shield if there is too much sun."
Light does more than just allow us to see the world around us. When light enters our eyes, it also engages a non-visual system that affects the timing of our sleep-wake cycles, as well as our cognitive performance. Even more importantly, all light is not the same. People are more alert and less sleepy when exposed to blue light versus other wavelengths. Sunlight, full-spectrum LEDs, and most digital screens are rich in blue light.
Even if your classroom has less natural light than you'd like, other studies have shown that replacing your artificial lighting with blue-enriched bulbs can improve students' cognitive performance.
All images from School Complex Gloggnitz by DFA – Dietmar Feichtinger Architectes – discover the full project.