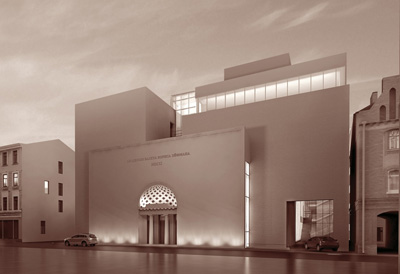 Project: Boris Eifman Dance Academy
Designed by Studio 44
Architects: Nikita Yavein, Valery Kulachenkov, George Snezhkin, Sergey Aksenov, Matina Goryachkina
Project consultants: Nikolay Smolin, Yanina Smolina
Model: Yakov Itzikson
Structural engineer: Vladimir Gerstein
Client: St. Petersburg Committee for City Planning and Architecture
Location: 2 Lisa Chaykina Street, St. Petersburg, Russia
Scope: 4 852 sq. m
Footprint: 3 000 sq. m
GFA: 11 939 sq. m
Number of storeys: 3-4 storeys
Website: www.studio44.ru
Studio 44 designs the project for The Boris Eifman Dance Academy be merging two existing buildings dating back to the 19th century with two new ones, uniting both teaching and dormitory functions. For more images and architects description continue after the jump:
From the Architects:
Boris Eifman Dance Academy Transformation of a historical block with the conversion of two buildings of the end of the 19th – the beginning of the 20th century.

Boris Eifman Dance Academy will occupy a historical block with two existing buildings – a former cinema house (1913, architect F. Korzuhin) and a former private house (1896, architect A. Reinberg). Two new volumes will also appear on the parcel – teaching and dormitory blocks. The hall of residence will accommodate 135 students and a medical centre, while the Academy building will contain ballet classes, physical training centre, two ballet stages and administration.
The gap between the new volumes is interpreted as an atrium, where recreation spaces co-exist with 12 ballet classes. A system of stairs and transit links serve to inter-unite all of the Academy spaces. To provide more light inside the Academy the walls of recreation spaces and ballet classes will be realized in semitransparent glass.
In contrast to rather weightless interiors, Academy facades will be made of traditional materials (brick, plaster). A bas-relief with the emblem of the Academy will add to the entrance exedra of the front building (former cinema house). A rare example of St. Petersburg wooden private housing located within the parcel will be restored and converted into a media library and Academy museum.