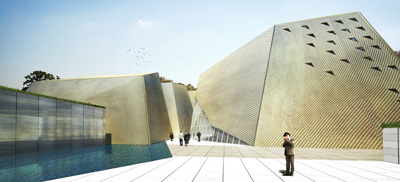 Project: Disaster Prevention and Education Centre
Designed by Renato Sarno Group
Client: ThyssenKrupp Elevator
Location: Istanbul, Turkey
Website: www.rsgmi.com
Competition for Disaster Prevention and Education Center has resulted in a multitude of impressive project proposal, the latest we are to feature comes from Italian practice Renato Sarno Group.
From the Architects:
The project has as main purpose the creation of a Centre for Disaster Prevention and Education in Istanbul. A center fully equipped with adequate technology and equipment to be prepared for a calamity that might interest and develop a public awareness on natural disasters, and, specifically, about earthquakes. The center will house major courses, conferences and seminars.
The layout of the project includes a set of sculptural volumes connected by a path entirely covered by the green, here we develop the actual exhibition space. The buildings on the north side home to all public functions, in direct dialogue with the surrounding environment of the city. The reference to the elements through the shape of the buildings allows you to create an intense experience, extending the excitement of visiting this site, including open space, characterized by large squares and narrow passages, with a system similar to that used by the Romans to the ancient city of Istanbul (Fori).