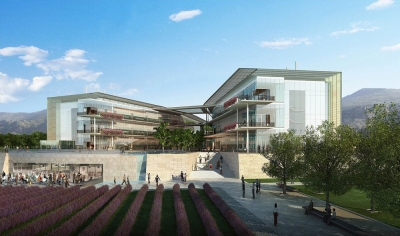 Location:
Palermo, Sicily,
Italy
HOK architects share with us their design for the New Global Hub for Biomedical Research building in Palermo, Sicily. HOK's team was selected to lead the task from 14 entrants in an international design competition.
From the Architects:
ST. LOUIS and LONDON – HOK has been selected as lead architect for the Ri.MED Biomedical Research and Biotechnology Center (BRBC) near Palermo, Sicily in Southern Italy. HOK's team was selected from a field of 14 entrants in an international design competition.
Plans for the 334,000-square-foot (31,000-square-meter) facility were unveiled today in Palermo, Sicily, in an event attended by Italian political leaders including Prime Minister Mario Monti and Rosario Crocetta, president of the Region of Sicily. Leaders from UPMC (University of Pittsburgh Medical Center), the University of Pittsburgh, the Ri.MED Foundation and HOK also attended the event.
The $269 million (210 million euros) world-class research facility will be a global hub for biomedical research and development. Managed by UPMC, the facility's focus on translational science will move research quickly from the lab to the marketplace. The ultimate goal is to prevent or cure diseases while improving the quality of life and life expectancy of patients.
The BRBC is expected to open in 2016 and, when fully operational, employ more than 600 scientists and other staff. Plans for future phases on the campus include a new hospital and medical school. The HOK-led joint venture team includes Buro Happold in London and Milan, Progetto CMR in Milan, De Cola Associati in Palermo, Italy and Eupro in Ragusa, Italy.
"This Ri.MED project highlights our ability to win international competitions and then coordinate and lead the design of complex projects in diverse locations all over the world," said Rob Firth, director of practice building in HOK's London office.
HOK's design of the center will create Europe's best-functioning, highest-quality biomedical research facility. This will help the BRBC attract the most talented researchers and move to the forefront of advances in modern medicine.
"The biotechnology and biomedical research center will generate exciting scientific discoveries that will translate into new and better cures and bring great social and economic benefits to Sicily and Italy. The dynamic and flexible design for the center that HOK has developed will create the ideal work environment for Ri.MED scientists," said Bruno Gridelli, vice president of the Ri.MED foundation.
"Great research laboratories such as the BRBC attract the brightest talent and provide the tools and workspaces to promote innovation and discovery," said Bill Odell, FAIA, design principal for the project and HOK's director of science and technology. "Our design integrates cutting edge technology with flexible, functional space. The goal is to create an extraordinarily functional yet iconic facility that will advance modern medicine."
Successful translational medicine depends on effective collaboration between researchers and clinicians to accelerate the development of practical solutions to medical challenges. "Every aspect of HOK's design is intended to encourage this critical networking, interaction and communication," added Odell.
As lead architect, HOK's design promotes communication by organizing the research facility as a small, compact village integrated into the landscape. At the heart of the village, a pedestrian street connects all of the buildings and offers spectacular views of the Tyrrhenian Sea to the north and the mountains to the south.
The flexible laboratory space is divided into four wings on three floors. HOK's modular design allows each laboratory neighborhood to be easily subdivided. Floor-to-ceiling glass between laboratory and documentation areas maximizes visibility between teams and provides ample natural light. A mix of formal and informal workspaces encourages collaboration. At the heart of the laboratory space is a central conference center with an auditorium.
A central commons building provides additional conference facilities, a small faculty club café and other amenities. A patient trial clinic and incubator labs are located nearby for easy patient access.
To align with Ri.MED's sustainability goals, the team designed the BRBC campus as one of the world's most environmentally responsive and resource-efficient research facilities. The design aims to achieve a minimum of LEED®Gold certification from the Green Building Council Italia.
HOK's integrated design services for the BRBC include architecture, interior design, sustainable design, high-performance building engineering, lighting, environmental graphics and landscape architecture. The team is using building information modeling (BIM) to help develop the BRBC design. As a global leader in the implementation of new delivery tools, HOK has extensive experience using BIM on complex projects.
HOK has designed some of the world's most innovative health sciences facilities, including the award-winning King Abdullah University of Science and Technology (KAUST) in Saudi Arabia. The firm served as lead designer for the University of Chicago's William Eckhardt Research Center and The Francis Crick Institute's biomedical research center in London.