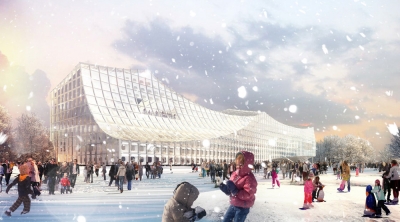 Project: Competition Entry The Helsinki Library
Designed by PAR
PAR Architects:
Jennifer Marmon, Partner in Charge
Matthew Young, Project Architect
Project Team: Ross Ferrari, Allison Klute, Cory Ringo, Seyoung Choi, Ryan Fagre, Tom Ames, Reza Hadian, Garrett Runck, Aliya Popita, Yen Vo, Cici Luong, Ji Hao
Client: City of Helsinki
Size: 14 000 m2
Location: Helsinki, Finland
Website: p-ar.com
Latest competition entry for the design of The Helsinki Library is coming from the PAR architecture practice.
About the Project:
The library is organized by six intersecting axes that afford spectacular vistas while creating a variety of spatial configurations for the library's program. With it's six floor levels each pointing toward a celebrated landmark, the Central Library becomes a symbolic center for city. Public living rooms are located within the three sloping peaks, the Reading Room, Sauna and Restaurant. Designed as a spatial sequence with surprising transitions, each floor of the library presents connections from public spaces such as Reading Platforms, Sunrooms and the Observatory to Helsinki's enduring icons. With panoramic views of the city and Senate Square dome, the Observatory terminates the promenade of escalators and staircases that dynamically rise through the building.
A series of programmatic strips are stacked to create a narrow building that is optimal for the Helsinki climate and library program. The strips feature 11.5 m deep plates that allow for flexibility in collections layout and maximize available natural light, creating an ideal reading environment crucial for the library. A superimpostion of the strips is extruded up to maximum height generating a prismatic volume that contains a public void at the ground level. Along the plaza is a multi-height atrium which opens up to the park and pedestrian pathway draws people into the library.
The landscape block is at the same time integrated and outstanding, traditional and contemporary. It creates a stage-like space for the annual gathering of the National Day of Finland.
The new Helsinki Central Library conception has been led by the requirements of the zero carbon building objective. At the earliest stage of design, environmental analysis via simulation tools enabled design decisions that optimized the sustainable performance of the building form and envelope.
Source +Mood. *