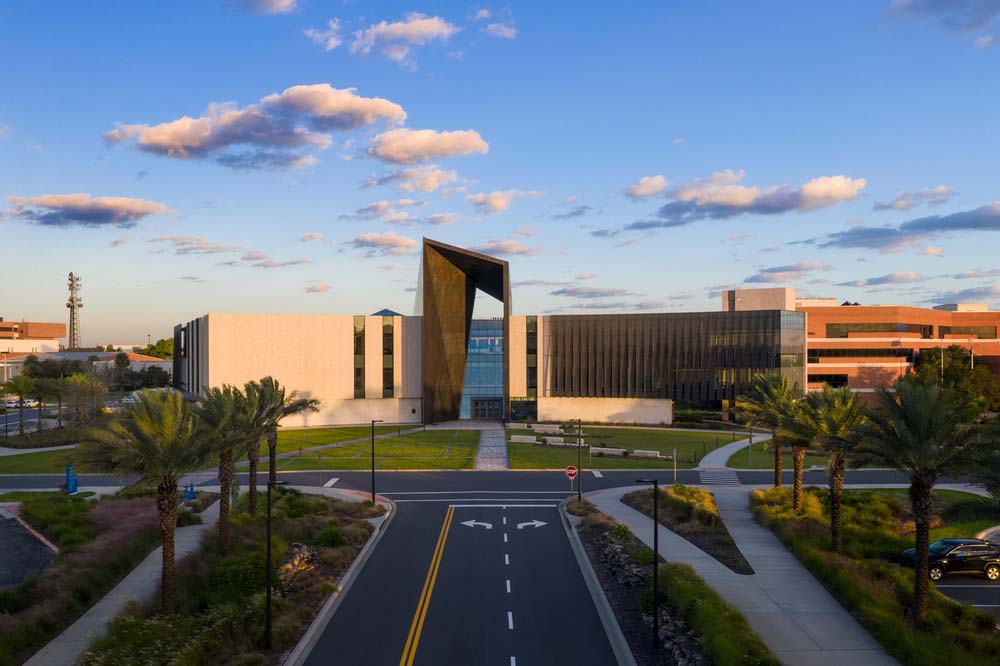 ikon.5 architects have recently completed works on the L. Gale Lemerand student center at Daytona State College, spanning an impressive 74,000 square feet. This architectural masterpiece establishes a truly iconic presence on the campus, strategically located along the renowned International Speedway Boulevard. The student center serves as a vital link, seamlessly connecting the college's esteemed beachfront with the rest of the beautiful state of Florida.
In addressing the challenge of an abundance of parking lots and unremarkable buildings along the public way, a thoughtfully designed solution has emerged. A gracefully curved wall, constructed from natural stone and adorned with bronze accents, now graces the boulevard. This architectural feature serves to warmly embrace visitors, extending two welcoming arms and creating a beautifully landscaped welcome lawn. Moreover, it establishes a distinct and unmistakable point of entry, effectively defining the campus's arrival experience. Emerging gracefully from the heart of the elegantly curved wall, a striking bronze portal commands attention as it frames the entrance to the student center, beckoning individuals to venture forth into the captivating campus quadrangle that lies beyond. Within the architectural composition, a meticulously designed three-story commons graciously gazes upon the quadrangle, fulfilling the role of a captivating campus living room. The student center commons is adorned with various functional spaces, including a dining area, a coffee shop, a gaming lounge, and group study rooms.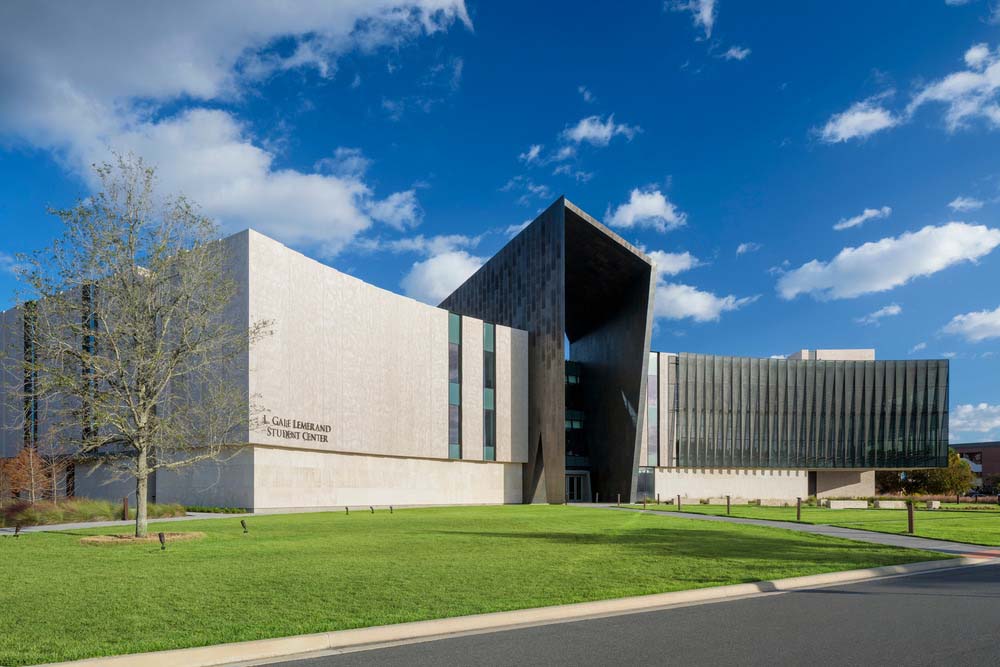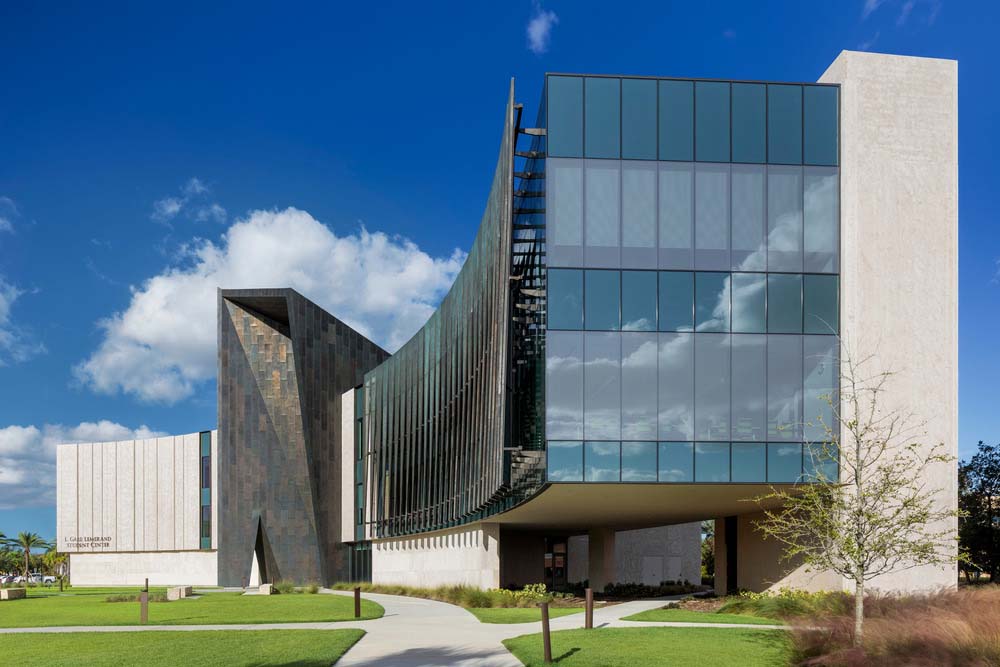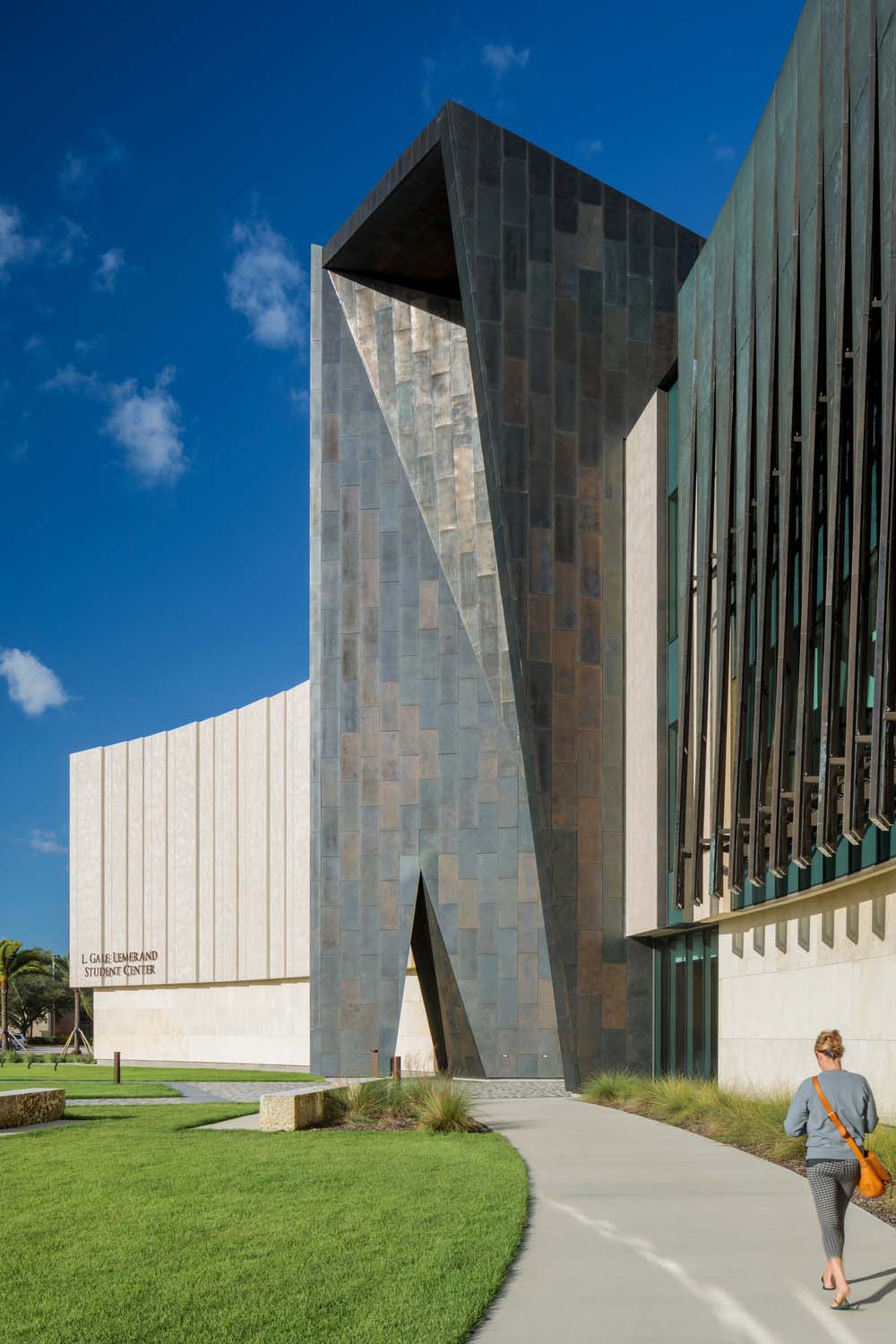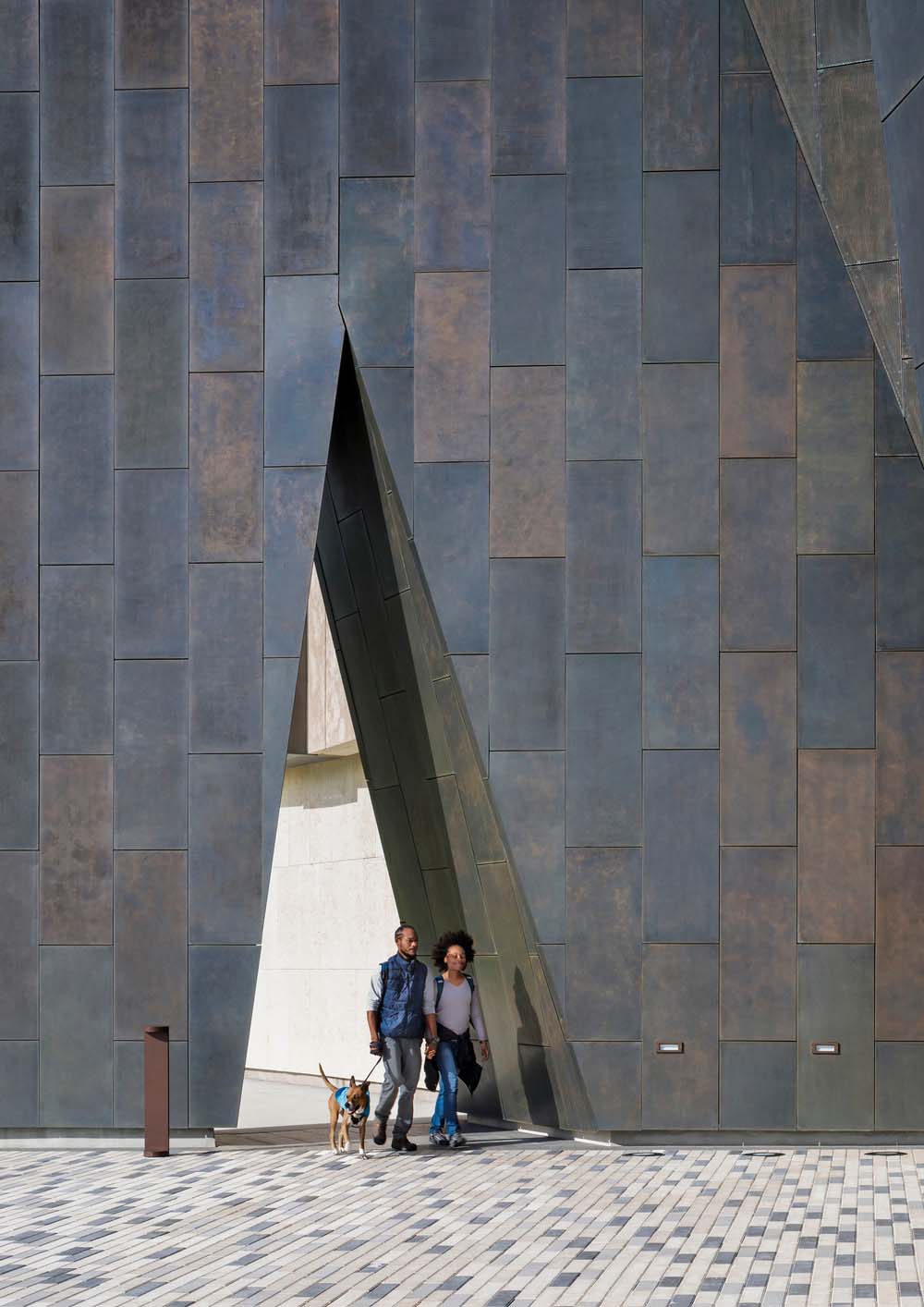 The design features an impressive amphitheater that gracefully extends from the second and third floors, creating a striking cantilever effect that seamlessly integrates with the surrounding commons area. This elevated structure offers a captivating vantage point, allowing occupants to enjoy panoramic views of the vibrant campus quadrangle. The amphitheater, with its carefully designed layout, offers a captivating theatrical experience that not only allows students to witness performances but also provides them with a platform to be seen, fostering a profound sense of community and belonging.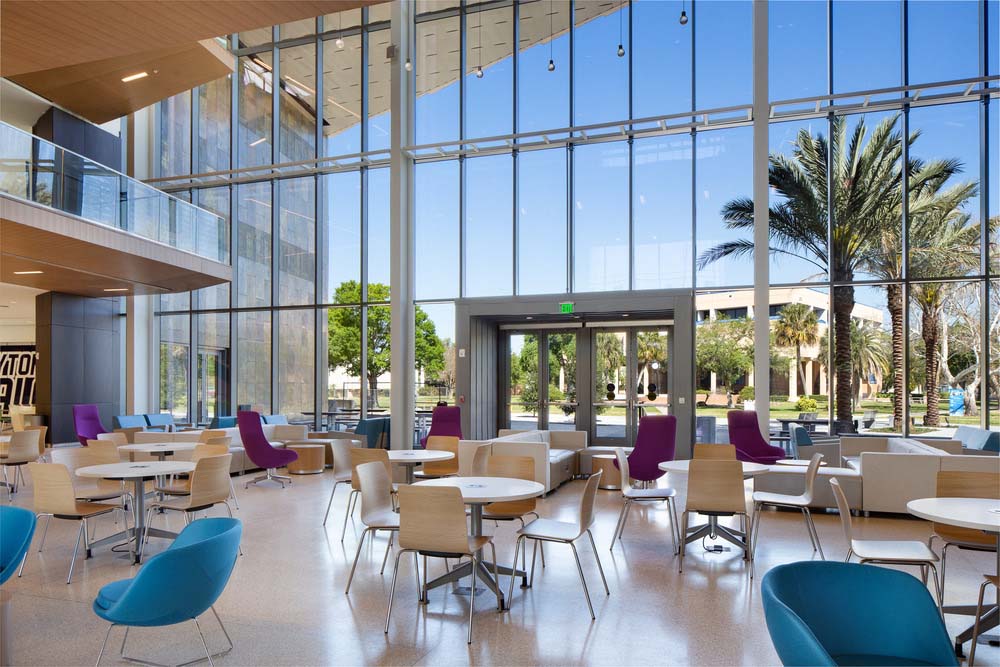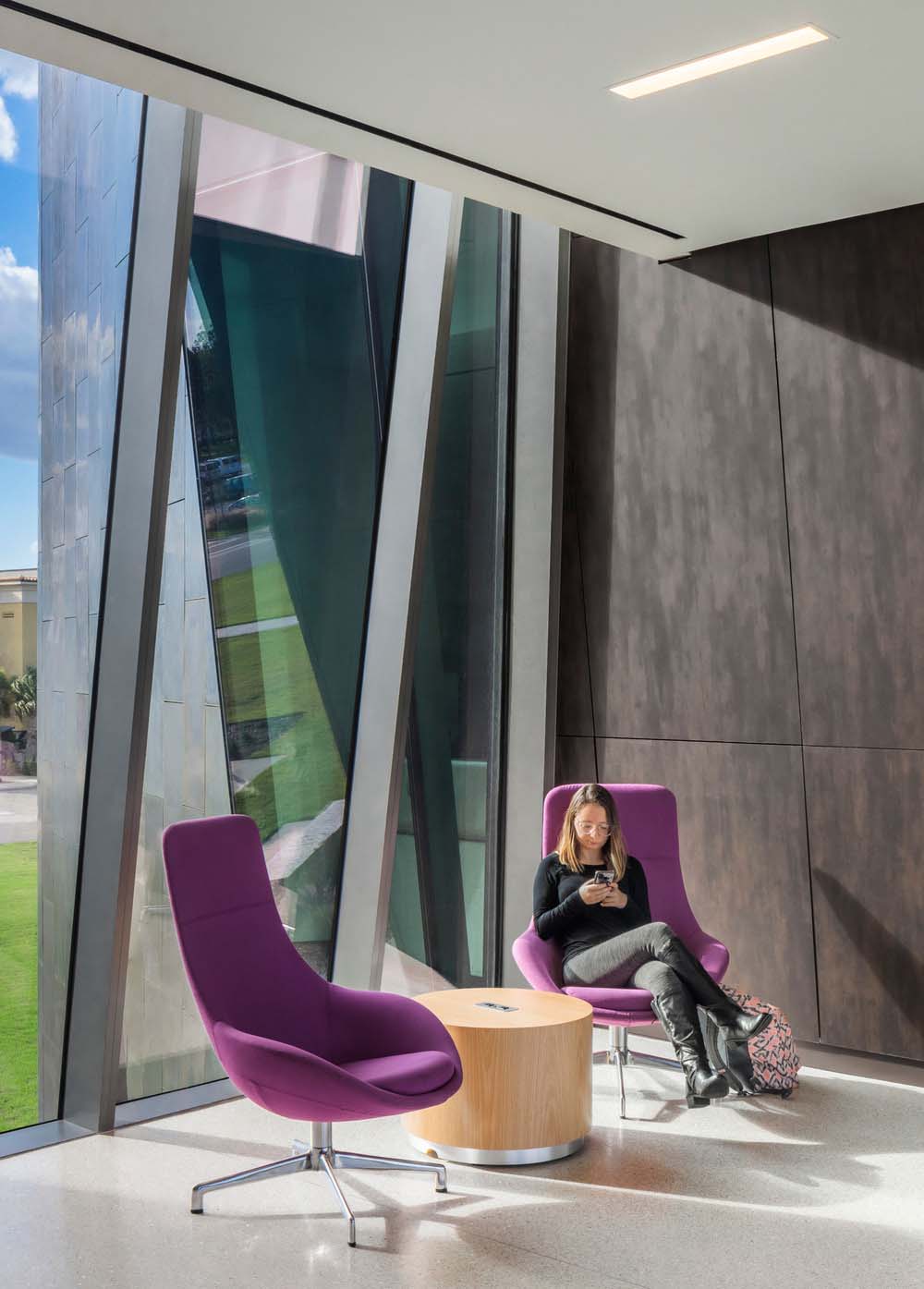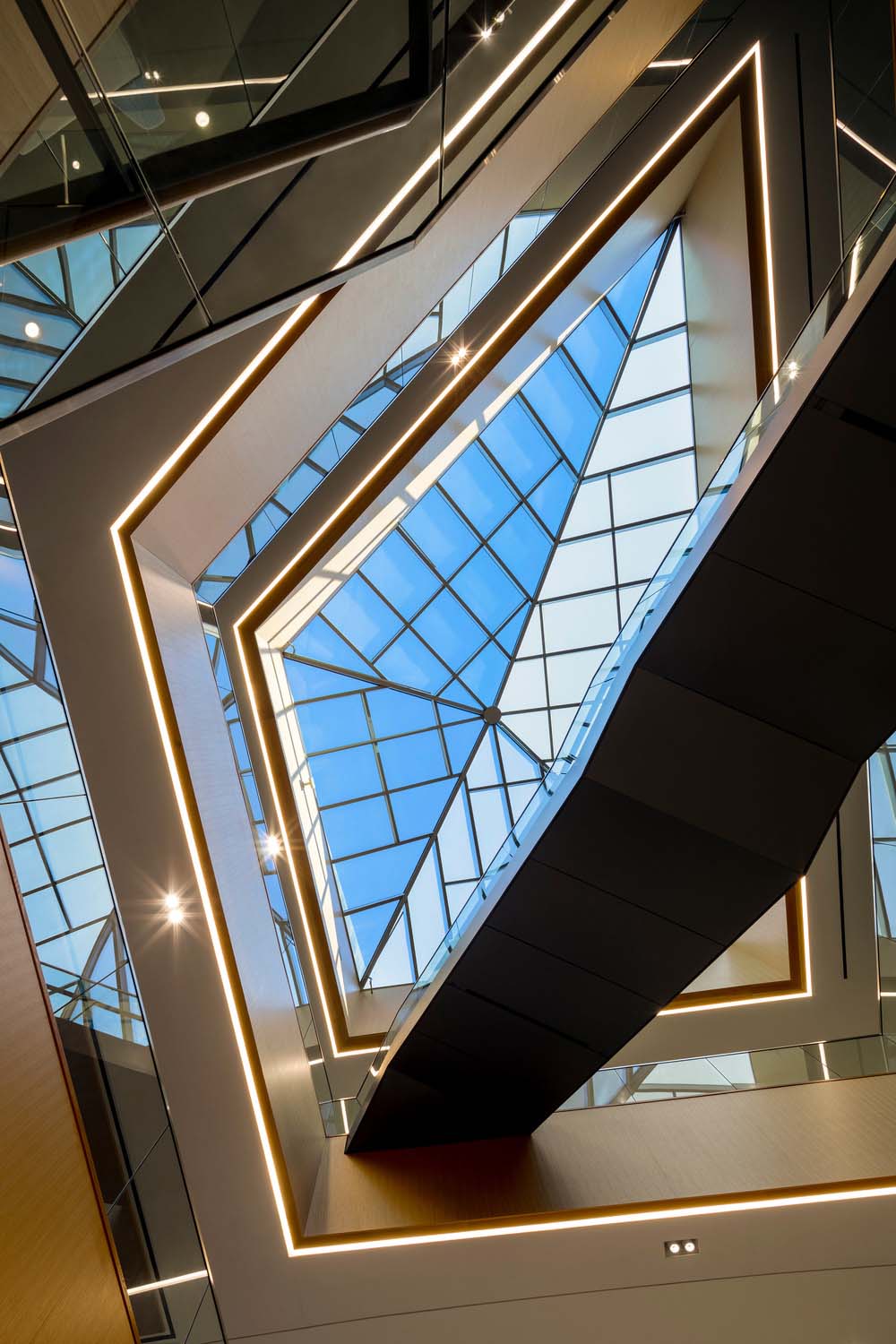 The center has been thoughtfully designed with a strong emphasis on sustainability, ensuring that it meets the rigorous standards required for Green Globe certification. The south and west facades of the building feature custom bronze perforated solar screens, strategically placed to mitigate heat gain and minimize glare. These screens serve a dual purpose by providing a veil-like effect, allowing occupants to enjoy unobstructed views of the surroundings while maintaining a comfortable interior environment. The portal tower features a meticulously designed ventilated bronze rain screen, which serves the dual purpose of enhancing the aesthetic appeal while effectively mitigating heat gain caused by the intense Florida sun.
Project information
Official Project Name: L. Gale Lemerand Student Center
Location: Daytona Beach, FL
Client: Daytona State College
Architect: ikon.5 architects – New York, NY
Structural Engineer: BBM Structural Engineers, Inc. – Longwood, FL
Civil Engineer: Parker Mychenberg & Associates, Inc. – Holly Hill, FL
MEP/FP Engineer: OCI Associates – Maitland, FL
Landscape Architect: Prosser – Jacksonville, FL
Lighting Designer: S+S Lighting Design – Summit, NJ
AV/IT/Security: TLC Engineering for Architecture – Orlando, FL
Contractor: Perry-McCall Construction, Inc. – Orlando, FL
Photographers: 1. Brad Feinknopf | 2. Joni Hofmann
Drawings: ikon.5 architects
Completion: 2020
Building Area: 74,000 sf
Find more projects by ikon.5 architects: www.ikon5architects.com