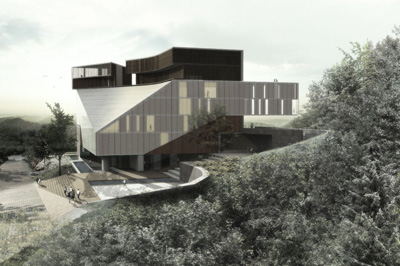 Project: Seoul National University School of Dentistry
Designed by Williamson Chong Architects, Daul Architects and Planners
Location: Seoul, South Korea
Website: williamsonchong.com
Architecture firm Williamson Chong Architects takes on a task of creating a project on a specific healside location in Seoul area for a National University School. For more images and architects description continue after the jump:
From the Architects:
Sited prominently along the western face of a hillside campus in Seoul, the School of Dentistry is reasserting its role as one of the pre-eminent dental programs in the world, and as one of the significant collegiate spaces in a prestigious university.
On a wooded face of a residual site, the school favours itself with a sloping, solar-film and fritted hybrid roof surface to the south while employing wind towers/channels to supplement existing HVAC systems. The building enhances the slope-side foot travel on the campus to help anchor a new emerging precinct on campus.