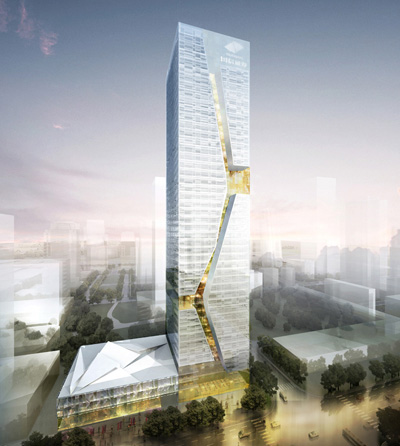 Project: Guosen Securities Building
Designed by: Massimiliano & Doriana Fuksas Architetto
Project team manager: Serena Mignatti
Project team members: Guiseppe Zaccaria, Enrico Falchetti, Gabriele Chiaretti
Assistants: Cristina Fernandez, Yinnon Lehrer, Yusuke Nishimura, Manuela Petrucci
Client: Guosen Securities co. ltd
Location: Shenzhen, China
Scope: 80,000 sqm
Height: 200 m
Website: www.fuksas.com
For the location in the fast growing Chinese city of Shenzen architects Massimiliano & Doriana Fuksas have designed a 200 meter high tower exploring the concept of increasingly popular vertical public space. For more images and architects description continue after the jump:
From the Architects:
The project by Studio Fuksas is born from the intention to create a new concept of vertical public space for the tower. A three-dimensional void will be arranged along the facades giving a dynamic image to the building and creating different public scenarios for the offices.
The design of the void shape explores the relation between the podium and the vertical section of the tower with diagonals spaces and fluxes that create a vertical tension in the full height of the tower.
Guosen Tower's distinctive fa栤e atrium, with an energizing and dynamic form, will establish a new symbol for the CBD skyline. With its 200m height space, the tridimensional atrium will be the highest lobby in the Shenzhen. The public spaces, lobbies and Sky-Gardens are interconnected along the tridimensional void of the atrium creating a stream of light, images and activity. The building itself will be symbolically open to the city along the great fa栤e atrium.
Guosen Tower design integrates the values of connectivity and trade fluxes of Shenzhen CBD into an innovative vision for a XXI century tower.
Integrated in the complex skyline of the CDB, Guosen tower will respond with a pure external glass volume. All the complexity happens in the internal network of public spaces that are placed strategically in the facades taking advantage of the views and visibility according to the urban context.
The upper levels of the building include the office complex of Guosen Securities, with an access highlighted by a triple height sky lobby. The very top le­vels are dedicated to the executive's offices, including a sky garden and club room levels that offer a spectacular 360-degree panorama across Shenzhen CBD.

Physical model: Nicola Cabiati (art director), Frauke Stenz, Hilmi Kamil Dalkir
Shenzhen coordinators: Fang Tian, Pablo Garcia
Structural engineers: Shenzhen General institute of architectural design and research
M&E engineering, sustainability: AI engineering