Fashion Retail
Gucci Opens Gucci Garden In Florence
By |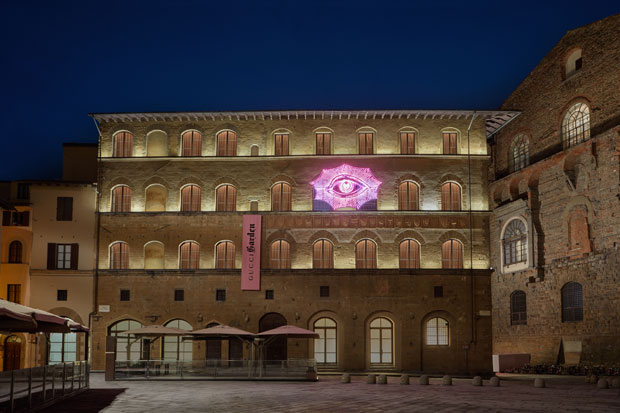 By illuminating a giant neon eye artwork on the facade of the ancient Palazzo della Mercanzia in Florence, Gucci has announced the opening of the new Gucci Garden Florence. Dedicated to the exploration of creativity, Gucci Garden is designed by Gucci Creative Director Alessandro Michele.
The garden is real, but it belongs above all to the mind, populated with plants and animals: like the snake, which slips in everywhere, and in a sense, symbolises a perpetual beginning and a perpetual return. – Alessandro Michele
Instead of simply displaying a permanent collection of historic pieces, the Gucci Garden tells the story of the House by colliding past with present. Clothing, accessories, video installations, artworks, documents and artefacts are displayed over the two floors of the Gucci Garden Galleria, organised by themes. Contemporary items are juxtaposed in a dialogue with vintage pieces; friends of the House like artists Jayde Fish, Trevor Andrew (AKA GucciGhost) and Coco Capitán have been invited to decorate walls, and their works sit alongside Gucci fabric patterned wallpaper and a giant nineteenth-century equestrian oil portrait, Fantino con bambina, by Domenico Induno. – from Gucci
Ticket price is 8 euros and 50% of each ticket sale will be donated to support restoration projects in the City of Florence.
Related: Fashion Retails
See more after the jump: