Five Cell recently completed their latest interior design project – Muuv boutique. The boutique is located in a prestigious location at Krucza Street in the center of Warsaw, Poland. Take a look at the complete story after the jump.
From the architects: Downtown Warsaw. High shop windows direct the gaze to a minimalist, warm interior with two-metre cactuses that add a hint of the exotic. Welcome to the flagship MUUV boutique designed by Five Cell. The showroom reflects the philosophy of this modern apparel brand, which offers a classical take on femininity combined with travel inspirations, minimalism, and attention to the smallest of details.
A subtle microcement structure covering the floor, the walls and the cubic counter adds to the light-hearted atmosphere of the space, acting as a soft background for clothes displayed on minimalist black metal racks. Another black highlight is the company's logo above the main display. The holiday mood was achieved thanks to impressive plants placed in the spacious shop window. The succulents were planted in a special case made from solid wood with an uneven, natural profile. It may also be used as a seat. The second case, placed near the shop window, covers a heater and serves as a temporary clothes display. To achieve delicacy of form, the wooden elements were visually separated from the floor. Hewn, solid wood was also used for the display shelves placed in a niche.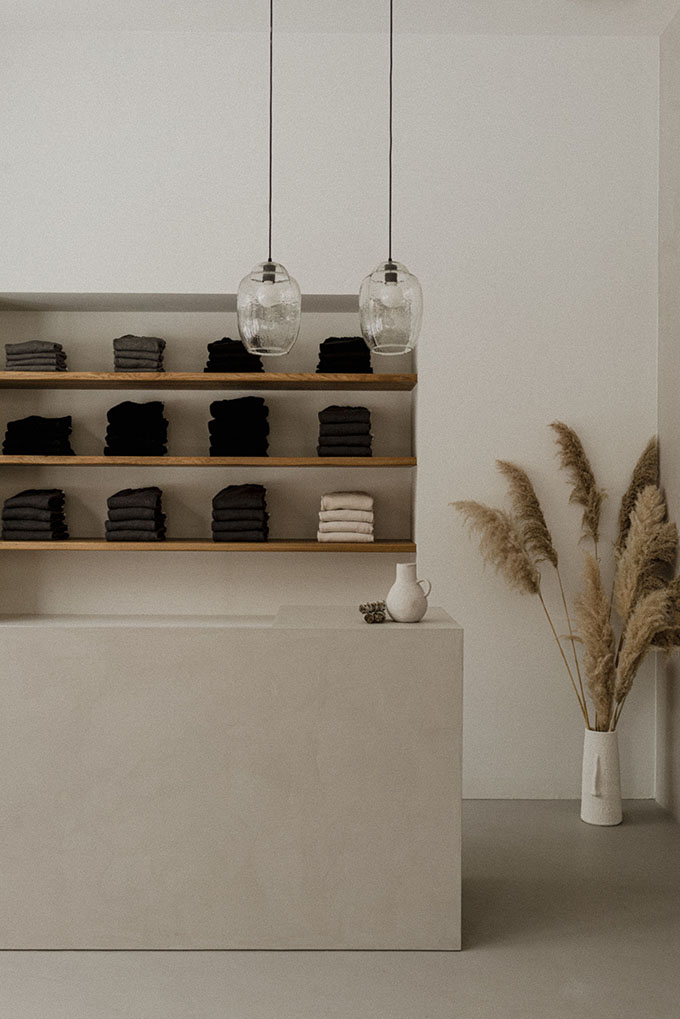 Two straight lamps with hand-formed glass shades above the counter and a decorative display of tall dried grass in a vase placed in one of the corners of the room add a tasteful finishing touch to the space.
The changing rooms were hidden behind a mirror door – an effect that optically heightened the main showroom. Inside them, you will find the same materials as in the main space: large mirrors, subdued whites, and a minimalist wooden stool.
Location: Warsaw, Krucza 16/22, Poland
Architects: Five Cell @fivecellarchitects
Area: 31 m2
Year: 2021
Photographs: Pion