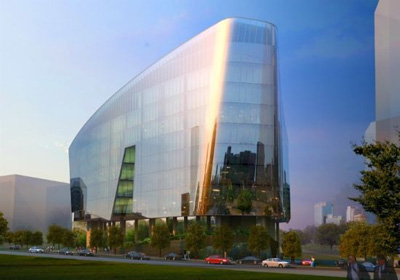 Project: Lucasfilm's Singapore Headquarters
Designed by Aedas
Location: Singapore
Website: www.aedas.com
The world renowned AEDAS has designed Lucasfilm's Singapore Headquarters impressive new headquarters in Singapore. View more of the design along with architects description after the jump:
About the Project:
Architects at Aedas designed an office building that will also assume the appearance of a movie inspired ecosystem.
The new facility will hold offices for nearly every division of Lucasfilm, including the movie studio itself, video game developer LucasArts, Lucasfilm Animation, and Lucasfilm Television. It's an eight-storey complex that will house a state-of-the-art theater, which can be used for screenings, premieres or other events. Next to the theater will be a conference wing for use by LucasFilm or other offices.
The envelope structure comprises a low-iron glass layer and a second metallic-frit dot layer underneath, achieving a high degree of reflectivity, while allowing for daylight to reach into the offices without soaking up solar heat gain. The interior courtyard is more private and uses clear low-iron glass for a maximum utilization of natural lighting.
Source Evolo. *