Bjarke Ingels Group designed 'Sneglehusene', a housing complex that is part of the ambitious master plan of Nye, a neighborhood developed north of Denmark's second-largest city, Aarhus. Six buildings, designed as a porous wall, gradually bend around a pond and a green promenade at the core of the development.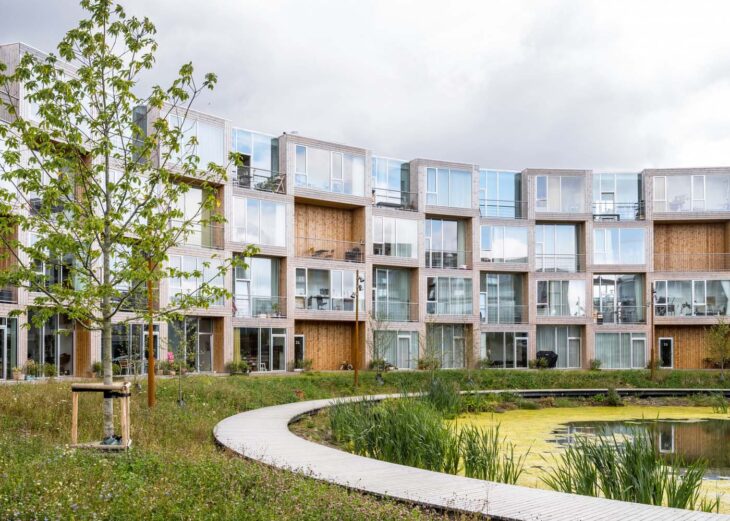 The 'Sneglehusene' are composed of two types of stacked modules that are repeated to create the distinctive checkered pattern. The modules have 2.5- and 3.5-meter ceilings, and their stacking offers enormous inside rooms, floor-to-ceiling windows, and an outdoor terrace in each residence.
The 'Sneglehusene' is BIG and Cj Group's second collaboration. Following the success of the low-cost 'Dortheavej Residences' in Copenhagen, Denmark, the team was given a once-in-a-lifetime opportunity to further adapt and extend the modular housing concept into an increasingly polished design for the Nye area.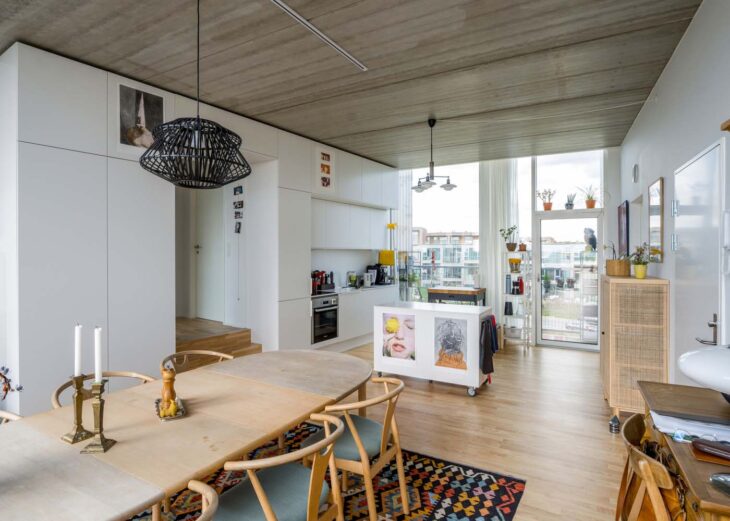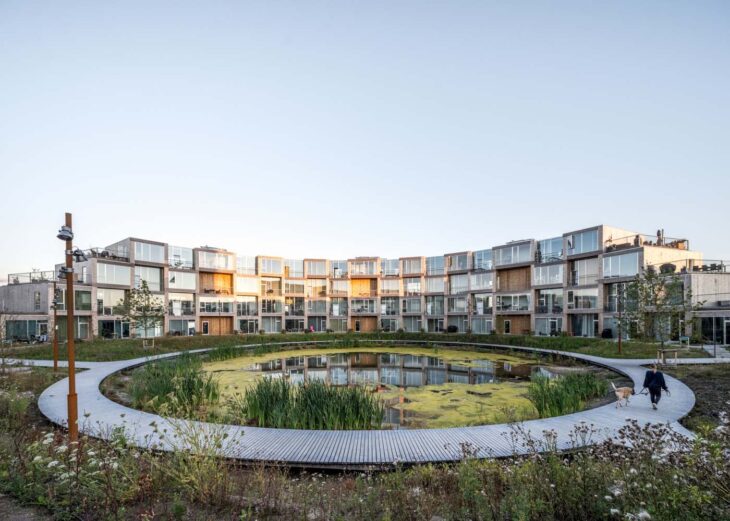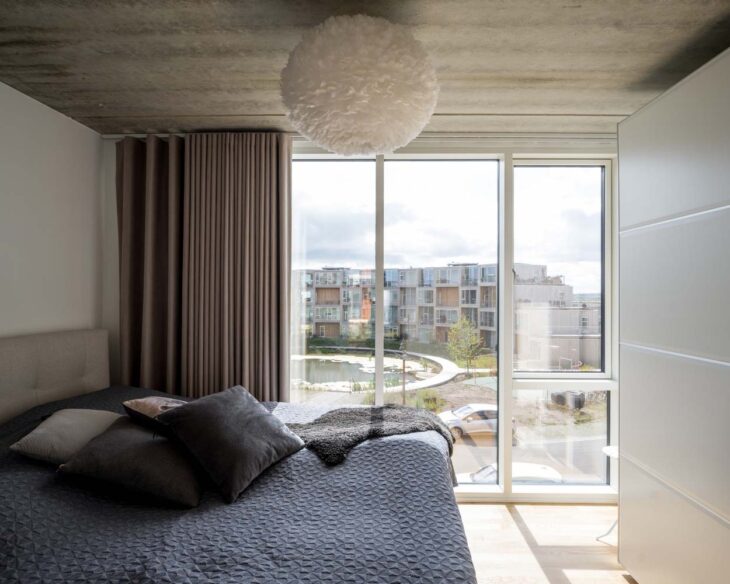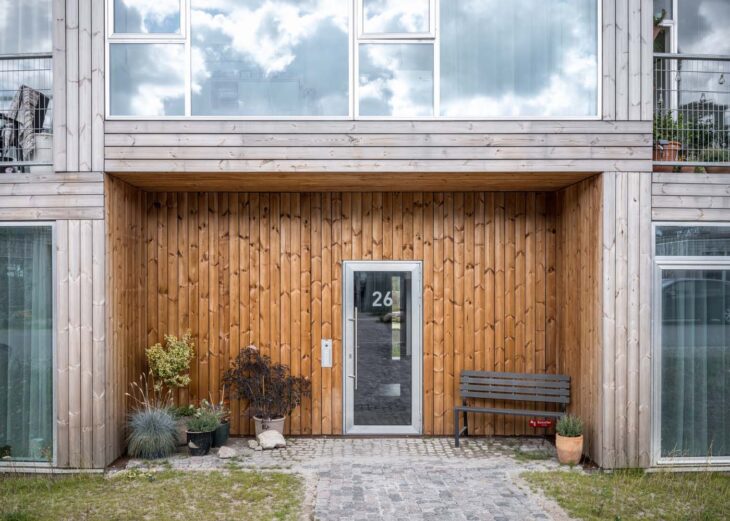 BIG Landscape developed the landscape at 'Sneglehusene.' Green walkways and meeting areas between buildings provide comfortable spaces for neighbors to speak and play. An artificial pond marks the middle of the 'Sneglehusene,' defining a community retreat.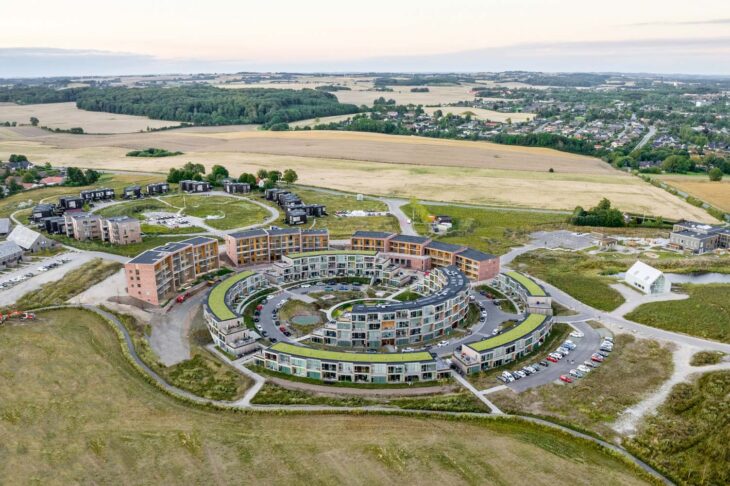 The pond handles rainwater runoff from canals built into the site. Furthermore, the pond is linked to a Secunda water system created and overseen by the municipal water plant, Aarhus Vand. The system collects water from the entire Nye community, cleans it, and returns it to all residences to be utilized for toilet flushing, rinsing laundry, and other purposes.
Architects: Bjarke Ingels Group – www.big.dk
Area: 9500 m²
Year: 2022
Photographs: Rasmus Hjortshøj – COAST
Partners In Charge : Bjarke Ingels, Finn Nørkjær, David Zahle
Project Manager : Joos Jerne
Design Lead : Nanna Gyldholm Møller, Høgni Laksafoss
Big Landscape : Alexa Haraga, Anders Fønss, Camille Inès Sophie Breuil, Giulia Genovese, Lasse Ryberg Hansen, Ulla Hornsyld
Big Engineering : Andrea Hektor, Andreas Bak, Andrew Robert Coward, Bjarke Koch-Ørvad, Cecilie Søs Brandt-Olsen, Duncan Horswill, Ewa Zapiec, Ivaylo Ignatov, Jesper Kanstrup Petersen, Jonathan Otis Navntoft Russell, Kaoan Hengles De Lima, Kristoffer Negendahl, Mikki Seidenschnur, Peter Andres Ehvert, Timo Harboe Nielsen, Tristan Robert Harvey
Team : Norbert Nadudvari, Wiktor Kacprzak, Axelle Bosman, Liliane Wenner, Christine Mulvad, Joanna Jakubowska, Johanna Schneider, Richard Garth Howis, Xinying Zhang, Mikkel M. R. Stubgaard, Katarina Mácková, Sean Edmund Deering, Søren Aagaard, Pawel Bussold, Mantas Povilaika, Espen Vik, Lucian Tofan, Jesper Bo Jensen
City: Aarhus
Country: Denmark