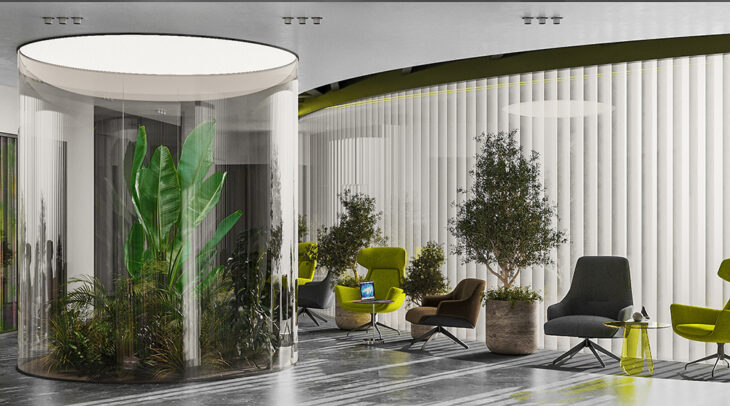 ZIKZAK Architects has designed the office space for a renowned IT firm in Limassol, Cyprus. Because the client has offices all over the world, the Cypriot interior design was inspired by the island's scenic beauty. Genuine materials, natural hues, light surfaces, and rough textures dominate the design.
"The project is very interesting! The work on it was careful and long, but full of inexhaustible enthusiasm and imagination. We were inspired by Expo 2022, the green pavilion of Singapore, developing the concept of plant composition"
says Anastasia Apostu, project manager.
The indoor atrium with landscaping is the interior's focal point. It is a glass cylinder containing a green oasis.
The office's guest area is located on the first floor. For waiting and communication, there is a reception area with comfortable chairs. On the same floor, soundproofed meeting rooms are available. The space's aesthetic focal point is a gleaming welcome desk and a plethora of lush plants in sophisticated stone pots.
Work areas are located on the second floor. These are open areas with modular furniture that may be used for several purposes, meeting rooms, and amusement areas. The workstations' minimalist working basics are softened by a profusion of greenery and aesthetic features, such as a lamp representing an intimidating Greek god.
The third floor is intended for upper management. There is a large hall, offices, meeting rooms, and a conference room. The executive floor's general atmosphere is refined with a secular slant. The combination of slick black surfaces, marble, leather, and modest splashes of bronze and gold creates this ambiance. This is where the allusion to Cyprus's stunning landscapes and natural textures is most clearly traced and flawlessly matched with the overall sophisticated style. Natural stone, resembling a rock, adorns the hall and transports the mind to the seashore, a source of desired coolness.
Some zones can change their function, such as the ground-floor hall, which can be converted into a coworking area. A comfortable event hall can be used for business gatherings, internal meetings, or other high-profile events.
The relief wavy texture of the walls, reminiscent of the sea coast, raw stones, wood, lush landscaping, and natural shades make the Limassol office such a workspace where you can work productively while also feeling connected to nature and inspired by the island's picturesque landscapes without even leaving the room.
Project information:
Project name: Office in Limassol
Architecture firm: ZIKZAK Architects
Principial architect: Anastasia Apostu
Design team: A. Apostu, I. Yashyn, G. Tynkaliyk, O.Kyianko, M. Ternova, V. Melnykov, H. Zaremba, O. Konoval
Project location: Limassol, Cyprus
Built area: 4408 sq m
Site area: 4408 sq m
Interior design: ZIKZAK Architects
Design year: 2022
Completion year:
Client: International IT company
Find more projects by ZIKZAK Architects – zikzak.com.ua