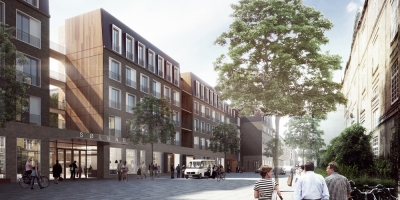 Project: Sølund Retirement Community
Designed by Henning Larsen Architects, BBP Architects and architects Ole and Jytte Andersen
Landscape Architect: Schul Landscape Architects
Engineers: Henrik Larsen Consulting Engineers and Hundsbæk og Henriksen Consulting Engineers
Client: KAB
GFA: 38 500 m2
Team at Henning Larsen Architects: Lars Steffensen (responsible partner), Martin Stenberg (lead design architect), Mikkel Eskildsen, Rafel Crespo, Chenqi Jia, Charlotte Søderhamn Nielsen, Peter Dahlsgaard Nielsen, Christian Schjøll, Grace Xu, Martin Vraa Nielsen, Jakob Strømann-Andersen and Lærke Bjerre
Location: Ryesgade, Copenhagen, Denmark
Website: www.henninglarsen.com
The prolific Henning Larsen Architects take the 2nd prize in the competition for the design of Sølund Retirement Community in Copenhagen's Ryesgade city street. The architects make sure the life at the center provides qualities of the residents' very own homes.
Discover more images and architect's description after the jump:
From the Architects:
Sølund retirement community is situated at one of the most distinguished locations in Copenhagen, in the vibrant urban space between the Copenhagen Lakes to the one side and the dynamic city street of Ryesgade to the other. Henning Larsen Architects' proposal for the new Sølund is designed as one large, continuous building block that engages in close dialogue with the surrounding buildings and creates simple, easily accessible spatialities – both on the inside and on the outside. The project also includes a new daycare centre.
Worthy elder care. Life at Sølund should incorporate the qualities of the residents' previous homes in a new retirement community based on worthiness and well-being, safety and social relations. Uninstitutional dwellings, attractive, bright spaces and terraces in luxuriant, green outdoor spaces are key objectives.
An elderly home is a home. The residents live there 365 days a year and many residents are not able to get around much. This calls for homely spaces and meaningful activities.
The garden spaces provide the opportunity for simple activities that do now require preparation. Thus, the recreational environment is continued in the outdoor space, which does not pose any requirements on the users. Some residents walk a lot and need a reason to stop and explore; others are not able to walk very far and need inspiration even on a short stroll. Thus, the proposal introduces a varied selection of outdoor spaces, both in direct connection to the building and in the garden – a wide range of recreational areas as well as large and small terraces with varied degrees of sun and shade, views and sensuous stimuli.
Sølund offers room for the individual, while at the same time offering a variety of activities that stimulate body and soul and help the residents to maintain and perhaps regain skills. Sølund offers a worthy transition from being self-reliant to gradually becoming more in need of care.